United Kingdom citizens have long awaited the arrival of DraftKings, but the wait is finally over. The daily fantasy sports titan officially opened its doors to UK residents , offering them the same service that they provide in the United States. For UK DFS fans this is an incredibly exciting time, as it means that they can try their hands at one of the largest and most popular fantasy sports websites. Read on for our DraftKings UK Review & Promo Code.
Currently, DraftKings shares the top spot with FanDuel as the greatest daily fantasy sports provider. The platform is available to citizens in the majority of US states, as well as Canada. However, recently a handful of states have pushed to close their doors to the gameplay because of its gambling components. This in all likelihood is why DraftKings has decided to offer its services to United Kingdom players. The UK Gambling Commission licenses UK DraftKings. They received this license in August, making them the first major DFS site based in the US to open its doors to the European market.
DraftKings UK Review Overview
• DraftKings Statement on Opening Doors in the UK
• UK DraftKings Review
• UK DraftKings Deposit Bonus
• Facts About UK DraftKings
• UK DraftKings Platform
• Mobile Version
• Contests Offered on UK DraftKings
• Sports Offered on UK DraftKings
• Depositing/Withdrawing on UK DraftKings
• Signing Up For UK DraftKings
DraftKings Statement on Opening Doors in the UK
"Our expansion into the United Kingdom marks a milestone moment in the growth of DraftKings as we introduce our world-class product to new audiences. We will add new sports and games to our burgeoning roster of offerings and further connect fans to their favorite teams and players. We also welcome the opportunity to forge new partnerships with leagues, teams and media outlets internationally as we have done with exceptional success in the United States."
Quick Review of DraftKings UK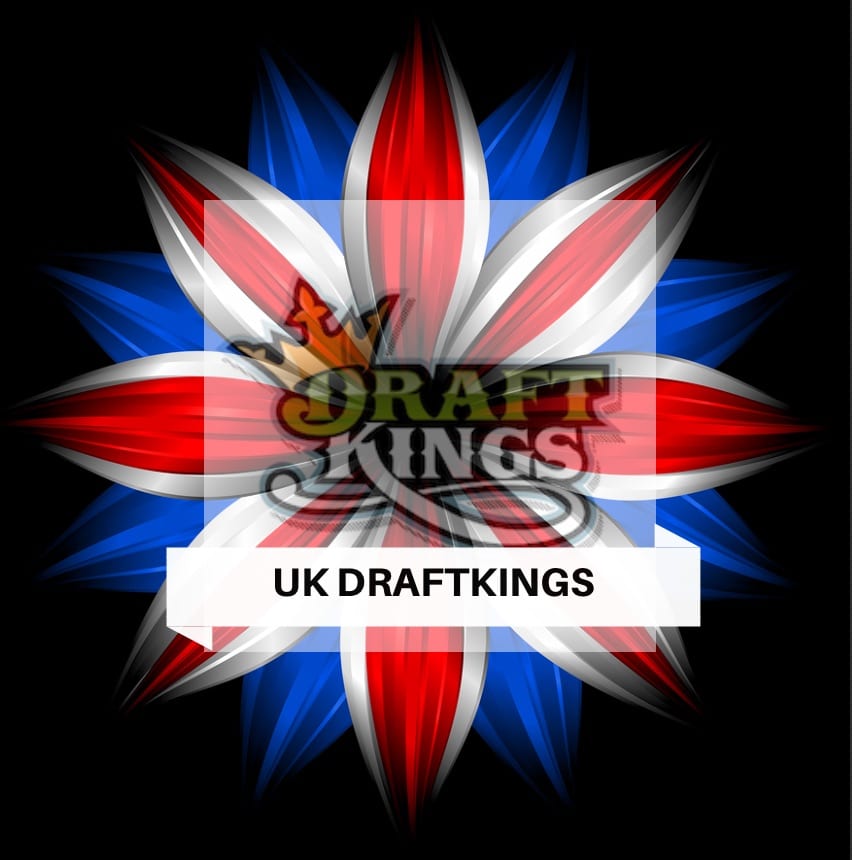 Although DraftKings does not currently reign supreme in the UK like it does in the US, they offer an ideal entry level DFS site for their UK customers. The site allows UK residents to play the same games as their Canadian and US counterparts, which allows them access to a vast array of daily fun games and fantastic cash prizes. DraftKings is known for its excellent bonuses, and because there are a large number of players per game, it is incredibly easy to locate a Fantasy Game to suit your tastes if you are new to the gameplay. Although some of the most popular sports in the UK is limited on DraftKings, as the market grows within the country, so too will the variety of games that appeal more to UK-based DFS fans. Additionally, If you choose to join the DraftKing's VIP program and regularly play on the website, you can gain plenty of rewards like DraftKings merchandise and free entries to contests.
DraftKings UK Bonus
Exclusive Offer For Depositors: Deposit now for 100% Bonus up to £400 and FREE entry into a $3 contest!
Outstanding! All new players receive this stunning bonus. This is how you get it:
You'll receive a FREE ticket to the Fantasy Football Striker Contest, normally a $3 value!
Select 8 football players from the matches happening that day, while staying within the salary cap
DraftKings UK Promo Code
There is no DraftKings Promo Code needed in order to get the free entry ticket for the tournament. Simply follow our link below to register:
UK DraftKings Platform
The UK DraftKings website is extremely similar to the one that US players have been playing on for years now. Since DraftKings first got its start three years ago, it has grown into the second biggest DFS provider around the globe. One of the greatest perks for UK players is that DraftKings gives them the ability to play in player pools that are shared by their North American counterparts, given them access to much larger prize pools.
DraftKings UK for Smartphone: iOS & Android
As of now, UK DraftKings is only available on mobile devices through an app for both Android and iOS. The web interface is being worked on and will be available shortly. The two apps for the different mobile device types differ slightly. The iOS version is said to be more responsive and intuitive while the Android version is more simplistic and a little clunky. However, these differences are not much and Android users will still have a fantastic experience.

Contests on UK DraftKings
Every type of competition that is offered in the US is also available to UK players. In fact, there is only minuscule product differentiation between the UK and US platforms. Let's take a quick look at the different types of contest options you have.
Guaranteed Prize Pool Tournaments
This is a simple game type that only requires that you pay an entry fee and then pick your fantasy team. Once you have entered, your team will go up against others that have also been entered for a chance to win a part of the guaranteed prize pool.
Head to Head Battle
Try your hand at a one-on-one battle with another player for a previously agreed upon entry fee. This is a winner takes all game type to gain the most fantasy points.
Double Your Money 50/50 Tournaments
These fantasy events allow you to nearly double your money as long as you place in the top 50 percent of the competition. If you do place, then your money will be doubled. This is an easy way to play DFS and an excellent way to dip your feet in if you are new to the gameplay and not sure how all the rules work.
League Competitions
League based fantasy sports games are extremely popular in the UK, and so residents will be quite used to the traditional form. You may enter a league that is accepting players or even create your own league for between 3 and 50 players. Small leagues usually have a winner-take-all style, while bigger leagues will reward the top players.
Qualifiers
Qualifiers are similar in nature to poker tournaments. They allow you to enter into extremely inexpensive events with the chance to gain free entry into a more costly event.
Multipliers
DraftKings offers tournaments in which only a small number of players in the pool will win a large prize compared to the entry fee, which thus multiplies their entrée fee cost. The amount won depends on the number of people playing and the tournament fee.
Steps Tournament
A Steps tournament lets you complete a tournament by placing in winning spots for every event, which allows you to progress to the next level. Although difficult, you may enter with only a small entry fee only to proceed through the steps that allow for a much larger prize pools.
Types of Sports Offered on UK DraftKings
UK DraftKings currently offers eight varieties of sports that you can play DFS with. The majority of these are based in the US. However, Soccer games are available, which will likely be of the most interest to UK customers.
Sports You Can Play on UK DFS
American Football (College Football and the NFL)
NASCAR
Mixed Martial Arts (Ex: UFC)
PGA Tour Golf
Soccer
NASCAR
Basketball (College Basketball and NBA)
Ice Hockey (NHL)
Baseball (Major League)
DraftKings has also stated that they are looking into providing a more UK-oriented service by opening up gameplay in Rugby and Cricket.
Depositing and Withdrawing on UK DraftKings
You can use credit cards, debit cards, and PayPal to make payments on your Draftkings account as a UK player. When making a deposit, you must adhere to the conversion rate that is used by DraftKings to convert the British Pound to a Dollar, since DraftKings uses the US Dollar as their base currency. Once you've agreed to the conversion rate, the balance will convert right away to the US Dollar.
When making a withdrawal, any money that is transferred to you is transferred through the same method that you made the deposit and will be converted back into the British Pound.
Signing Up For a UK DraftKings Account
Signing up for a UK DraftKings account is a simple process. However, you cannot signup on your computer yet, and so you must download the app to your iOS or Android device. Once it has been downloaded, you must click on the Sign Up Button and proceed. It will ask you to create a Username and password, as well as enter your date of birth and Email.
Conclusion
For UK residents, the opening of UK DraftKings signifies the broadening of their DFS options. DraftKings is considered a Titan in the US world of daily fantasy sports, and now UK players get to experience all of its thrills. When playing on any platform remember to know your limits and above all have fun!
Summary
Reviewer
Review Date
Reviewed Item
Author Rating