Sugarhouse Sportsbook NJ Review – $250 Welcome Bonus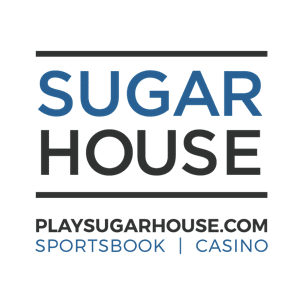 Claim $250 Welcome Bonus
SugarHouse Sports New Jersey is hooking up new customers with a 100% welcome up to $250 in cash. That means if you open an account and make a deposit, you'll be making a profit before you've even placed your first bet!
New Sugarhouse Sportsbook account customers must use bonus code 250MATCH on their first deposit • The offer is a 100% up to $250 in bonus money match • Customers must make an initial deposit of at least $10 • Bonus money is credited to your account within 48 hours • All bonus money in bank has a 1 x wagering requirement • Bonus money must only be wagered on slots, video poker, live dealer or sports betting.
Introduction
SugarHouse Casino is an excellent gaming brand that delivers one of the best sportsbook experiences on the market. They welcome customers with a deposit bonus of up to $250 in cash – not just a risk-free bet – and then offer a whole host of other promotions to boot. The sportsbook has a huge array of sports betting lines that will run the gamut of everything you'd want to see. Beyond that, a sleek website and a smooth app earn some of the highest grades we've given out for sportsbook software. To top it off, they have a loyalty program, tons of live betting and first-rate customer service, making this one of the most recommended books. If you're looking for a top-notch sports betting experience, SugarHouse delivers one of the best in the business.
SugarHouse Sportsbook in NJ
SugarHouse Casino is an excellent sportsbook and one of the top options for bettors looking for action in the state of New Jersey.
Positives
Excellent welcome bonus.
Among industry leaders in terms of quantity, variety of betting lines.
Among the best sportsbook software you'll find.
Top-notch customer service.
Solid loyalty program.
Negatives
Not a ton of sportsbook promotions.
Support is not available 24 hours a day (only from 9:30 AM until 2:30 AM).
SugarHouse Sportsbook New Jersey Welcome Bonus: Claim Your $250 Bonus
SugarHouse Sportsbook New Jersey is offering up new players a $200 Welcome Bonus. How it works is when you sign up for a new account and make your first deposit, they'll give you a 100% deposit bonus up to $250. The beauty of this bonus is that it's in cash, which means you can use the money however you want in your sports betting account. A lot of other sportsbooks give you a risk-free bet up to $250, which isn't bad, but cash is always king.
Remember that when you're making your first deposit, you have to add the promo code 250MATCH to get the bonus. You'll also have to make a qualifying deposit, which means you'll have to deposit at least $10. The bonus will be credited into your account within 48 hours and you're free to spend it how you like.
There's a 1x rollover in effect for the bonus, which you'll have to meet before you can withdraw.
How to claim the SugarHouse welcome bonus:
Short text about how we'll guide you in claiming the welcome bonus.
Head over to PlaySugarHouse.com.
Click the "Join Now" button in the top right.
Sign up for a new account, which takes just a couple of minutes.
Make your first deposit and add in the promo code 250MATCH.
You'll receive a 100% bonus up to $250 within 48 hours of deposit.
Use your bonus to bet on whatever you like.
Keep in mind that with this deposit bonus, there is a one-time rollover. That means you'll have to bet at least $250 worth of bets before you can withdraw. That's in place so that people don't simply deposit money into a new account, claim the bonus and then immediately withdraw the funds.
Other bonuses available at SugarHouse New Jersey
PlaySugarHouse actually doesn't have a ton of promotions – it's one of the few areas of weakness – but they do have a couple we'll go over a couple of incentives they have going on right now.
The first is a refer-a-friend bonus, which is a straightforward enticement. If you plan to do this, you'll have to fill out a form and put the name and e-mail of up to three people. For you to qualify for a full referral, your friends will actually have to deposit and wager at least $50 within the first 30 days. If they do, then you'll receive a scratch card where you can win a bonus that's between $50-$500.
The second promo is the $1,000,000 streak. This is a contest related to Thursday Night Football, so what you have to do is make a $25 bet on the game each week. If you piece together a three-game winning streak or longer, you'll earn extra prizes on top of your regular winnings. A three-game streak will net you $25, a four-game streak will net you $50 and so on. If you get all 17 games, you'll win $1,000,000, which is incredible.
Markets available at SugarHouse New Jersey
SugarHouse New Jersey has a massive selection of sports betting lines that's likely to keep everyone satisfied.
For most people, they'll care about the major North American sports and they're all there. From NFL to NCAAF to NBA to college basketball to NHL and MLB, all of those lines are available and up early. Where they go above and beyond in these realms is two-fold: the number of props per game and the variety of other props and futures.
Starting with the in-game props, we counted 168 different types of bet types available for an average NFL game, from alternate spreads and totals, to player props to all sorts of team props. You'll feel like it's Super Bowl week with the amount of props that are offered each and every week. In terms of the longer term bets, we saw lines on Defensive Player of the Year futures, Yes/No props for different teams to make the playoffs, and even lines for next year's NFL Draft. That's quite the selection.
Delving into the live lines, there's no shortage of action here too. It's not just one or two games that they've got up; if it moves, SugarHouse New Jersey probably has a live betting available on it. On a random weeknight after midnight, we found options for NBA games, indoor tennis and even international cricket. Each tennis match had over 40 different lines available, so it's not just a basic moneyline that they're throwing up.
There's plenty of action at SugarHouse and this is clearly a strength here. They're one of the industry leaders in terms of what is offered.
SugarHouse Sportsbook's Online Software
SugarHouse Sportsbook New Jersey has some of the best software around. They use the same software across all of their sites whether it's New Jersey, Pennsylvania, etc. and it's good stuff.
To start, their site is very clean. There are three columns that you really need to pay attention to when you log on with the sports categories on the left, the lines in the center and a newsfeed of the winnings on the right. If you make a selection, a bet slip neatly slides up from the bottom right of the screen.
While the site does all of the basics well, they go above and beyond the rudimentary with a few neat little elements. The newsfeed is interesting as they're among the only sportsbooks to do it. What it shows is the big parlay wins from their customers as they come in. You see them streaming up, which is kind of interesting to take a peak at. Another cool tool is the search function, which allows you to find something really quickly if you know what you need. It's an overlooked element as so many books don't offer it but it's handy – especially when you're trying to find a prop. And with good UI/UX, they've actually found a way to tidily slide-in a support button on the bottom left. It's there if you need it and it's easy to overlook if you don't. It's quite seamless. Even their live betting is a cut above as they show the in-game score and pertinent stats.
Overall, the software at SugarHouse gets high grades as it's fast and clean, and caters well to either newbies or veterans.
SugarHouse Sport's Mobile App
Like the desktop website, the SugarHouse mobile app is a pleasure to use. We review a lot of different sports betting software and apps, and there's some real junk out there. This is at the other end of the spectrum as this is some of the best.The first thing that stands out about the app is that if you use the website, it will look and feel quite familiar. The color scheme, layout and lines obviously can't be the same since we're working with different real estate (a portrait screen on a phone instead of a landscape screen on a computer), however, the app still has the same feel. You use your thumb or finger to get around, but navigation is quite similar. A hamburger menu will open up the categories of the sports for you and then once you've picked your sport, the lines will reveal down the center of the screen. When you make your picks, you'll be taken to a bet slip, which is where you finalize everything.What we love about this app is that you can get everything done that you need to get done through it – whether it's perusing the lines, live betting or making a deposit – and it's fast. It's the type of app that regular bettors would be very satisfied with.
SugarHouse Sports Payment Methods – Lots Of Options
SugarHouse Sportsbook New Jersey offers all of the regulars when it comes to deposit methods. Veteran sports bettors will recognize a lot of these options as they're mostly standard in the Garden State. Deposits start as little as $10, so you can ease into the action. Let's take a look what's available:
Online Banking/ACH – You'll need to provide some routing and banking information to set this up (just the first time)
Cash @ Casino Cage – If you're near the land-based casino, you can drop off cash at the cage.
SugarHouse Play+ Card – This is the casino's prepaid card.
PayPal – This is a popular online wallet that many are familiar with.
Credit/Debit card – This is the easiest method for deposit but you'll have to double-check that your company allows gambling transactions.
Overall, deposits and withdrawals are a smooth process at SugarHouse Sportsbook New Jersey. For most players, the easiest deposit method will be the credit cards as almost everyone carries them. For withdrawals, you have a number of options but typically PayPal is your fastest as the money can hit your account within 30 minutes of a withdrawal request. Check in the mail might be the most convenient as you don't have to leave your home but it is a bit slower as it will arrive within 10 to 14 days.
SugarHouse Sport's VIP and Loyalty Points
SugarHouse Sportsbook offers customers a loyalty program via their iRush Rewards.The main goal of this program is to reward regular customers with sweet little incentives as a thank you for playing with them. Every time you make a real money wager, you earn two types of points: Loyalty Level Points and Bonus Store Points. Loyalty Level Points are specifically for your Loyalty Level, which has different tiers, while the Bonus Store Points can be used for various rewards in the Bonus Store.With the Loyalty Level Points, the more points you accrue, the further up the ladder you go. You might earn things like hotel accommodations, a free Apple or Android playing device or a Thank You Dinner.There are 10 different levels that require from 40 points a month up to 20,000. Check the website for more details on all of the different tiers and bonuses available to you.
Is SugarHouse Sportsbook Safe, Secure and Trustworthy?
Play SugarHouse is a fully licensed sportsbook in the state of New Jersey, so you know you'll be in good hands when you play with them. What you'll want to do is make sure you avoid playing at the offshore books because that's when you'll get yourself into trouble.
You're better off sticking with the legal, licensed sportsbooks because you never know what you'll get with an offshore book. Since they're located in a land far, far away, they don't have to deal with any of the oversight and scrutiny that the New Jersey sportsbooks have to deal with. That makes betting with them a risky proposition because who knows what they'll do? There have been cases like Legends sportsbook, which simply closed up shop overnight and there was nothing that their customers could do. There are countless other stories of sportsbooks changing their rules or giving customers a hard time when they try to withdraw their money. Sure, they'll take your deposit and let you play. As long as you lose, there are no problems. However, when you request a withdrawal, they could give you the run around or decide not to send you money at all. At that point, what do you do? You have no recourse.
SugarHouse is a licensed and regulated sportsbook in the state of New Jersey. What that means is they're monitored by a gaming commission to make sure that everything is on the up and up – especially how they treat customers. Their books will be checked to make sure that the company is financially sound too. And if you ever have any issues, you have recourse. Stay away from the risky offshore options – especially when you have such a great local option in front of you.
SugarHouse Sports Customer Support: Excellent Service Via Phone, E-mail Or Chat
SugarHouse has excellent customer service overall whether you're looking to call in and speak with someone, get assistance via live chat online or send in an e-mail. For the most part, you'll be in good hands in any situation. They have live chat available to you almost all hours of the day as they're available from 9:30 AM up until 2:30 AM. That's 17 hours of the day. For most of us, we don't have too many sports betting questions that need answering right away at 4:00 AM. For those who are waking up in the middle of the night in a panicked sweat, you can send an e-mail and they'll be sure to reply as soon as they're back in the office the next day.
They have excellent customer support and we found that they really took care of our needs. Across all three channels, they took care of our needs.
We Recommend SugarHouse Sports NJ
Play SugarHouse New Jersey is one of your best bets in terms of online sportsbooks for customers in the state of New Jersey. They're among the industry leaders and we highly recommend them.
SugarHouse Sportsbook NJ FAQs
You must be at least 21 years of age and a resident of the state of New Jersey. They will ask for proof of both.
SugarHouse Sportsbook New Jersey will give you a 100% bonus up to $250 when you open an account and make your first deposit.
You can call them at (855)752-9101, e-mail them at [email protected] or contact them via live chat through the website.