Months of hard negotiations ended this Friday, July 17, 2015, when 888 Holdings Plc announced they had acquired bwin.party for $1.4 billion worth of shares and cash. This agreement means that 888 Holdings Plc won the takeover battle against its rival GVC Holdings Plc. This victory comes as a surprise because GVC Holdings was considering the purchase of bwin.party for $160 million more than 888. Additionally, bwin.party stated last week that they were in the middle of negotiations to settle a deal with GVC. However, 888 likely won out because they had better terms.
The bwin.party takeover is one of many mergers in the online gaming industry. For instance, Wiliam Hill Plc teamed up with GCX to acquire Sportingbet Plc back in 2013. In fact, bwin.party itself was created through a merger in 2011.
Leading Operators in the Online Gaming Industry
The success of this deal will create a leading operator in the rapidly growing online gaming industry. An online gambling titan will be formed through the consolidation of both bwin.party and 888's services such as casino gambling, sports betting, and online poker. The acquisition will also lead to substantial cost savings and the creation of a new gaming technology unit. This deal is extremely advantageous to 888 since it was won with an efficient structure and reasonable price. Although it is possible for GVC to bounce back, the merger puts 888 far in the lead.
New Marketing Initiatives and Opportunities
Alexandre Dreyfus, the CEO of Mediarex Sports & Entertainment, tweeted "it will help build a solid no2 in poker and will fuel new poker marketing initiatives, which is critical and needed." 888's ability to drastically enhance its scale through the purchase of bwin.party will create these marketing initiatives as it provides 888 with opportunities to strengthen its efficiency in marketing areas. Dreyfus goes on to write, "because the operation is not only a debt based financing, it gives a lot of marketing opportunities for 888/PartyPoker."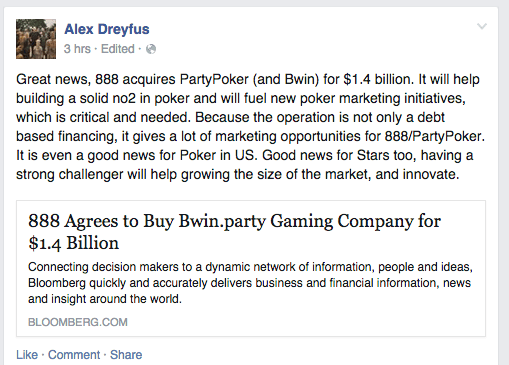 What the Deal Means For the United States
Dreyfus also writes that "it is even good news for poker in US. Good news for Stars too, having a stronger challenger will help grow the size of the market, and innovate." PokerStars will now have a much more difficult time steamrolling the New Jersey competition. Once finalization of the deal is complete, 888 will have 99 percent control of the online poker traffic in New Jersey, Delaware, and Nevada (the three states that have legalized online gambling) if PokerStars hasn't launched yet.
Furthermore, through the purchase of its biggest US competitor, 888 has removed any dissent that would prevent New Jersey from entering an interstate agreement with Delaware and Nevada. 888 is the sole beneficiary of any interstate online poker agreement, and so naturally bwin.party was against it. With bwin.party's protests removed, 888 should be free to connect its products in New Jersey, Delaware, and Nevada. This connection would create an appealing online poker network for the first time in the regulated U.S. online gambling history. The combined traffic from the interstate network could see an average commerce of more than 400 players and peak levels up to 1,000 players.
What This Means For Shareholders
The purchase of bwin.party should increase 888's earnings and save at least $70 million by the end of 2018, which is good news for 888 and bwin.party shareholders alike. Karl Burns, a Panmure Gordon analyst, stated, "the acquisition is likely to be significantly value accretive for shareholders." Because the combination of the two companies will create remarkable cash flow, it may allow for future shareholder returns.