The age of smart devices has given rise to a technological world in which most individuals rely heavily on their devices for every day tasks, gathering of information and organizing their life. However, with this rise has also come the ability to misuse devices from the likes of children, spouses, family members and employees. This is where spy software has come into play, finally giving people the ability to monitor the smartphones and computers of those individuals that they are feeling suspicious over.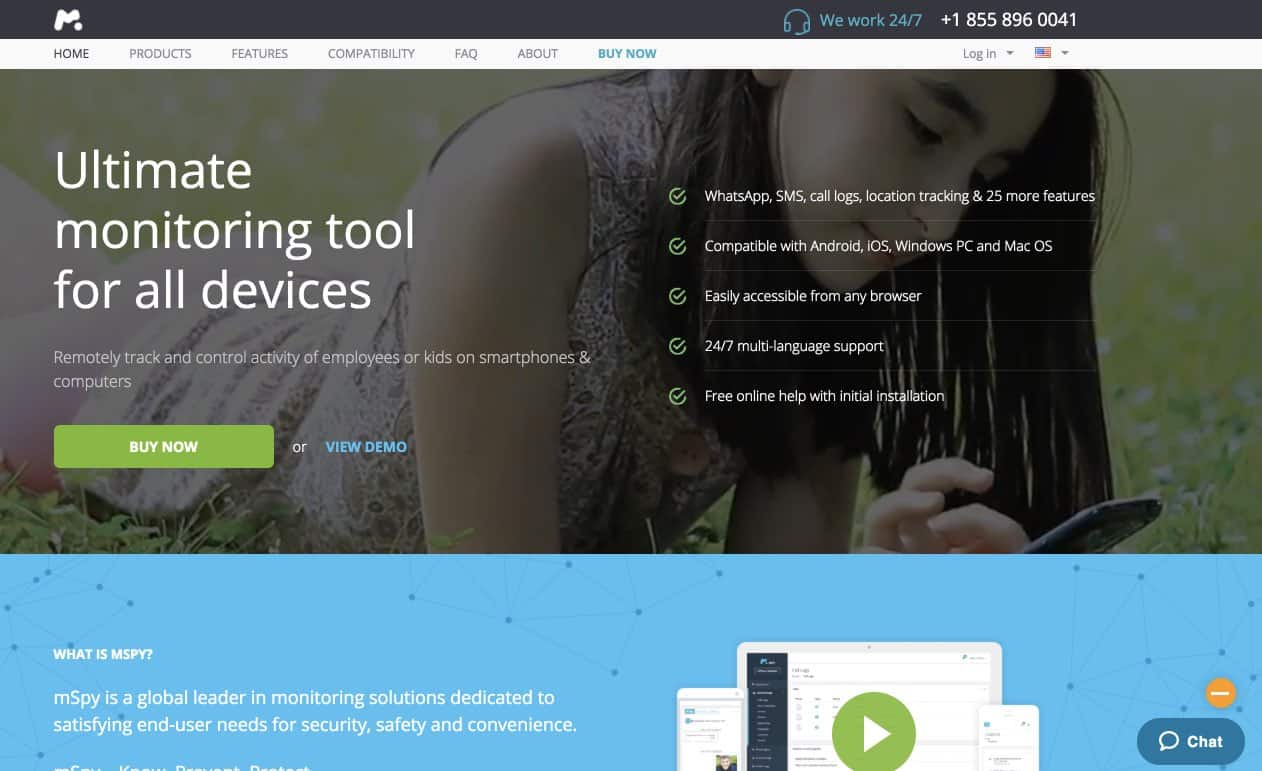 Are you feeling the need to keep tabs on your child, employee or spouse? You have no clue who they're communicating with or how they're spending their time. Whether it's a child that you want to keep tabs on, a spouse you have suspicions of them cheating or an employee that you do not trust, mSpy has come in with the solution. Check out this mSpy review for an ultimate guide to everything you need to know about this monitoring software!
mSpy Review Article Overview
What is mSpy?
How Does mSpy Work?
Who Can You Use mSpy on?
Supported countries of m
Spy
mSpy User Interface
Features

Incoming and Outgoing Calls
Phone Information
mSpy Settings for Device
Website Blocking
Website Tracking
View Text Messages
Access Contacts
Access Calendar
Track the Location of the Targeted Individual
Geo Fencing
Monitor Social Media Apps
Monitor and Control Apps
View Device Media
Keyword Logging
Keyword Alerts
Unlimited Device Change
Uninstall Alert
Comparison between Basic, Premium and Without Jailbreaking mSpy
Plans and Pricing
Payment methods of mSpy
Compatible devices and phones
System requirements for mSpy
Install and Setup Process
Download File Size
Time to Download
Legality of mSpy
mSpy technical support
What makes mSpy Unique
Mspy company reliability
Negatives of mSpy
Is mSpy right for you?
Conclusion
What is MSpy?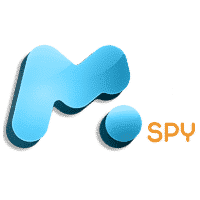 mSpy is a monitoring software program that lets you monitor your employee, spouse or child's computer and phone activity. It is currently utilized by more than one million customers across the world and is thought of as the best cell phone monitoring software available.
The mSpy app can be downloaded on most major tablets, desktop computers and smartphones. They also have a no-jailbreak version now available for iOS devices including iPads and iPod Touches.
mSpy helps you monitor someones online and phone activity, including what website they're checking, who they're texting and who they're talking to. It aids you in finding out what's happening in an individuals life so you can take necessary action before it's too late.
In order to download mSpy, you must download and install it on the targeted device. Once completed, you will be able to see the target individual's call history, browsing history, emails, GPS locations, text messages, videos, instant messages, photos and more simply by logging into a secure account on MSpy's website. Once you've installed the software it will run silently in the background and record any use of the device and send it to the MSpy account, which you can log into from either a mobile device or computer.
mSpy is incredibly easy to set up and now works on both jailbroken and non-jailbroken Android and iOS devices. It can also be used on Mac and Window computers. The installation process only takes a few minutes and will run in the background, undetected to the targeted individual. Your spouse, children or employee will never know that you are looking into their activity.
How Does mSpy Work?
To use mSpy, you will need to decide between subscribing annually or monthly to either their premium or basic plan. You can cancel at any time if you decide you don't need it.
Once you've gone through with subscribing to mSpy, you can log in to your mSpy account on any computer. At this stage, you are ready to download and install mSpy on the targeted individual's computer or smartphone. mSpy provides clear instructions that will help guide you through the process of downloading and installing the app on the targeted person's device.
Once you've successfully installed it, mSpy will run in the background and is completely invisible to the targeted individual so your employee, spouse, or child will have no idea that they are being "watched". Once the installation is complete, mSpy will get to monitoring and recording activities that take place on the device right away.
Tracking of the targeted device includes phone calls, emails, GPS location, videos, photos, Instant Messages, texts, key logger, browsing history and more! All of this data can be accessed through your account on mSpy.
Who Can You Use mSpy on?
Keep an Eye on Kids
Are you concerned with what your kids have been up to? mSpy allows you to see who they've been talking to and at what times, who they're chatting and texting with, what websites they're going on and what they're up to on social media apps like SnapChat. You can also ensure that your kids don't fall victim to cyber bullying or online sexual predators on such apps as Tinder.
Keep an Eye on Your Spouse
The last thing you want to do is be in a position in which you feel as though your spouse is hiding something form you, like an affair. However, sometimes you're left with little choice but to keep tabs on what your spouse is up to and who they're chatting with. mSpy will allow you to see their location around the clock, as well as the social media apps that they're using and who they're talking to.
Keep an Eye on Employees
When you're the head of a company, you very well know that time is money. Although you can hope that all of your employees are trustworthy, you can never really know for sure. However, by using mSpy you can ensure that your employees are keeping on task. By using mSpy, you can ensure that your employees are getting to work on time and are leaving when they're supposed to. You can also see how much time they spend on their phones every day and if they're wasting a bunch of time on social media apps. You can also monitor the websites that they're checking at work to ensure that they're not doing anything that could potentially harm your company's reputation.
Supported Countries of mSpy
mSpy supports users worldwide. This means that you can p
urchase it from any country by using one of the payment methods that works within your country. There are different privacy laws within each country so it is important to ensure the legality of using mSpy. However, it is legal to use in most countries.
You can also use mSpy in one country if you are in another. For example, in Europe when you are from the US. The only restriction that you have is that the targeted device must have an Internet connection so that you can upload the extracted information. You must also have access to the internet so that you can log into mSpy and access your account to see the information gathered from the targeted device.
mSpy User Interface 
You must log in to gain access to mSpy's control panel. The control panel is extremely user-friendly and well designed. All of the options are played out intuitively and you'll have no problem finding what you want. All you need to do to find the data you want is to click on the associated option.
The software interface has a simple, modern design and slide options that are intuitive. If you are unsure of a certain option, when you scroll over it with your mouse, an explanation will pop up, which is very useful for first-time users.
Comparatively, mSpy competitors like FlexiSPY, Spyera and Highster have slower load times. You'll also find that mSPy has more options than their competitors.These options include:
uploading data in a certain interval that you specify
pausing your monitoring activities
uploading information only when the phone is connected to Wifi
Moreover with one simple click on the control panel you can export logs, reboot, re-install the app, uninstall the app and completely wipe the phone.
Features of mSpy
Device spy software has progressed incredibly over the last decade. Only a few years ago, the only thing that spyware was capable of was allowing you to see text messages by forwarding them to another phone number. However, spyware technology has now advanced to the point that users have an in depth view of an individuals device.
Incoming and Outgoing Calls
This is given in a mobile device spyware service. From within your control panel, you will be able to view all outgoing and incoming calls made and received from the target device. You can also see the duration of the call, call times, as well as the name of the caller if they in the contacts of the target device. You can also see the total number of calls received or made.
You can delete call from the call log in the dashboard. However, if the user of the target device removes their call log, you'll still have the history on your dashboard, whether or not it remains on the phone itself.
You have two additional functions within this section of the app:
You have the capability of setting up blocks from incoming calls from a specific number or contact.
You may also block all incoming calls during a certain time window. This is useful if you'd like to limit your kid's late night calls–such as from 11pm to 7am.
Phone Information
Your dashboard will display quite a range of information about your targeted device. Some of this can be thought of as supplementary information, but there are also some key functions within the dashboard as well.
These are that stats you can access from your dashboard:
remaining battery life of the target device
operating system information
mSpy software version
cell service provider
memory available
model of device
last time device was synced to your dashboard
whether the device is jailbroken or rooted
There are also some functions you can perform on your dashboard:
 wiping the device
disabling the app on the device
restarting the mSpy app on the target device in the case it has disconnected from the control panel. (does this by sending a text message to the device, which the targeted user won't see).
unlinking the device
clearing the logs in your dashboard
exporting the logs in your control panel to store (you can save these in CSV, XLS and PDF)
remotely locking the device
remotely rebooting the device
mSpy Settings for Device
T
his section of your control panel will allow you to set behavior of the target device. Once you have this setup, mSpy will operate with your chosen settings unless you change it.
From this section you can set the settings to "auto-update" so that of the recorded info is automatically sent to your control panel for you to later view. Due to the fact that constantly updating the information on a constant basis can be draining for  the targeted phone's battery, as well as the data storage of the device you're viewing the data from, you can inform mSpy the types of information you'd like to view.
In fact, from this panel you can get quite specific. For example, you can inform the app that you'd only like videos uploaded when the phone is connected to wi-fi instead of on a data connection. This will ensure that mSpy doesn't burn through the targeted person's data plan.
From this section, you can also the update interval based on location and data information. The lower you set it, the more frequently the updates will occur. It's pertinent that you find a setting that won't drain the targeted person's device too quickly. The recommended settings is to update the date every 30 minutes and the location every 2 minutes.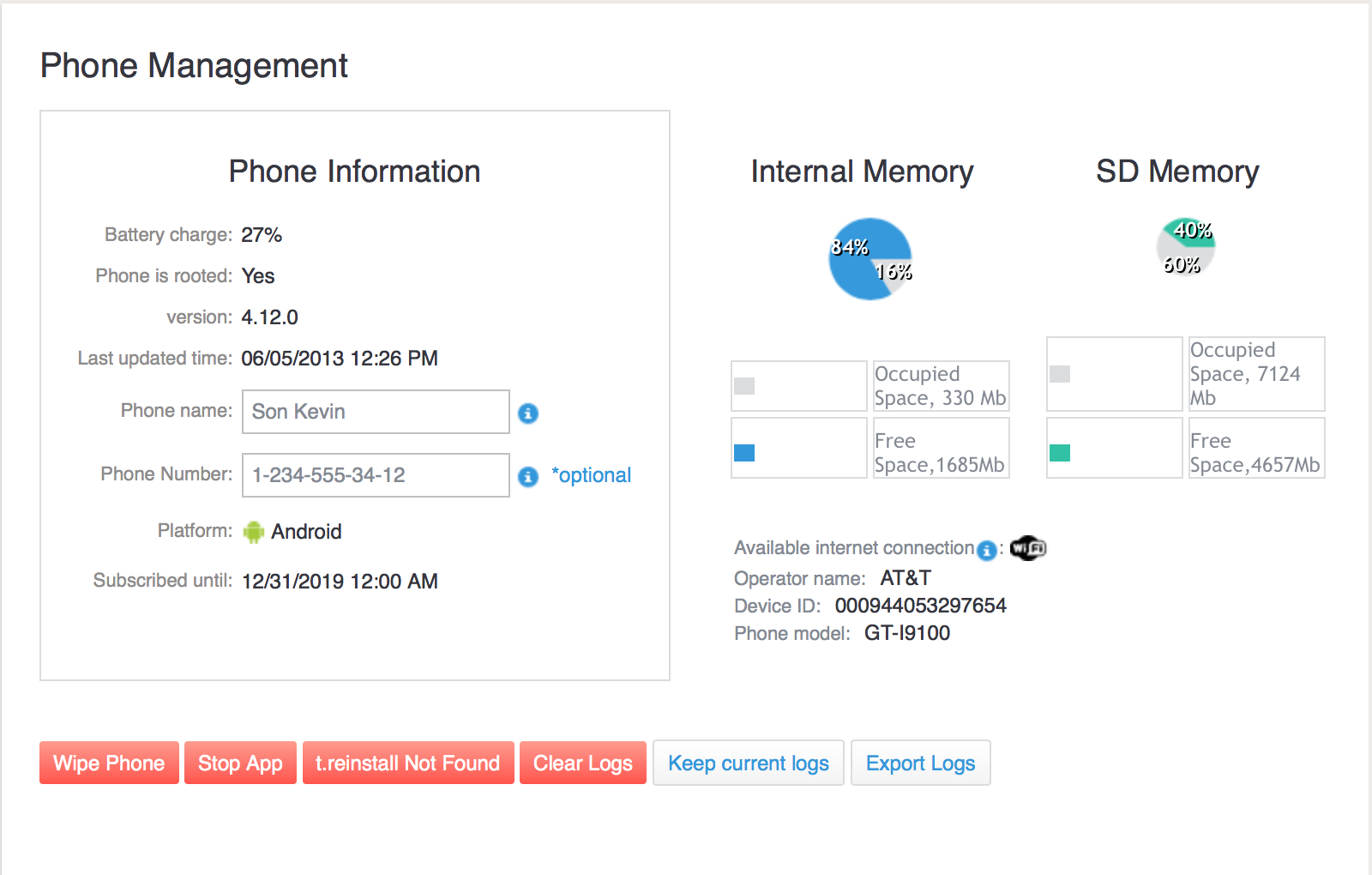 Website Blocking
mSpy lets you block the targeted person from viewing specific sites you consider off limits. This feature is extremely useful to keep kids away from off-limit sites. However, it requires the targeted individual to be using their browser. If the phone owner is using Safari, Chrome or an Android browser, then you won't have any problems blocking a site. However, if they download a third party browser such as Opera, they'll be able to view websites even if you block them.
Website Tracking
This feature is quite popular among employers who want to track their employees wasted time and parents who want to make sure their kids aren't using off-limit sites. It allows you to see the websites that the targeted person is viewing from their device, as well as the pages that they bookmark. It can even notify you when certain keywords have been searched or put in the browser.
This feature is especially handy for parents, as it's impossible to constantly be keeping an eye out on what kids are looking at on their smartphones. Using MSpy to track their web viewing is an easy way to make sure they stay out of trouble.
Viewing Text Messages
mSpy can keep track of all text messages received and sent on the targeted device. From your control panel, you'll see the time, phone number and the text itself.
Even if the device owner deletes the texts from their phone, they'll remain on your dashboard until you choose to delete them.
Access Contacts
From your dashboard, you'll have access to the target device's contacts. This includes names, email addresses, physical address information and phone numbers.
Access Calendar
You also have access to the target device's schedule and calendar. This lets you see when the targeted individual has scheduled meetings, as well as the details associated with it, any tasks schedules, and all calendar entries. Once a new appointment or contact has been added into the device, you'll have the entry within minutes on your dashboard.
Track the Location of the Targeted Individual
An incredible feature of the mSpy app is the ability to track the individual through GPS. Using the target device's GPS, you can locate its physical whereabouts within 20 meter accuracy. On top of this, you can view a map of their location and there movement over a certain amount of time. By using a wifi signal, you'll also be able to track the device's location, even when there's no GPS signal.
GEO Fencing
mSpy allows you to "GPS fence" the target phone. This means setting up restricted zones to limit the target device. You can set up as many zones as you want. The device will automatically track and log how often and when each zone is visited. You can even set up the app to send you a notification via email when certain zones have been exited or entered.
This can be a great tool for parents to set up green zones around your kid's school, home and any other areas they typically visit. If they exit one of these zones, then you'll be emailed immediately.
Monitor Social Media Apps
In this day and age there are countless ways to communicate other than the standard texting and talking on the phone through the use of social media apps. Monitoring basic texts and phone calls just isn't enough, but luckily, mSpy allows you to track almost every social media app available.
mSpy can track the following social media and instant messaging apps:
WhatsApp: track all chats
iMessage: track all chats
Skype: track calls and chats
Viber: track chats, photos, group messages and call logs
Line: track incoming and outgoing messages, times received and sent, view hidden chats, name and phone number used by targeted individual
Snapchat: view all photos, videos and drawings sent, times and date. (this requires device to be rooted and for the purchase of a supplemental Snapchat monitoring package).
Google Hangouts: view all photos, contact list, emoji and stickers sent, and browse maps
Tinder: view targeted individual's profile, super likes, messages sent and received and view matches
Telegram: track messages, contacts and hidden messages
Instagram: view posts, direct messages, and subscribers
WeChat: view incoming outgoing messages
Facebook: view messages and contacts
Monitor and Control Apps
Within your mSPy dashboard you can see all apps that have been installed on target device. From this same menu you can block and unblock access to certain apps. If the targeted individual downloads a new app, it will automatically be added to your control panel.
This is a great tool to use to ensure that your kids aren't using apps that are inappropriate or could cause harm to them. It can also be used to ensure that employees are remaining on task and aren't utilizing apps that could be a liability for your business.
View Device Media
The mSpy dashboard allows you to see all videos and photos taken using the targeted device. You will also have timestamps and dates of each video and image. You can view pictures either as a thumbnail or full size if you click on the image. Videos are shown in their entirety.
Keylogging
Using the Keylogging feature allows you to replace the default keyboard of the targeted device with that of an mSpy keyboard, which will track all of the individual's keystrokes. You can ensure that the individuals is always using the mSpy keyboard by selecting "Force Keyboard" in your control panel.
 Keyword Alerts
You can get a notification every time a certain phrase or keyword is used on the targeted device. This can include such keywords as alcohol, drugs, weed, porn, sex, etc. or any other keywords that you deem inappropriate or harmful. When the individual types in the keywords, you'll get an immediate notification on your phone.
All you have to do is enter all of the keywords that you'd like to have tracked and you will receive a notification any time they are used. mSpy will keep track of apps, browsing history, messages, etc. to notify you any time it finds the keyword.
Unlimited Device Change
You can only install the mSPy app on one device at a time. However, you can switch the targeted device as often as you'd like without purchasing a new license.
Uninstall Alert
This feature is useful in case there is an issue with the mSpy app and it gets deleted or installed from the targeted individual's phone or computer.
Features Comparison
mSpy w/o Jailbreaking
Call History
Contact List
Text Messages
MMS
iMessages
Tasks
Notes
Calendar
Browsing History
Wi-Fi Networks
Instant Messages
mSpy Basic
Automatic Software Updates
Call History
Contact List
Text Messages
MMS
iMessages
Emails
Tasks
Notes
Calendar
Browsing History
GPS Location
Unlimited Device Change
SIM Change Notification
Keyword Alerts
mSpy Premium
Automatic Software Updates
Call History
Contact List
Text Messages
MMS
iMessages
Emails
Tasks
Notes
Calendar
Browsing History
GPS Location
Unlimited Device Change
SIM Change Notification
Keyword Alerts
+  These Premium Features:
Geo Fencing
Wifi Networks
Keylogger
Incoming Call Blocking
Website Blocking
App Blocking
Snapchat
Remote Device Wipe
Remote Device Lock
Instant Messages
Plans and Pricing
mSpy Basic
$29.99 per month
$59.99 every three months
$99.99 annually
mSpy Premium
$69.99 per month
$119.99 every three months
$199.99 annually
mSpy Family Kit (3 Devices)
$359.97 every six months
$479.97 annually
Payment Methods for mSpy
There are many ways to purchase a subscription to mSpy. Let's take a look at the secure methods:
Debit/Credit Card: MasterCard, Visa Electron, Visa
Realtime Bank Transfer: TrustPay
PayPal
JCB
Wire Transfer
Fax
UnionPay
American Express
Discover
Diners Club
Vendor to Vendor
Check
Purchase Order
Carte Bleue
Com
Giropay
Alipay
Cash through ACE/Family Dollar/ 7-Eleven
iDEAL
WebMoney
Ukash
CashU
Boleto Bancario
Konbini
ACH
eCheck
Chinese Debit Card
Dankort
Skrill
All of these payment methods are secure and standard in their residing country so you are open to chose the one you prefer the most.
Compatible Devices and Phones
mSpy is currently available for most smartphones, desktops, laptops and tablets. They recently released a no-jailbreak version that is compatible with iPhones, iPads and iPod Touches, as well as iOS computers including those running iOS 10.x.
System Requirements of mSpy
Below are the system requirements of using mSpy on various desktop and mobile systems. It's paramount that you ensure that the app can run on the targeted device before purchasing.
mSpy for iOS Devices (Non- Jailbroken)
Works with all versions iOS
Targeted device must be connected to WiFi
Physical access to targeted device isn't required  if you have the individual's iCloud credentials
Physical accès may be required if targeted device isn't backed up on iCloud.
mSpy for iOS Devices (Jailbroken)
Targeted device is jailbroken
Physical access is required to install mSpy on the device
Targeted device must be connected to WiFi
Targeted device must be running iOS 6-9.1
mSpy for Android Devices
Physical access to the targeted device is required to install mSpy
Targeted device must run Android 4 or above
Targeted device must be connected to Wi-Fi
To monitor Viber, WhatsApp, Skype, Gmail and Wi-Fi Networks, Android must be rooted
Tracking instant messenger required targeted device to be rooted
mSpy for Mac Computers
Targeted computer must run Mac OS 10.7 Lion or above
You must have  physical access to the computer in order to install mSpy
mSpy for Windows Computers
Targeted computer must run Windows Xp x32 or above
You must have physical access to the computer in order to install mSpy
Installation and Set Up Process
Unless you are using the no-jailbreak version of mSpy and you have the targeted individual's iCloud credentials, you will need to have physical access to the device in order to install the monitoring software. This is the only time that you need contact with the physical device. Monitoring the activity not the device is done completely remotely and as previously stated, the targeted user will never know you are spying on them since mSpy is untraceable.
mSpy was created to be extremely easy to install and set up, even if you're not tech savvy. Once you go through with purchasing the subscription, you will get an email that has your password and user to give you access to your mSpy account.
Open up the confirmation email on your computer and click on the link that they provide you. This will take to your mSpy control panel. Once there, use your credentials to log in and follow the following step-by-step instructions to install the software:
The installation process depends on the type of device you're targeting, as well as its operating system. You must therefore check the installation procedure specified in your online account for the specific type of device you are targeting.
You must first ensure that the device is compatible with mSpy (check compatible devices and system requirements above). Once you've done this, you must then ensure that the targeted device can connect to Wi-Fi for at least ten minutes as you install the software. This is required so that the targeted device can connect to your online account. You must also have access to WiFi so that you can download mSpy app on the targeted device.
Once you've made sure the targeted device is connected to Wifi, open up your email from the device and follow the instructions given by mSpy. This takes no more than five minutes and once completed you can start monitoring the device.
Once installation is completed, the software will start monitoring the device immediately. All user activity can be viewed by logging into the control panel.
Download File Size 
The download size of mSpy is a measly 6.04MB. Once you open up your email and download the link, you'll find it in your Download folder under the name bt.apk. The size of the monitoring app is 23.25 MB, which is also hardly enough to notice. When compared to their competitor, FlexiSPY, it is much less as their software requires 70MB.
Download Time
The time that it takes to download mSpy will depend on your WiFi connection and speed. In the US, the average speed of mobile downloads is 14.1Mbps so it would take you a little less than 4 seconds to download the mSPy file.
The full time that it takes you to download the software, which includes enabling unknown sources, disabling "the verify apps" requirement and finding the download link will take only a few minutes depending on whether you know what you are doing or need some extra time to figure things out.
Legality of mSpy
mSpy is a professional device monitoring software company that is designed for spouses, employers and parents to legitimately and legally monitor their device use. In order for monitoring to be legal, you must have express permission to monitor the device or you must own the device. If you are intending to monitor a device that you do not have express permission to do so or otherwise do not own the device, then be warned that this is not legal nor recommended.
For legal purposes, if you are planning on monitorin
g an employee, it is imperative that you inform them that you'd like to use the software if you'd like to download it on their own device. However, if you download it on a work computer, tablet or phone that you use then you do not need to inform them.
Will the Targeted Person Know You are Using mSpy?
If you are monitoring a device that you are legally allowed to do so without informing the targeted individual, then there is no way for them to know that you are monitoring them unless you pick the "keep the icon" option while setting up mSpy. If you don't explicitly choose that option then there will be no sign of mSpy on the targeted device. The mSpy icon will disappear automatically once the installation is complete.
Besides this, mSpy's service and app does not appear in the App Manager, which means that even if the targeted individual has an inkling that they are being tracked, there is no way that he or she can confirm it.
Another way that the targeted individual might catch on to the fact that they are being monitored is if their device has an unusual amount of battery drainage. However, the good news with mSpy is that it consumes a minimal amount of battery  life to maintain its tracking.
Technical Support of mSpy
mSpy offers technical support 24/7 online or you can call their hotline. This is one of the aspects that makes mSpy a great company, as they ensure that any question you have will be answered immediately. Customer service representatives are on-hand to aid you in any technical problems or purchasing questions that you have.
Reliability of mSpy
mSpy is a reliable software company owned by MTechnology Ltd., which has offices in the UK and the US. They ensure that their software is both efficient and flawless by providing 24/7 customer support and an honest refund policy with their 10-day money back guarantee. Payments are made through secure methods like PayPal and credit/debit card processes. mSpy is five years in the running and continues to be a major competitor to its rival monitoring companies.
What Makes mSpy Unique
mSpy has a slew on interesting features that is unique to them. This includes the key logging, device change, geo fencing, and no-jailbreak required features. mSpy is also the way to go if you have a limited data plan, as you can choose to only upload data when you're device is connected to WiFi so you aren't faced with nasty overage charges.
Their customer service is also unparalleled and you will have technicians on hand who are friendly, knowledgeable, and efficient. Their technical support team are available through email, live chat and phone. On top of this, they have a special service called mAssistance, which is designed to aid you in installing mSpy seamlessly unto the targeted device. This service will have a trained technician remotely install and configure the mSpy software unto the targeted person's computer or cellphone. This is an optional supplemental service that must be purchased separately, but costs as little as $44. Keep in mind that you will still need to have access to the device to use the service.
The Downside of mSpy
There are a few downsides of mSpy that need to be taken into consideration. mSpy only allows you to track one device at a time unless you purchase the family or bundle pack, which costs more money. This means that with the basic or premium plan you won't be able to install the software on multiple devices at once.
Another downside is that the app makes it possible to wipe the device remotely. However, once complete there is no way for the data to be retrieved.
You are also not alerted when the SIM card is changed.
Lastly, unless you have the iCloud log in information and are going the no-jailbreak route, you will need to have access to the phone for at least a few minutes, which can prove difficult in some situations without being detected.
Is mSpy the Right Solution for You?
mSpy is hands down one of the best if not the best solution in the case that you feel the need to monitor a loved one or one of your employees. This is especially the case since it is very reasonably priced for the extensive features that it provides. If you want to be able to monitor every single aspect of a targeted individual's phone use, then this is the company to use to ensure you are satisfied.
mSpy Review Conclusion
mSpy is a leading stealth monitoring software on the market. If you'd like access to innovative features such as Instagram, Skype, and WhatsApp monitoring than mSpy is the way to go. They are the best company in the spy industry and are one of very few companies that provide live chat and call support 24/7. Additionally, prices are extremely reasonable for the service that they provide.
Overall, you will be incredibly satisfied with the customer support, ease of use, and extensive features of mSpy. It is an outstanding application that allows you to get an in-depth view of what the targeted individual is doing on their phone or computer.
mSpy is a reasonable solution provided by a company that is reliable and cares about your satisfaction.
The Review
mSpy
"mSpy is a monitoring software program that lets you monitor your employee, spouse or child's computer and phone activity. It is currently utilized by more than one million customers across the world and is thought of as the best cell phone monitoring software available."
The Good
24/7 technical support
Reliable company
one million customers across the world
undetectable to targeted user
The Bad
mSpy only allows you to track one device at a time
unless you have the iCloud log in information and are going the no-jailbreak route, you will need to have access to the phone for at least a few minutes, which can prove difficult in some situations without being detected.
Breakdown
Reliability 100%

Customer Support 100%

Ease of Use 90%

Reliable Company 100%

Legality 100%