Yahoo DFS Review
Yahoo only recently announced that they were launching their own Daily Fantasy Sports platform. Many people wondered what Yahoo's interpretation of the product would entail. Others wondered whether the company was going to put their own spin on the Daily Fantasy Sports industries' standard offerings, and whether they would have unique game formats and salary caps.
Sadly, Yahoo's DFS product is a bit underwhelming when compared to the high expectations of players. However, that does not mean that playing on their platform does not have some value. Additionally, it is important to keep in mind that there should be noticeable improvements in the next few months as Yahoo is working to add to their gameplay offerings.
Yahoo Sports has been successfully offering their services in the season-long fantasy sports arena, and so their venture into the Daily Fantasy Sports landscape is a new one. So, where does Yahoo stack up exactly to other Daily Fantasy Sports Sites?
Deposits/Withdrawals
Yahoo lets you link both your Yahoo accounts and PayPal to make deposits and withdrawals extremely quickly. You may also use a credit card to make a deposit. Withdrawals are made directly to your PayPal account.
Yahoo Sports DFS Bonuses
Yahoo will match your first deposit with a 200 percent matching bonus that will be paid out in increments. However, one notable advantage of Yahoo over other sites is that they do not have a cap on their bonus. This means that you can deposit $2000 (which is the max initial deposit) and receive $4,000 in bonus money. The bonus has a 4 percent release rate of the tournament entry fee for every contest you enter. So, it's worthy to keep in mind that it takes a long time to receive the entire bonus amount, especially as Yahoo only provides a couple of "high roller" tournaments in the $1,000 range.
Game Options
Yahoo currently offers DFS gameplay in the four top US sports—NHL, NBA, MLB, and NFL. Yahoo offers a few gameplay options. However, they do not have nearly as many as options as FanDuel and DraftKings. Currently, you can try your hand at 50/50s, head-to-heads, guaranteed contests, and group games. Yahoo DFS is still in its early stages, though, and so you should see more variety in the coming months.
You can make multiple entries into Yahoo's Guaranteed Prize Pools. However, the number of times you can enter into a certain contest depends on the particular one you are entering. For example, you'll find that the $10 Double Up will allow you to enter a maximum of 10 times. The reason for this is so that there is a more level playing field for those people who do not have an extensive bankroll.
As far as their featured tournament goes, Yahoo has yet to offer a wide selection. However, they do provide a $100,000 payout for the first place winner and a $1 million Guaranteed Prize Pool.
Mobile / App
Yahoo has created an intuitive mobile app that allows for iOS devices to play their Daily Fantasy Sports games on the go. Unfortunately for Android users, Yahoo does not have an Android app out as of yet. However, if you have an Android, then you can navigate to Yahoo's mobile browser relatively quickly.
For those that do have an iOS device, you'll find the app offers a sleek interface that contains the same features as the desktop website. This includes allowing you to enter and even create contests, as well as view all of your upcoming contests. You can even edit your teams on your device before the lineup locks in.
Usability
One of the best parts of playing on Yahoo's DFS website is that they've created an incredibly sleek look for the home page. You'll find that the transitions from page to page are seamless, and the move that Yahoo made from season-long to daily fantasy was incredibly clean. Additionally, the filters you will see at the top of the page makes it easy to find the perfect contest for you in every section.
There are currently four types of submenus to choose from:
Lobby
This is where you'll find all the games. You can filter this page by sport, contest type, and price range.
My Contests
You will find a run down of all your future contests, completed games, and live contests.
My Account
You'll find a summary of all the wins you've had on Yahoo Daily Fantasy this season. You'll also find options to look at your profile and change its settings.
Help
This opens another window that includes any questions you may have, as well as how to get into contact with Yahoo support through Twitter, Facebook, or email.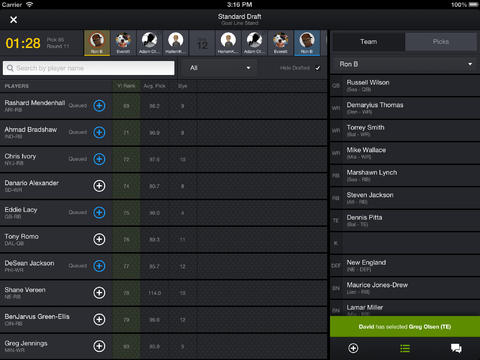 Is Yahoo DFS Legal
It is entirely legal to play DFS on Yahoo. This is because Daily Fantasy Sports is considered a game of skill, and not one of luck, which makes it 100 percent legal under federal law. This is great news for you, as it means you can avoid the shady dealings of an offshore website. Yahoo is fully operated in the United Sates, which does mean you will have to pay taxes on the proceeds.
Daily Fantasy Sports was declared legal by the Unlawful Internet Gambling Enforcement Act of 2006. This legalization was enacted as Congress determined fantasy sports to reflect a player's study of statistical results and his or her knowledge, which exempted it from the government's definition of betting.
Payment
Yahoo is an extremely credible and legitimate company, and so you'll have no issue whatsoever in receiving your payout on time. This makes it possible to put down a substantial amount as your first-time deposit if you want to commit to Yahoo for the long term.
Scoring Rules
Yahoo's scoring and roster model is remarkably similar to many of the other Daily Fantasy Sports websites out there. If you've played on other DFS sites, you'll likely notice a similar concept to the other sites' scoring and roster construction.
MLB
Yahoo's roster setting for MLB allows you two pitchers, three outfielders, four infield spots, and a catcher. You'll find that the scoring is extremely similar to FanDuel, but with the notable difference that every scoring category is doubled.
NFL
Yahoo does not include DEF/ST and kickers in their NFL roster settings. They've also decided only to include one QB. Their scoring follows a standard PPR league with 0.5 points and no bonuses.
NBA
Yahoo's NBA scoring contains nine roster spots and is similar to that of Yahoo's season long tournaments. There are no bonuses offered for player milestones such as triple doubles or double-doubles like there are on other DF sites.
Uniqueness
One thing about Yahoo that stands out from the rest of the crowd is that they let you back out of a tournament or contest right up until the first contest starts. This does not apply to all games. However, Yahoo's fine print does state that for certain tournaments, users can click an "Edit Entry" button found beneath the "My Contest" section. This button will allow them to cancel their contest entry within 15 minutes of the lineups locking. The ability to back out of tournaments last minute can come in handy if one of your principal players is injured or scratched from the game.
Summary
The DFS gameplay on Yahoo is not drastically different from other DFS sites like FanDuel or DraftKings. However, the vast difference will be in the competition. Yahoo created their DFS website to try to get some of the devoted seasonal players over into DFS players, and so you'll find that much of the competition are a novice at using Daily strategies. Even an excellent seasonal player may not be experienced in applying their fantasy knowledge to the daily fantasy sports arena. It is recommended that you try out an array of different DFS websites to diversify your gameplay, and so you may benefit from putting Yahoo on your DFS website roster.