Is Daily Fantasy Sports Legal?
Daily Fantasy Sports Legality: 

Is Daily Fantasy Sports Legal?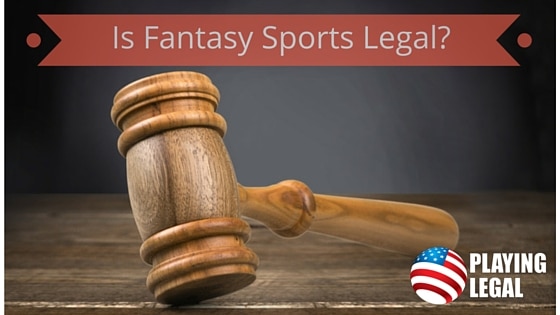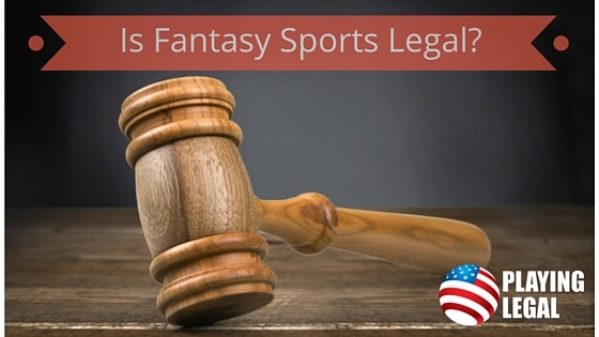 In response to millions of Americans joining the new trend of online fantasy sports betting, many are looking at the daily fantasy sports legality. Major daily fantasy sports sites such as DraftKings or FanDuel are growing larger than ever, especially in the marketing department. The two giant corporations have taken to television broadcasting with at least a few ads for each broadcasted game.
These fantasy sports sites allow you to draft a new team each week without risking seasonal injuries or cold streaks. You can prepare an entirely new team with zero season-long commitment every week. As well the behemoth DFS platforms, several other smaller to medium sized daily fantasy sports sites are growing in popularity as the sports betting alternative takes the US by storm.
The industry has grown immensely in recent years, with a now running count of over 57 million users in the US alone. Although not all states have deemed fantasy sports legal, most states in the Union see this type of gameplay as a game of skill and thus legal. If you wish to seek some gambling thrill and a chance to win real money, you can legally do so through online fantasy sports betting. Let's take a look at an overview of Daily Fantasy Sports legality.
Daily Fantasy Sports Legality: 
The History of Fantasy Sports
Fantasy sports began early in the 1960's and then later emerged online in the late 90's with the invention of the Internet. Similar to the initial concept of the game, the purpose of fantasy sports is for players to select a team comprised of individual athletes from different teams. The score or point system is directly proportional to the player's performances, which cumulate in a point total. Nowadays, sports fans can wager real money online to create a lineup to go face to face with other players' lineups in a tournament competition.
Daily Fantasy Sports Legality: 
The UIGEA
The 2006 Unlawful Internet Gambling Enforcement Act is a Congressional piece of legislation that outlines all illegal forms of gambling on the Internet. The act's primary purpose is to manage banking transactions between illegal gambling distributors and gambling consumers. The UIGEA purposely caused the withdrawal of several large businesses by banning their online gambling methods and tightening future regulation. Online fantasy sports betting is the booming industry it is today thanks to the UIGEA.
Where the UIGEA Ties into Daily Fantasy Sports
The UIGEA is vital to the fantasy sports industry because US Congress exempted online fantasy sports betting from the list and deemed the gambling method a game of skill. The reason for such a ruling came from hard evidence of skill based variables that impact the gameplay. Participants or team managers that continually practice and skillfully research several statistics and game factors have a far better chance of winning. Therefore, the UIGEA explicitly leaves online fantasy sports out of its definition of gambling.
For a Daily Fantasy Site to legally operate through federal law and gambling regulations, the platform must abide by several conditions:
Prizes and awards must be determined and shown to players before the tournament begins
The number of participants in and the amount of fees gathered cannot determine the prize value
Game outcome must be determined by player's knowledge and skills, as well as the accumulation of various statistics on athletes and teams.
The result of the gameplay must not be based on a point spread or the overall performance or score of a team
The outcome must not be based solely on one athlete
Daily Fantasy Sports Legality: 
The Predominant Purpose Test vs. The Any Chance Test
The reason that online fantasy sports betting is legal in most state legislations is due to the game's degree of luck and skill using the Predominant Purpose Test. The test determines if there are any elements of chance in a certain game. A game will pass the test if the majority of its elements revolve around skill. However, states that deem fantasy sports illegal use the Any Chance Test, which require that there be zero percent of luck involved.
Daily Fantasy Sports Legality: States Where Daily Fantasy Sports is Legal
Although the UIGEA is considered a federal bill that covers all 50 US states in the Union, the law also allows states to have their own legal definitions for gambling. Additionally, states have the right to authorize or deem any method of gaming illegal if passed through a vote. These states that constitute online fantasy sports include:
Arkansas
Arkansas was the first state in 2017 to put into place a new law which allowed for real-money DFS. The new law mandated that DFS revenue was taxed.
Colorado
The governor of Colorado signed legislation on June 10, 2016 that allowed for DFS contests to operate in the state. However, college sports are not allowed to be played with.
Indiana
Mike Pence, then Governor of Indiana, signed into law on March 34, 2016 permission for daily fantasy sports to run in the state. Under Indiana legislation, DFS is considered a game of skill. Fantasy sports participants must be 18 years old or older and playing or running DFS on college and high school sports is strictly prohibited.
Kansas
Kansas Attorney General released a memo on April 24, 2015, which ran in favor of fantasy sports. However, there was no specific language on DFS itself.
Maryland
Maryland specifically considers fantasy sports contests a game of skill and not within the lines of their strict gambling laws. In 2012, Maryland passed a fantasy sports-friendly law.
Massachusetts
On March of 2016, Attorney General of Massachusetts put a multi-faceted regulation into place to allow for DFS. However, it banned players under the age of 21 from playing and required that player funs be separated from operating funds. It also requires websites to offer beginner-only contests. Lastly, no fantasy sports contests are allowed to be run on high school or college sports.
Mississippi
Phil Bryant signed legislation that permitted DFS to officially be allowed in 2016. The new law mandates that DFS websites register through the Mississippi Gaming Commission.
Missouri
Jay Nixon, Missouri governor, signed legislation that allowed for DFS in June of 2016. The law requires DFS websites to audit and pay an annual licensing fee. Additionally, fantasy contests on college sports are explicitly prohibited.
New Hampshire
Chris Sununu, Gov. of New Hampshire, signed a fantasy sports bill on July 18, 2017. The law requires that DFS players be 18 or above, as well as requires accounting audits. Like most other states where DFS is allowed, youth athletic events, high school and collegiate sports are banned.
New York
In August 2016, Andrew Cuomo, Governor or New York, signed legislation that allowed DFS to be played.
Rhode Island
Daily Fantasy Sports in Rhode Island was approved in 2016 when a legislative bill surrounding Daily Fantasy Sports was created for the state.
Tennessee
In April 2016, Governor of Tennessee, Bill Haslam signed a bill that allowed for DFS contest. It requires that DFS websites obtain a license and overrode the attorney general's opinion that DFS should be prohibited.
Virginia
Terry McAuliffe put into law the "Fantasy Contests Act" on March 7, 2016. The new law allows DFS gameplay in Virginia, but operators must have a license and are subject to strict regulations.
Vermont
Phil Scott, Governor of Vermont, signed a bill on June 8, 2017 to allow for DFS gameplay in the state. The legislation includes several consumer protection provisions such as requiring that player funds are kept separate from operating accounts.
Daily Fantasy Sports Legality: States that are in Question
Alabama
Alabama Attorney General, Luther Strange stated that he believes DFS contests are considered illegal gambling in Alabama. He also sent desist letters to both FanDuel and DraftKings, requiring that they cease their paid contests in Alabama. However, both sites still offer their services and recent legislation was introduced in the state that would legalize Daily Fantasy Sports officially.
Delaware
The Delaware Department of Justice sent notification to the leading DFS operators in July 7, 2016 that their services were illegal under Delaware law.
Georgia
DFS games are not allowed under Georgia law according the Georgia Attorney Samuel Olens. However, on February 26, 2016 legislation was introduced that would legalize DFS if it goes through.
Hawaii
Hawaii Attorney General determined that Daily Fantasy Sports are considered illegal under Hawaii state law. A Honolulu attorney ordered all DFS providers to halt operation within the state. However, a legislative bill on DFS was introduced.
Idaho
Idaho Attorney General, Lawrence Wasden had concern over the fact that participants were required to risk their money for cash winnings based on individual athletes performances in sporting events, which he sees as gambling under Idaho law.
Illinois
Attorney General of Illinois, Lisa Madigan, determined that DFS is illegal under Illinois law stating that DFS contests are clearly a form of gambling. However, both DraftKings and FanDuel offer their services in the state with ongoing litigation.
Nevada
On October 2015, Nevada attorney general determined that Daily Fantasy Sports was a form of gambling and so can not be allowed in Nevada without the proper license. DraftKings, FanDuel and a few other Daily Fantasy Sports services left the state soon after that.
South Dakota
DFS is up for question in South Dakota with the Attorney General of Dakota, Marty Jackley claiming that there is a "state of uncertainty" when it comes to whether or not Daily Fantasy Sports is a form of gambling.
Texas
According to Texas Attorney General, because DFS is mostly a game of chance, participating by placing a payment would constitute a bet. While FanDuel has decided to withdraw from The LoneStar state, DraftKings currently remains by filing a lawsuit against the Texas Attorney General.
Daily Fantasy Sports Legality: States Where DFS Websites are Banned
Arizona
Arizona is a state in which Daily Fantasy Sports is considered fully banned. Arizona General Attorney Mark Bernovich sent letters to both FanDuel and DraftKings requiring that both companies provided the player status of accounts from the state.
Iowa
Iowa bans their residents from playing any type of game for money. That being said, there has been a legislative bill introduces in Iowa legislature.
Louisiana
In 1991, Louisiana Attorney General determined that fantasy sports contests were a form of gambling and thus illegal. However, there as nothing specifically said about DFS. That being said, there are no DFS websites that offer their service in the state.
Montana
Under Montana state law, fantasy sports leagues played on the internet are illegal, whether or not it's played for money. The Montana lottery does have a pay-to-play fantasy racing contests and fantasy football.
Washington
In 2011, the Washington State Gambling Commission charged a resident of the state for offering fantasy contests. There is a strict ban on cash-based fantasy games played online.
Daily Fantasy Sports Legality: Conclusion
For all you sports fans out there that are interested in trying your hand in fantasy sports betting, the time is now. At the moment, many sites are facing further regulation and management. However, the future for fantasy sports is still brilliant and will continue to thrive. Many smaller daily fantasy sports sites are making headway amongst the giants of FanDuel and DraftKings. Check out all of our reviews for info on the top fantasy sports sites as well as all of the bonuses being offered now.