Yahoo Sports Daily Fantasy Review
| | |
| --- | --- |
| Bonus Offer | 6.5 |
| Game Variety | 7 |
| Interface | 8 |
| Payment Options | 5 |
| Customer Support | 8 |
1,000 YSRP Point Terms
Minimum deposit $10.
Get 1000 YSRP for every $1.
Are you a fan of Daily Fantasy Sports? If so and sports like NBA, NFL, NHL and MLB interest you then Yahoo DFS is a site that is definitely worth checking out. With single-game and multi-game contests available, entry fees to suit all levels of players and season-long leagues available too, Yahoo DFS deserves its place near the top of the tree in the ultra-competitive Daily Fantasy Sports industry. Find out why in this in-depth and impartial review.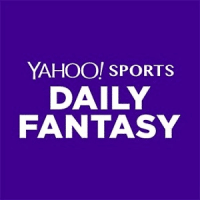 A Great Alternative To The Big Two!
Everyone knows about DraftKings and FanDuel but Yahoo DFS deserves to be mentioned when talking about the best DFS sites in America. There aren't quite as many sports available, unlike the competitors, but the big four sports are available as well as soccer and golf. I particularly enjoyed using the Yahoo DFS mobile app and the desktop site is of the highest quality also. Fans of daily fantasy sports will find everything they need at Yahoo DFS, as you are about to learn in our comprehensive review.
PROS
Top-quality mobile apps for iOS and Android devices.
Entries are limited to ensure fair play.
Quality customer service.
Multi-Game and Single-Game contests available.
CONS
Lack of ongoing promotions.
Limited payment methods.
Unlike many DFS sites I have reviewed in the past the Yahoo DFS welcome offer requires players to sign up first before the bonus is awarded.
After new Yahoo DFS players open their account they will see a 'Claim The Bonus' banner which when clicked on takes you to a verification page. Here players must enter their age, location, and social security number (SSN). Once that task is completed just make a deposit (minimum $10) and Yahoo DFS will give you 1000 Yahoo Sports Rewards Points (YSRP) for every $1 deposited.
Head to Yahoo DFS by clicking on one of our links.
Hit the 'Sign In' button and fill in your details to open an account.
After you register, click on the 'Earn 1,000 YSRP with your first deposit' banner.
At this point, Yahoo DFS requires your SSN or an alternative form of Identification to verify your account.
Make a deposit (min $10) using a credit/debit card OR PayPal.
A $10 deposit will earn 10,000 YSRP which is the equivalent of $10 in buy-ins.
New Yahoo DFS Customers only.
Over 18s/21s only depending on state/location.
Points can be used to enter paid contests.
Bonus non-withdrawable and non-transferable.
The Yahoo DFS bonus is only released after you verify your account and make a first deposit via either PayPal or credit/debit card. A Social Security Number or another form of ID is required for account verification and the minimum qualifying deposit is $10.
Unfortunately, when I visited Yahoo DFS I didn't see any ongoing promotions for existing customers. This has to rate as a massive negative as the majority of fantasy players enjoy taking advantage of promotions whenever they are available.
Other sites like DraftKings have plenty of ongoing promos so this is an area where Yahoo DFS has lots of scope for improvement. There is at least a loyalty rewards program and I'll outline exactly how that scheme works later on.
Fantasy Sports at Yahoo DFS
The selection of fantasy sports at Yahoo DFS is adequate. Fantasy players can enter paid contests for basketball (NBA), hockey (NHL), football (NFL), baseball (MLB), golf, and soccer. Some other DFS sites cover more sports than Yahoo DFS, like UFC and NASCAR for example. However, at least the 'Big 4' sports are on the menu at Yahoo DFS and as you will soon find out, there is a nice range of daily fantasy contest types for players to pick from.
There are four main different paid daily fantasy contest types available at Yahoo DFS. Guaranteed to Run contests will go ahead even if the full quota of players isn't filled. The other contest types are 50/50, Head-To-Head and League. For beginners, 50/50 and Head-to-Head contests are good tournaments to start with and once the experience is gained, then is the time to enter contests with more players and bigger prizes.
Yahoo DFS members can also enter 'Best Ball' tournaments that run for an entire season. These contests can be accessed via the 'Daily Fantasy' tab on the top menu bar on the 'Lobby' home page.
Guaranteed To Run – Contests that will run no matter how many players enter. However, the number of entries does have a direct impact on the prize money awarded to winners.
50/50 – A 50/50 contest at Yahoo DFS is a good choice for beginners. In order to win, players simply need to finish in the top half of the field.
Head-To-Head – This is another contest type that is well suited to beginners. Compete against just one opponent and the winner takes all.
League – Players are limited to one entry, points are scored in multiple events and all scoring is cumulative through each event.
The scoring systems at Yahoo DFS are similar to those at other sites like FanDuel and DraftKings. Players are required to pick a roster and the athletes score points for completing certain actions during games. The Yahoo DFS scoring systems for the big four sports, NFL, NHL, NBA and MLB are outlined below.
There are two different rosters required for multi-game and single-game NFL contests at Yahoo DFS. For multi-game paid contests players need to pick the following – 1x QB, 2x RB, 3x WR, 1x TE, 1x Flex, 1x Def. For single-game paid contests the roster must include 1x Superstar and 3x Flex.
| Offense | Defense |
| --- | --- |
| 1 Passing Yard = 0.04 pts | Sack = 1 pt |
| TD Pass = 4 pts | Safety = 2 pts |
| Passing Interception = -1 pt | Interception = 2 pts |
| Rushing Yard = 0.1 pts | Fumble Recovered = 2 pts |
| Rushing TD = 6 pts | Blocked Kick = 2 pts |
| Reception = 0.5 pts | Defensive TD = 6 pts |
| Receiving Yard = 0.1 pts | Kick Return TD = 6 pts |
| Receiving TD = 6 pts | 2 Point Conversion return = 2 pts |
| Kick Return TD = 6 pts | Points allowed 0 = 10 pts |
| Punt Return TD = 6 pts | Points allowed 1-6 = 7 pts |
| Own Fumble Return TD = 6 pts | Points allowed 7-13 = 4 pts |
| Fumble lost = -2 pts | Points Allowed 14-20 = 1 pt |
| 2 Point Conversion = 2 pts | Points allowed 21-27 = 0 pts |
| | Points allowed 28-34 = -1 pt |
| | Points allowed 35+ = -4 pts |
Only multi-game paid NBA contests are available at Yahoo DFS. Just like with NFL contests, players need to fill their roster, and the athletes that are picked score points for positive plays and lose them for negative plays.
The Yahoo DFS NBA roster consists of 1x PG, 1x SG, 1x G (PG or SG), 1x SF, 1x PF, 1x F (SF or PF), 1x C and 1x Utility (PG, SG, SF, FP or C).
1 Point = 1 pt
Rebound = 1.2 pts
Assist = 1.5 pts
Steal = 3 pts
Block = 3 pts
Turnover = -1 pt
At Yahoo DFS MLB contests require players to choose a ten-man roster. Points are scored by batters and pitchers and only multi-game contests are available.
Your MLB roster must include 2x P, 1x C, 1x 1B, 1x 2B, 1x 3B, 1x SS and 3x OF.
| Batters | Pitchers |
| --- | --- |
| Single = 2.6 pts | Win = 4 pts |
| Double = 5.2 pts | Strikeout = 2 pts |
| Triple = 7.8 pts | Earned Run = -2 pts |
| Home Run = 10.4 pts | Out = 1 pt |
| Runs = 1.9 pts | Bases on Balls = -0.9 pts |
| Runs Batted In = 1.9 pts | Hits Allowed = -0.9 pts |
| Bases on Balls = 2.6 pts | Hit Batter with Pitch = -0.9 pts |
| Stolen Bases = 4.2 pts | |
| Hit By Pitch = 2.6 pts | |
For Yahoo DFS NHL paid contests players must choose two goalies and seven skaters. Again, only multi-game contests are available.
The roster for NHL contests has 2x G, 2x C, 3x W (LW or RW), and 2x D. 
Goalies accrue points by making saves, winning games, and keeping shutouts and they lose points for conceding goals. The full scoring rules for goalies and skaters are outlined below.
| Skaters | Goalies |
| --- | --- |
| Goal = 6 pts | Win = 5 pts |
| Assist = 4 pts | Goal Against = -3 pts |
| Plus Minus (+/-) = 2 pts | Save = 0.6 pts |
| Shot On Goal = 0.9 pts | Shutout = 5 pts |
| Block = 1 pt | |
| Power Play Points = 2 pts | |
Yahoo DFS Statistics Powered By Stats Perform
The scoring and statistics used by Yahoo DFS are provided by Stats Perform. They are one of the biggest and best stats providers in the industry and they are also associated with DraftKings. Yahoo DFS signed a multi-year deal with Stats Perform in June 2020 and they incorporate data for NBA, NHL, NFL and NBA as well as other sports like soccer and PGA Tour golf.
There are multi-entry contests at Yahoo DFS but in the interest of maintaining a level playing field, there are limits as to how many teams can be entered by individual players. For the majority of Daily Fantasy Contests at Yahoo, players are permitted 3 entries for every 100 overall entries with an upper limit of 10 entries allowed.
However, a limited amount multi-entry contests allow players to make as many as 150 entries. Check the terms and conditions before you enter a contest to see how many entries are allowed.
One area where Yahoo DFS really excels is with the quality of their mobile apps for both Android and iOS devices. Both versions are a pleasure to use with slick and smooth software and I found it very easy to navigate and find the contest type that I wanted to enter. The Yahoo DFS Mobile apps have gotten rave reviews and 5-star ratings from most users but there have been reports of some minor issues with recent updates.
All the same contests that can be entered on desktop can also be accessed on mobile. For those who use a mobile platform other than Android or iOS, the Yahoo DFS Web App can be used via your mobile browser. One of my favorite features is the 'Snapchat Entry Point' which enables players to send league invites to their contacts.
Navigate to the Yahoo DFS Web App by clicking here and open a new account.
Make sure to add funds and claim your 1000 YSRP (minimum $10 deposit).
Once you register your new account head to the relevant App Store to download the Yahoo DFS App.
Sign in and start playing DFS contests.
I really liked the browser-based interface on the Yahoo DFS desktop site. It is very user-friendly with a pretty simple layout that makes finding the sport or contest extremely quick and easy. I didn't come across any glitches with their software which worked very smoothly and the crisp and clean graphics enhance the user's experience when playing Daily Fantasy Contests.
Amex
Discover
MasterCard
PayPal
VISA
The range of payment methods available at Yahoo DFS is limited. For deposits, players have just two options. Credit or debit cards can be used to add funds or alternatively, you can use our featured payment method, PayPal. For withdrawals, only a linked PayPal account can be used so if you are considering signing up with Yahoo DFS it makes sense to have a PayPal account.
As I mentioned briefly above, PayPal is the best option for Yahoo DFS users. PayPal can be used to make deposits and withdrawals, unlike credit/debit cards which can only be used to make deposits.
Remember, your PayPal account must be linked to the email address that you use when you are signing up with Yahoo DFS.
AK
AR
CA
CO
CT
DE
GA
IL
IN
IA
KS
KY
ME
MD
MA
MI
MN
MS
MO
NE
NH
NJ
NM
NY
NC
ND
OH
OK
OR
PA
RI
SD
TN
TX
UT
VT
VA
DC
WV
WI
WY
Yahoo DFS is legal in the majority of US states but there are a number of states where residents are not permitted to play daily fantasy sports. To be precise, Yahoo DFS can be played in a total of 39 States and I have outlined the states where players are restricted in the list below.
Yahoo DFS Restricted States
Alabama
Arizona
Florida
Hawaii
Idaho
Louisiana
Montana
Nevada
Washington
Yahoo was one of the ground-breakers in the early days of the internet when it was founded by Jerry Yang and David Filo. They started off by providing a search engine, email service and news feed as well as several other features. In 2015 they launched their take on Daily Fantasy Sports and Yahoo DFS was born.
The company was bought by Verizon Media in 2017 for over $4 billion and they merged it with AOL, which they had purchased two years earlier. The new company that was formed was called OATH and in 2019 the new company was absorbed back into Verizon.
By scrolling down to the very bottom of the 'Lobby' page players can access the Yahoo DFS Responsible Gambling page. I think it is really important that DFS sites provide players with a safe environment where they can gamble responsibly and thankfully, Yahoo DFS share the same opinion.
Links and contact details are provided to problem gambling helplines and sites like the National Council of Problem Gambling (NCPG). For those who would prefer to speak to someone, phone numbers are also listed on the Yahoo DFS Responsible Gambling page. Players can also use the following tools to help them gamble in a responsible manner.
Set deposit limits
Easily track your transactions and spending
Self-exclusion (minimum 6 months)
Yahoo is a company that is involved in providing a wide range of internet services. The Yahoo brand took a bit of a battering due to security concerns a number of years ago but those issues are thankfully a thing of the past.
Some of the other products associated with Yahoo DFS include Yahoo Mail, Yahoo Sports and there is even a Yahoo mobile network in Japan.
Yahoo is now also moving into the sports-betting world and they partnered up with BetMGM to launch a sportsbook in New Jersey.
Yahoo Sports Rewards Points
It is always nice to see companies rewarding the loyalty of existing customers. Yahoo DFS may not have regular ongoing promotions but thanks to the Yahoo Sports Rewards Points (YSRP) program, players earn points for every contest they enter with a fee of $1 or higher. These points cannot be withdrawn or converted to real cash but they can be used to enter paid contests and if you win money in one of those, then you can withdraw your winnings with no issues.
The high quality of Yahoo's Customer Support deserves a mention too. Yahoo DFS is one of the few sites that has a Live Chat Help Service that you can access via the 'Help' tab in the 'Lobby'. There is also an FAQ section with over 50 different questions answered and I would recommend heading there first to see if you can find a solution to your issues before getting in touch with a live operator.
How to Contact
Live chat: (6 am PST to 3 pm PST Monday to Friday).
Email: via the 'Contact Us' button on the Help home page.
As is the case with every DFS Site I review, Yahoo DFS has its good and bad points. The negatives include the limited options for making withdrawals and the lack of ongoing promotions. However, on the plus side, there are contests to suit players of varying levels, top-notch customer service, and high-caliber mobile apps.
If you are looking for a world-class DFS site that is slightly off the beaten track, Yahoo DFS most certainly fits the bill. Don't just take my word for it, sign up now and find out for yourself!
Yahoo DFS Fantasy FAQs
How does Yahoo daily fantasy payout?
Yahoo daily fantasy pays out via PayPal and the processing time is two business days. It is my preferred payment method as it can be used for both withdrawals and deposits. Valid credit and debit cards can also be used for depositing funds but for withdrawals you need a linked PayPal account.
What is Yahoo DFS?
Yahoo DFS (Daily Fantasy Sports) is a site that allows players to enter paid contests and win prizes from playing fantasy sports. There are four main contest types to choose from and entry fees range from as low as $0.25 cents up to over $100. Prizes depend on the number of entries.
What states banned Yahoo DFS?
Thankfully, Yahoo DFS is legal in the majority of US states but there are some exceptions. Players can play DFS at Yahoo safely and legally in all states bar the following – Alabama, Arizona, Florida, Hawaii, Idaho, Louisiana, Montana, Nevada, Washington.
How do I get my Yahoo DFS winnings?
For those lucky enough to win at Yahoo DFS the next task is getting your winnings. It is a pretty simple process. Just click on the 'Wallet' button and then click on 'Withdraw Funds'. Enter the amount that you wish to withdraw and then click on withdraw funds again. A linked PayPal account is required.
Specification:
Yahoo Sports Daily Fantasy Review
Licenses

AK

AR

CA

CO

CT

DE

GA

IL

IN

IA

KS

KY

ME

MD

MA

MI

MN

MS

MO

NE

NH

NJ

NM

NY

NC

ND

OH

OK

OR

PA

RI

SD

TN

TX

UT

VT

VA

DC

WV

WI

WY

Payment Options

Amex

Discover

MasterCard

PayPal

VISA