No Halftime DFS Review
[intro]In the world of daily fantasy sports, fans are growing hungry for new intuitive ways to play with friends and other sports enthusiasts online. Luckily for them, up and coming fantasy sports betting companies are on the rise. Trying out new DFS platforms allows for new challenges and events. No Halftime is a hot new DFS company that specializes in player vs. player matchups. The simplified DFS game is trending around the United States as friends and fellow sports fans challenge each other on various sports.
No Halftime has already made significant strides by hosting a multitude of challenges for a broad range sports leagues. Players can choose from the NBA, NFL, NHL, MLB, PGA, NASCAR, and MLS. The site also offers challenges for men's college football and basketball. As the daily fantasy sports industry continues to grow despite facing recent legal challenges, companies such as No Halftime remain thriving in almost every state in the Union. This review article will cover No Halftime's interface, bonuses, legality, and customer support.[/intro]
No Halftime Interface
No Halftime is known for its simplicity. Instead of drafting a team using a virtual salary cap, No Halftime members select certain athletes to go one on one in a daily fantasy challenge. Setting up a challenge is a piece of cake, but you will need a smartphone to download the No Halftime app, as the site is specifically for mobile devices. However, an app is in the design process for google play that will soon be available for Macs and PCs. Once you have downloaded the mobile app, registering is also quick and easy.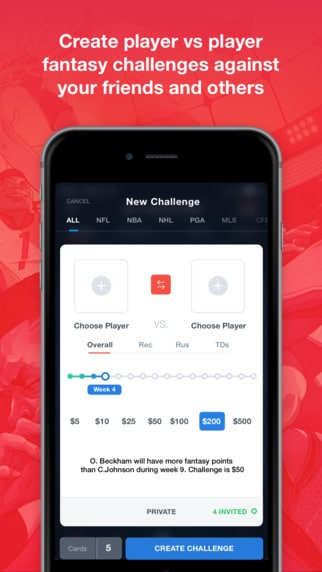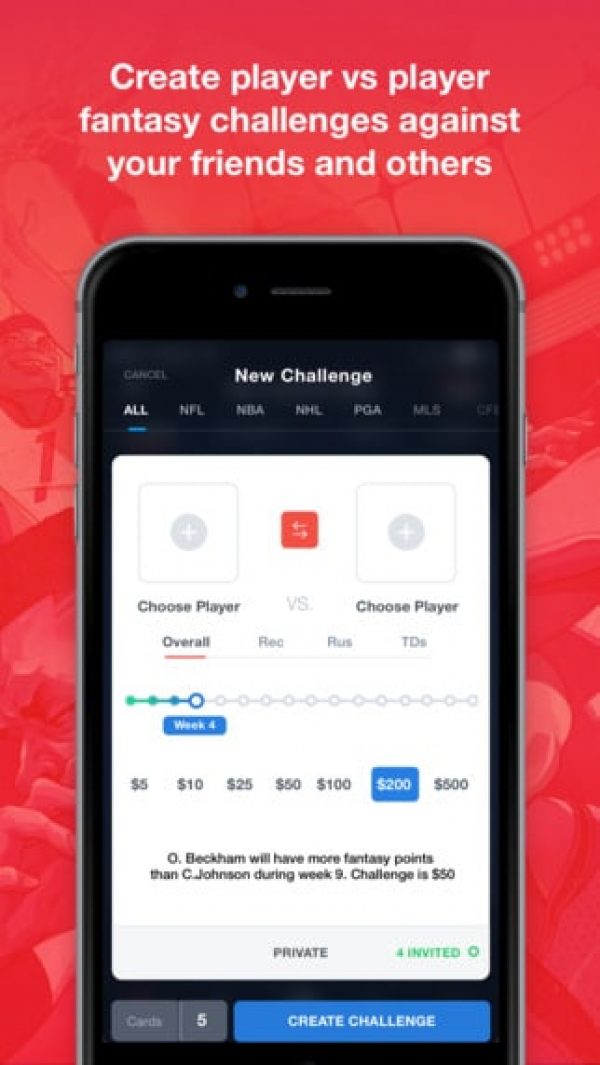 Play Challenges on No Halftime
Challenges work through comparing one player to another or one team to another for a particular sport. Unlike traditional sports betting, No Halftime uses fantasy scoring systems and will only allow team challenges such as offense vs. offense, or defense vs. defense. When you select any given player or team, you will also have to choose the opponent that you think will score fewer fantasy points in order to create the challenge. A notable rule that keeps No Halftime within US legal boundaries is that you cannot select two players or teams that are playing in the same game. For instance, if Tom Brady and Peyton Manning were facing off on Monday Night Football, they would be an incompatible No Halftime challenge.
Accepting challenges from friends or other sports fans is also easy as pie. When a challenge is sent to you, you may swipe RIGHT toward the player marked "You" to accept or swipe LEFT to the player marked "Opponent" to decline. If you play with a group of friends or a set of arch enemies, you can also create a league. A league makes sending and accepting challenges as fast as possible for the group.
Bonuses and Promotions
Depositing Bonus: No Halftime currently offers a 50 percent cash bonus on your first deposit. The bonus is released slowly through a rake system that allows you to pad your challenges over time.
In-App Bonuses: No Halftime is offering two different ways to earn bonus cash from now until January 31st, 2016. The bonus works from month to month, giving you a fresh start to win money every 1st of the calendar month. The two ways to earn rewards are accepting opponent challenges and creating challenges that get accepted by opponents.
The system works as follows:
1. Create a challenge that gets taken by another user.
Create 50 accepted challenges and receive $150
Create 25 accepted challenges and receive $75
Create 10 accepted challenges and receive $25
2. Accept a challenge.
Accept 50 challenges and receive $75
Accept 25 challenges and receive $35
Accept 10 challenges and receive $10
Depositing Money
No Halftime makes depositing and withdrawing cash effortless through their wallet platform. At the moment, No Halftime partners with PayPal to secure any financial transactions to and from the app. You can choose how much you want to wager for any given challenge from $1 up to $500. Withdrawing money is instantaneous, just link your PayPal account, make a withdraw request and you are all set. At the moment, No Halftime does not accept credit cards but is in the process of expanding their payment system.
Social Media and Customer Support
No Halftime is popular on all the leading social media sites such as Twitter, Facebook, and Youtube. In addition to sharing your contests over social media sites, staying up to date through tweets, posts, and videos can give you challenge advantages. No Halftime also keeps up with an active blog. The blog is helpful for questions and application updates.
Customer service is relatively fast via email response. No Halftime is working toward a 24/7 customer support chat line that would be able to answer questions at virtually any time. In the meantime, members can check out the expansive list of frequently asked questions. The FAQ answers popular issues about every component of the app.
Conclusion
All in all, No Halftime brings a new type of daily fantasy sports that allows participants to focus on one fantasy player or position at a time. The daily fantasy sports industry can be seen as complex, especially with only 30 percent of players holding all the winnings. No Halftime breaks down statistical analysis for an entire lineup and lets you accomplish constructive research in a short time frame. If you are beginning your journey into the world of daily fantasy sports, No Halftime simplifies the statistical game of skill for anybody to play. Be sure to check out our strategies on fantasy sports as well as our reviews of the top fantasy sports sites on the market. Remember your limits and to enjoy the fantasy sports experience. Good luck and have fun!