Missouri Online Gambling | Is Gambling Legal in Missouri?
Legal Missouri Online Gambling
Missouri's online gambling laws are not the friendliest in the Country. Although it permits various game types throughout its land-based casinos, the state has a ways to go on expanding its online gambling options for residents. Missourians can still enjoy a few different options online for the same gaming thrill seen in casinos.
Not much headway has been made since the state gave the okay for land-based casinos to achieve proper licensing. Missouri currently has twelve casinos operating within state borders. The Missouri Gaming Commission oversees that each enterprise obeys regulations for state gambling laws.
All of Missouri's gambling establishments handle a major amount of the state's tax revenue. With many residents still continuing to commute to other neighboring states for gaming action, perhaps Missouri will soon loosen its restraints on online gambling. For now, residents can still wager real money through a couple of online options.
$5 free with FanDuel Maryland
All Maryland residents can claim $5 free by simply signing up to FanDuel.
What Types of Gambling are Legal in Missouri?
If residents of Missouri would like to gamble from the comfort of their own home, they can legally do so either through fantasy sports betting or via other online skill games. Missouri does not have any horse or greyhound racetracks within state borders.
Missouri law also prohibits residents of the Show-Me State to gamble on horse or greyhound races through online sites. Residents usually travel to the next closest state for horse and greyhound racing action. However, online fantasy sports betting is an excellent alternative for sports enthusiasts.
Participating in Offshore Missouri Online Gambling Websites
Offshore sites are often mistaken as safe places to invest in, but you can be sure that they are neither reliable nor safe for US residents. Typically, an offshore site will claim to hold proper licensing for US residents to sign up. Although you have access and the choice to play on such sites, they do not operate on US soil, meaning they do not comply with US law and are outside jurisdiction.
Offshore sites run in countries that have little to no regulations for gambling enterprises. If you are playing on an overseas site, you do not have a guarantee for fair play or that you will walk away with your winnings.
The state of Missouri does not severely punish first-time offenders, who are subject to only a minor penalty and up to 15 days in county jail. However, the state cracks down on "bigger fish" criminals that are seen in the eyes of Missouri as professional players. If you are caught as a professional player, the penalty goes from a class C misdemeanor to a class D felony. This type of felony in the state of Missouri is punishable with a hefty $10,000 and four years in prison. Although the penalty is light for basic offshore participants, it is best to avoid such sites to ensure your money and a fair game.
Missouri Online Gambling: Daily Fantasy Sports Betting
The relatively new fun alternative for sports betting is making its way into almost every state in the Union. Online fantasy sports betting is an extremely exciting gambling type, which now has over 57 million participants playing in at least one fantasy sports league.
The raving hit was deemed legal on a federal level in 2006 by the United States Congress. After analyzing several variables that go into the game's theory, the form of gambling is now seen as a game of skill rather than chance. Most online gambling options are now illegal thanks to the Unlawful Internet Gambling Enforcement Act put in place during the George W. Bush Administration. However, online fantasy sports betting is one of the few games exempt.
Members of fantasy sports communities go over both past and present statistics, coaching strategies, player types, home-field advantage, and much more. Although you can not just cross your fingers and hope for the best like in traditional sports betting, the fast and fun alternative will keep you on your toes as well as deliver an excellent overall gambling experience.
Best online options for legal and safe fantasy sports:
FanDuel
FanDuel is currently the largest operator in the United States for the single day or week fantasy sports leagues. The Fantasy Sports Trade Association recognizes FanDuel as one of the top sites for a fast-paced fantasy sports experience. The recent major financial backing of $300 million dollars will continue the grow the rock-solid betting platform that members can depend on and trust. FanDuel is so sure it will bring customers coming back wanting more that it offers a money-back guarantee for all new members. Check out the FanDuel Review to learn more!
Missouri Online Gambling: Poker
Currently, Missouri outlaws any form of poker outside of its land-based casino establishments. Residents of Missouri should head caution when trying their hand at offshore poker sites that claim to be following the state's laws.
The Missouri Gambling Commission has taken measures to keep the popular table game within its fully licensed facilities. However, the state gambling revenue would massively increase if there were to be a bill of legislature outlining the legality of online poker operators. The Missouri State House of Representatives has chosen to decline the last few attempts to bring poker to the Internet. Realistically, it will be some time before the card game hits the web.
Missouri Online Gambling: Sports Betting
Missouri follows most other states in the hard stance against traditional sports betting. The gambling type has no place in the state, not even in any of its twelve land-based casinos. Missouri has no plan to begin the authorization or licensing process for the typical sportsbooks seen offshore.
Residents of Missouri should know that all underground bookies or offshore sportsbooks are still illegal in the Show-Me State. Partaking in an illicit sportsbook is still only a misdemeanor offense, but it is highly likely that under-the-table enterprises are unsafe.
Residents can still get their sports betting action through the legal gambling option of fantasy sports betting. The game type proves to give the same exciting experience and with a better chance to win.
Missouri Online Gambling: Horse and Greyhound Racing
Missouri does not have any horse and greyhound racing establishments at the moment and does not plan on regulating or legalizing it in the near future. Like most states that do not permit horse and greyhound racing, Missouri at least allows their residents to place wagers on races taking place in legal states.
The Show-Me State prohibits its residents from betting online, but all sites operating under US jurisdiction holds the proper licensing to ensure winnings and fair play. Perhaps Missouri will change its gambling views toward the sport, and allow its residents to partake in the online horse and greyhound racing action in the future. In the meantime, Missourians are better off trying their hand at fantasy sports betting for sports gambling fun.
Missouri Online Gambling: Casinos
The State of Missouri does not permit casino-style games outside of its land-based establishments. However, residents can still legally play online skill games for cash prizes and jackpots. Games vary from genre to genre but are all consistently fun and entertaining. Choose from games like Wheel of Fortune or Candy Crush Saga to play for real money.
Online Casino Alternative:
WorldWinner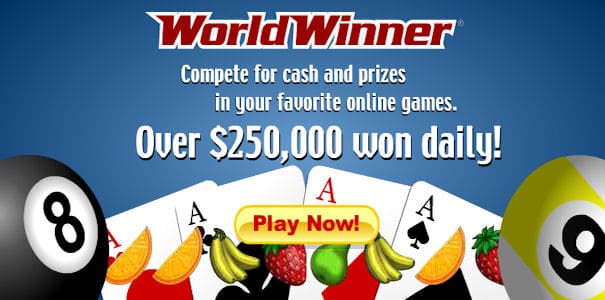 WorldWinner is one of the top online platforms for skill games. It obtained its licensing through the popular television hit, Game Show Network (GSN). Members of WorldWinner can enter into everyday competitions and events. Tournaments are also available 24/7 so participants can continue gambling action whenever they please. Members can place real money wagers on great games like Bejeweled Blitz and Scrabble Blocks.
Missouri Online Gambling Conclusion
Gambling can be an exciting and enjoyable experience for all Missouri residents wanting a piece of the action. Although there are quite a few restrictions on online gambling compared to such states as New Jersey, Missourians still have plenty of betting options on the web. It is always safest to stay away from foreign sites and illegal underground gambling enterprises. Remember your gambling limits. Have fun and good luck!