Trump Branded Properties Suffer Reduction in Traffic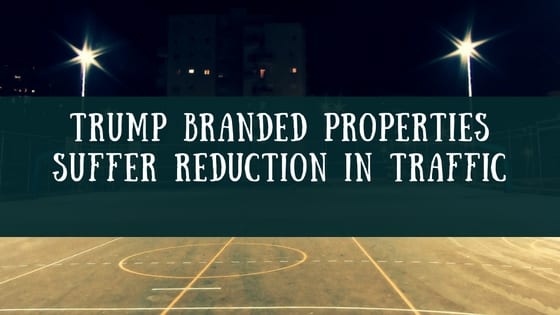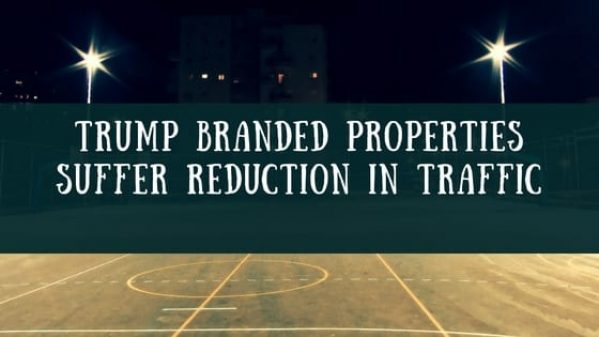 The business and political world collided this year, with the businessman turned presidential candidate for the Golden Old Party (GOP), Donald Trump, and the data scientists at Foursquares found themselves in the position analysing the impact of the presidential campaign on the footfall at the Trump branded business around the country. According to a report by NBC, Trump's campaign could be putting pressure on his companies, including the ones that just bare his name; visitor numbers at all those venues seemed to have seen a significant reduction since he announced his candidacy.
Politics Affecting Trump businesses
Trump has extensive properties including casinos, hotels and golf courses in several of the states across the USA. Based on a monthly user base of more than 50 million individuals, Foursquares produced a report that summarised the trends at the Trump properties since he announced his candidacy for the presidential elections in June of 2015. Foot traffic to all the Trump branded properties fell right after the announcement; July 2015 saw a year over year decline of 15 per cent and August 2015 also saw a 17 per cent year over year drop. The visitor traffic at the same properties was growing at a steady rate just before his announcement; both the months of May 2015 and June 2015 saw 4 per cent year over year growths compared to the same months in the year of 2015, but after Trump entered the race, properties bearing his brand name failed to get their usual summertime traffic gains. The losses stabilised over the winter months; January and February even saw single digit year over year increase in visitor numbers but as primary voting season hit full swing in March 2016, share losses started to go down again. Trump properties did not see their usual increase in business in spring; in fact the month of March saw a 17 per cent year over year fall in visitor number and again a drop of 17 per cent was seen in April 2016. Travellers and locals continued to avoid his properties and traffic fell by a full 15 per cent in May 2016, when compared to the same time from the previous year. The downward trend continued through June and July; June 2016 saw a year over year loss of 17 per cent in footfall and July 2016 saw visitor figures fall by 14 per cent compared to the same month a year ago. Visitor numbers continued to drop in August 2016, when year over year figured fell by 7.1 per cent and the trend went on through to September 2016, when Foursquare reported a year over year decline of 16.5 per cent. No data was available for the study that captured the month of October, when a video from the year 2005 was discovered and made public, showing Trump making lewd comments about women. Following which several women came forward with accusations about the Republican candidate for having touched them inappropriately; Trump has, however, heatedly denied every single one of those claims.
Bottom of Form
Trump SoHo, Trump International Hotel & Tower Chicago and Trump Taj Mahal saw the biggest drop; down by 17 to 24 per cent in raw foot traffic. It also happened that the Trump Taj Mahal Casino & Hotel in Atlantic City, New Jersey, closed earlier this year; the owner blamed the closure of the business on ongoing employee strikes and mounting operational costs; however, the loss of foot traffic could also point to a problem that ran deeper.
Blue States Vs Red States
Foursquares extended their analysis and looked at the results from Trump properties that were located in reliably Democratic states or "Blue States" and compared their findings to the states that have always been supporters of the Republican Party or "Red States." The Blue States sustained a greater loss in foot traffic compared to the national average; for the past five months, Trump's blue state properties, which are spread between New York, New Jersey, Illinois and Hawaii have taken a big fall, with visitor numbers diminishing further between the months of March to July this year. A number of important Trump properties are located in the Blue regions and depend greatly on guests and visitors who live in the area for sustainable profits.
States that swing from one party to the other, which have been dubbed the "Purple States" have shown a lot of fluctuation over the course of the campaign, while they too have shown a general loss of visitor traffic, the data showed that the rate of loss was more favourable for the Trump brand than many other states, especially the Blue ones.
Trump properties located in Las Vegas, Nevada and Miami, Florida also lost visitors between the months of March and May this year, when Trump was trying to secure his nomination from his party. Another swing was seen in the numbers around the time of the Republican Convention, which was held earlier this year in July; shares rose from a 20 per cent year over year loss in June to a much smaller 3 percent year over year dip in July in the Notable Purple State locations.
Male Vs Female Patrons
The data was further dissected; traffic rated of male and female patrons were divided and it was evident from the analysus that market share losses were driven by a greater fall- off among female visitors. Once Trump announced his candidacy, footfall fell by 24 per cent among women and 12 per cent among men in the month of July 2015. The downward trend continued, and kept showing negative year over year numbers through the months till February, when the figures showed an unexplained increase in visitor rates for both men and women; however, the numbers fell again in the month of March, when the traffic of male visitors dipped by 10 per cent compared to the previous year and that of female visitors fell by a much larger 22 per cent. The numbers continued to show an overall negative year over year value for both male and female patrons; however, the year over year drop in female were as high as 23 per cent in April 2016, 21 per cent is May 2016, 31 per cent in June 2016 and 29 per cent in July of 2016, compared to a year over year decline in male visitors by a mere 3 per cent in April 2016, 2 per cent in May 2016, 2 per cent in June 2016 and 6 per cent in the month of July 2016. This reflected closely on the great divide among American men and women when it came to Trump a political leader too.
Trump Residential Portfolio
The residential real estate portfolio at Trump on the other hand seemed not to have suffered the same way as his other properties; however, that could simply be due to the longer buying and selling times that are required for apartments. Another study by Zillow's StreetEasy found that the Trump- branded buildings in Manhattan saw their prices increase by 5.5 per cent in August 2016 compared to the same time last year, while prices in the area only grew by a much smaller 1.7 per cent over the same period of time.
Foursquare Ltd.
Foursquare Ltd. is a mobile app that works by clocking the location of the users alongside other information that they voluntarily provide; the app makes recommendations of businesses the user can frequent, while also taking note of where they actually end up going. The service was created in 2008 and allows people to use their mobile devices to interact with their environment. Foursquare uses the GPS technology built into modern smartphones to better detect a user's location.
In May 2014, the company launched Swarm, which is a companion app for Foursquare. The company has more than 50 million registered users that have equal representation from male and female customers from all around the globe.
The data scientists at the company often analyze real world trends using the massive amounts of data they collect on a daily basis and they boast tackling these predictions with a high degree of accuracy. The company managed to predict sales figures for several businesses in the past with a high degree of accuracy, including the sale figures for Apple's iPhone 6.
Methodology Behind the Report
Data was collected from the foot traffic trails of 50 million monthly global Foursquare and Swarm users. The information on the app was collected anonymously.
To analyze the visitor traffic at Trump branded hotels, casinos and golf courses, Foursquare looked at explicit check-ins as well as implicit visits from the app users. The data was then normalized against the US census data to remove age and gender bias.
In this analysis they looked at how visits to Trump properties changed over time and compared them to other properties in the same area to eliminate effects from general shifts in the market. So, a clear decline in visitation at the Trump facilities was noted and this drop could not be attributed to general factors that were affecting the tourist and visitor traffic in the area.
It is unclear whether the loss in numbers was contributed more by from local patrons avoiding the facilities or from out of town visitors who decided to visit other properties in the area instead; it also did not reflect on any direct loss of revenues for Donald Trump or his company, Trump Enterprises. On top of that, Foursquares had no access to information that could allow them to establish a correlation between the visitation rates and business revenues; and it was even harder to track all of this back to the finances of Donald Trump himself, as the Trump properties do not publish their historical financial information publicly, therefore making it even harder for analysts to draw up the co relation between the two factors.
What Does it Mean
While Forsquares has the data to report figures and trends, they do not necessarily have the resources to understand the underlying causes behind said trends. However, looking at the visitation data from the Trump brand properties, we could say that the losses may simply be a reflection of Trump standing by his campaign statements and beliefs; some may say that the loss in numbers therefore is a reflection on his unpopularity, and people are boycotting his businesses and businesses that bear his name as a show of their disapproval of his political stance. On the other hand, many properties that still exhibit his name do not actually belong to him anymore, so, the loss of traffic, even if it does equate to a financial loss would not affect him or his company in any capacity.
Another study by online travel site, Hipmunk, also found that bookings for Trump hotels had fallen by more than 50 per cent in the first half of 2016. While the outside reports suggest a loss in visitation, according to Trump's financial filings from earlier this year in May, his business revenues have increased by USD 190 million, to USD 557 million, in comparison to the revenues from last year. However, given that the company does not reveal all their financial information publicly, it is hard to understand the actual scenario.