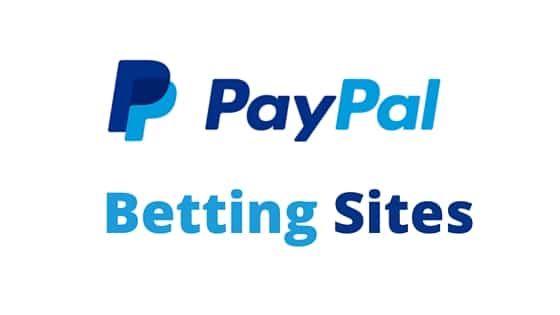 Online Betting Sites that accept PayPal
When it comes to online betting sites, there are several ways to handle payment processing. Some options can cause you to be skeptical such as a Moneygram or a Western Union cash transfer. The reason for such skepticism is due to the many scams involving money transfers that exist today. If you are planning to play on various online betting sites, it is important to secure your withdrawals and deposits through a safe platform. One of the most continuously trending platforms to safely transfer money online to betting sites is through PayPal.
The company is known throughout the world for consecutive years of secure business. Companies such as online betting sites almost always accept PayPal. Before getting started, you should get a little more familiar with PayPal and how the system works. This article will dig into the history of PayPal as well as helpful information such as funding your account, withdrawing, and conducting safe transfers. Additionally, you'll get answers to a plethora of questions most commonly asked by the consensus of PayPal users that are relevant to online betting. Here is our Top 7 List for PayPal Betting Sites:
UK/International Betting Sites that Accept PayPal (Non US Players)
Betting Site

Betting Bonus

Get Bonus

Bet £10 & get £30 freebet
+ £10 CASINO Bonus




Visit

bet £10, get £30 free




Visit

100% up to £50 freebet




Visit
Australian Betting Sites that Accept PayPal (Non US Players)
Betting Site

Betting Bonus

Get Bonus

Deposit A$50
Claim A$150 in bonus bets




Visit

deposit A$20, play with A$100




Visit

100% up to A$200




Visit
Daily Fantasy Sports that Accept Paypal (US Players)
Daily Fantasy Site

Bonus

DETAILS

Get Bonus

Free Entry
5 Free NFL Entries




Min Deposit $10
Max Deposit $10,000
Withdrawal 24-48 hours


Visit

Free Entry
On First Deposit


Min Deposit $10
Max Deposit $2,000
Withdrawal 24-48 hours

Visit
Paypal History: How it Revolutionized the Online Market
PayPal initially became the first internet wallet platform on the market in 1998. The design team, whom all attended the University of Illinois, first targeted hand-held palm pilots and PDAs to create the first ever "eWallet." In 2000, the company joined world renowned Elon Musk and his X.com online banking company. The two were able to make money transfers available through handheld devices while avoiding any fraudulent activity by using new and improving data encryption. Online gambling in the United States and other auctioning sites like Ebay took over the web due to easy payment processing through PayPal. Electronically transferring money had never been done so efficiently.
Although online gambling transactions that occurred from 2002 to 2004 via PayPal were later seen as illicit, the total amount of transactions still only accounted for 8 percent of PayPal's total business. The payment processing platform was still operating solely in the United States and Canada, but soon was overflowing into international markets.
The Ebay Merge and Split
In 2002, eBay, an item auctioning site that essentially cuts out the middleman, purchased PayPal just after the payment processing site went public. After the merger to unite PayPal and Ebay, the payment processing site began to stop financial transactions regarding illegal gambling overseas. Although the site and new parent company, eBay were later left with a government fine of $10 million, the cessation of transactions saved the future of the enterprise.
Similar platforms began taking over the array of US online gambling customers. However, from 2006 forward, the companies were persecuted and massively hindered by the law. The series of civil lawsuits that followed made sure that payment processing companies paid back all illicit profits with additional fines and restrictions. Ebay and PayPal would later split in 2015 back into separate companies.
Paypal's Revival of Online Betting
By 2009, PayPal was available in countries all around the world, including most major European nations. Through legal advice and reconciliation with international jurisdictions, PayPal once again started to process payments for online gambling sites. The second go ahead though came with the dealing of businesses that fully operated within the confines of their territory's respective gambling laws.
The start of PayPal online betting expansion came in the United Kingdom through the popular betting site, BetFair, which only dealt with UK residents. The next to follow in the footsteps of the BetFair Exchange platform were authorized sportsbooks. This included a number of companies such as LadBrokes, 888, and Bet365. PayPal was not quick to accept the businesses without a full acquiring of proof of legality surrounding the operations.
The sites known as Bet365 and Ladbrokes are now presently operating as some of the largest betting companies to service Europe. In addition, PayPal has recently begun doing business with Casino companies such as Caesars Entertainment, Wynn Casinos, and World Series of Poker. The site is now authorizing payments for such businesses in the state of Delaware, Nevada, and New Jersey.
PayPal and US Skill Game Payment Processing
With the 2006 Unlawful Internet Gambling Enforcement Act outlawing nearly every form of online gambling, skill games began their boom on the online market. The UIGEA allows states to decide what is constituted as a game of skill and what is a game of chance. Due to state legislature taking precedence over federal, states such as Nevada and New Jersey allow online gambling as long as it operates and is regulated by those states. A number of states are in constant legal battles to push either for or against other possible online gambling options.
PayPal has now extended its grasp to process payments for licensed skill game platforms. Although skill games can resemble casino-style gambling, the basis and outcome of the game are up to the knowledge and mastery of the player. Popular skill game sites that have linked up with PayPal are GSN's WorldWinner and King Games.
Of Course, Daily Fantasy Sports would be at the top of the list for PayPal's interests. The payment processing company has partnered with the industry's largest platforms, DraftKings, and FanDuel. Both companies are ironically in hot water with legal trouble in a handful of states but remain "a game of skill" federally. PayPal's future will be hindered if DFS sites close shop in the United States, as the fantasy sports betting industry has boosted PayPal's business tremendously.
Popular PayPal Online Betting Questions
How Do I Withdraw my PayPal Balance?
PayPal has a multitude of options when it comes to making a withdrawal. If you link a bank account directly to your PayPal, you can request a withdrawal which usually transfers within 48 hours. PayPal can also send out a PayPal Debit Card to you that is acceptable at all retailers and ATMs. Lastly, you also have the option to choose to receive either a paper check in the mail or an electronic check online.
Am I Safe Using a PayPal Account for Online Betting Sites?
PayPal uses a 128-bit encryption similar to banking security, providing another line of financial defense for all players. Using PayPal for online betting sites is far safer than directly linking your bank account or credit card. Such as any online money transfer systems, it is always important to monitor your transactions and report any activity that is unknown to the account holder.
Why Does My Betting Site Does Not Show a PayPal Withdrawal Option?
If the site you are playing on is located overseas, there is a chance they do not accept PayPal. However, for sites that do accept PayPal, the withdraw option will not show up as available until a PayPal deposit is successfully transferred to the betting site.
Can I Use Another Person's PayPal Account to make a Betting Site Deposit?
Only the person with the name on the PayPal account can legally make deposits to online betting sites. The same is said for withdrawals. Families are encouraged to each make personal accounts to avoid service refusal at online gambling sites.
Does PayPal Charge Me Anything to Deposit/Withdraw?
No online betting sites will never charge you a fee for linking your PayPal account. When depositing money through your bank or debit card, there is no fee. However, there is a 2.9 percent charge to deposits done with a credit card. You can withdraw your PayPal balance to a connected bank account free of charge, and at any time. It is important to check for withdrawing details for any online site you are willing to try, for some do require a fee to withdraw money using any method.
Do I Need a PayPal Account to Use PayPal?
You can not transfer, deposit, or withdraw any money through PayPal without signing up first. Fortunately, creating an account is easy and fast with step by step help to speed up the process.
Why can't U.S. players deposit at a betting site using PayPal?
At the moment, online betting sites such as sportsbooks, poker rooms, and online casinos are illegal in the United States. The two excluded states of Nevada and New Jersey have fully regulated, licensed, and are managing online betting operations so residents can still fully gamble online. PayPal however, will not operate or process payments for residents of the United States for illegal gambling. Offshore sites will usually be easily identifiable by not offering PayPal as a legal payment method. In addition to the 2006 Unlawful Internet Gambling Enforcement Act of deeming all online gambling illegal in the US, it also put an immediate halt and backlash on payment processing platforms.
Where Can I Use PayPal?
Person to Person payment processing is available in over 100 countries. Betting sites all over the globe use PayPal as well, but PayPal only accepts transactions from legal and licensed companies. Within the United States, the only two states that permit funding an online betting account through PayPal are Nevada and New Jersey. These two states have legalized a series of online betting platforms and offer PayPal as a primary method for payment processing.
Daily Fantasy Sports and PayPal
PayPal does offer payment processing for skill game sites such as FanDuel and DraftKings. The reason DFS sites are allowed to use PayPal is that the UIGEA did not outlaw fantasy sports betting after banning nearly every other gambling option. United States Congress dissected the game to see if chance was a large impact, and after deliberation, the consensus is that many skill based variables control the overall outcome of the game. As of late, several states are opposing this federal law and further investigating the elements of chance in DFS. For now, US residents in DFS allowable states are welcome to use PayPal as one of the quickest ways for money transferring.
Pros and Cons of PayPal
With PayPal, you can instantly fund an account through an immediate deposit. Some other online wallet platforms take a long time and even take fees on deposits. Many businesses will offer to deposit your paycheck to a PayPal balance.
A major drawback for PayPal is the 2.9 percent charge on credit card deposits. The fee is small compared to the positives of PayPal, but on a larger deposit, the percentage fee adds up. Additionally, the withdrawal process can take up to 48hrs to successfully go through to a bank account.
Which Betting Sites Accept PayPal?
Bet365
888 Sport
Coral
Ladbrokes
BetVictor
10Bet
Betway
Betway
Winner
William Hill
Titanbet
Betfred
NetBet
Unibet
Betfair
Paddy Power
and more!
Can You Use PayPal on bet365?
Yes, you can indeed use PayPal on bet365. It is a secure and fast funding method and bet365 recognized that.
What Online Casinos Accept PayPal?
SpinPalace Casino
Jackpot City
InterCasino
Spin Palace
888 Casino
Ruby Fortune
Betway Casino
and more!
Summary
Reviewer
Review Date
Reviewed Item
Author Rating