Borgata Sports Review
| | |
| --- | --- |
| Bonus Offer | 9.5 |
| Betting Features | 8.5 |
| Interface | 8 |
| Payment Options | 9.5 |
| Customer Support | 7 |
Bonus Terms:
Free Bets Offer only applies to new accounts with first deposits.
No other 'New Customer' promotion applies.
Using Cash Out, Auto Cash Out, Edit My Bet, or canceling the bet voids the promotion.
First wager of at least $20 on any sport.
Qualifying Bet must be -200 odds or greater. Void bets do not count.
Free Bets are not eligible for this promotion.
You have to use the $100 Free Bet as one single bet within seven days of credit.
Free Bet is not redeemable for cash or towards casino or poker products.
Free Bets are not included in any winnings.
This Sports welcome promo is valid from 3/11/20-12/31/20.
Borgata Sports gives you a chance to bet on a variety of sports without making it into the actual Borgata in Atlantic City. Getting in on the sports betting action here means starting with a great Borgata Sports Free Bets welcome bonus offer.
To be sure, this extensive Borgata Sports NJ review takes you through everything this online sportsbook has to offer. Find all the great features and more as I leave no details out!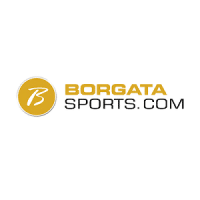 Solid Overall Betting Experience
Truly, Borgata Sports packs a powerful punch with an interactive sports betting experience. Not only is the welcome offer incredible but, once you make a real money deposit, you get access to free Live Streaming!
PROS
Great In-Play Betting Experience
Free Live Streaming
Parlay Generator
Fantastic Free Bets Offer
CONS
Small Font on Betting Interface
Mobile App Stability
Borgata Sports Free Bets Offer
Borgata Sports offers one of the best free bet offers available for new players with a qualifying real money deposit. Right now, you get $100 in Free Bets when you wager $20.
How to Claim the Free Bets Offer
Sign-up for a new player account at Borgata Sports.
Make a real money deposit into your new player account.
Wager $20 on any sport with minimum odds of -200 or more.
Your player account will be credited with $100 in Free Bets after the first bet!
Free Bets Offer only applies to new accounts with first deposits.
No other 'New Customer' promotion applies.
Using Cash Out, Auto Cash Out, Edit My Bet or canceling the bet voids the promotion.
Deposit a minimum of $20 in real money.
First wager of at least $20 on any sport.
Qualifying Bet must be -200 odds or greater. Void bets do not count.
Free Bets are not eligible for this promotion.
You have to use the $100 Free Bet as one single bet within seven days of credit.
Free Bet is not redeemable for cash or towards casino or poker products.
Free Bets are not included in any winnings.
This Sports welcome promo is valid from 3/11/20-12/31/20.
The first thing to remember, you must deposit a minimum of $20 in real money. Then, your first wager must be at least $20 on any sport with a minimum of -200 odds or greater. Additionally, make sure you do not try to Cash Out, Auto Cash Out, Edit My Bet, or cancel the wager while in progress. Otherwise, if you do so, you will void the promotion.
Once the $100 Free Bet hits your player account, you have seven days to use the Free Bet. Remember that it must be used as a single bet.
Ongoing Betting Promotions
At Borgata Sports, there are ongoing betting promotions for existing players. By and large, the majority of the promotions center around sporting events. In general, there is usually a parlay promotion that awards free bets.
At the time of writing, a multi-sport parlay boost offers even more possible winnings along with daily parlay bets offering free bets. Most importantly, there are 'Daily Odds Boosts' located right below the 'Home' icon.
While not an actual promotion, the GVC Technology software likes to group 'Live Streaming,' 'Cash' Out,' 'Edit My Bet' and even a 'Sports Betting Guide' within the 'Current Sport Offers' or promotions. Technically, these are significant features of Borgata Sports but not promotions, in my opinion.
Sports Betting at the Borgata Sports
Borgata Sports launched in 2019 with the idea that players could make the same types of bets at the physical Borgata Sportsbook online. However, there are so many great online features that a physical sportsbook simply cannot offer, such as live in-play betting.
Without further ado, I invite you to join me as we journey through all that this NJ online sportsbook offers.
Ultimately, Borgata Sports offers odds that are in-line with what other online sportsbooks offer. However, there are slight degrees of differences in what each sportsbook offers on money lines. Thus, I highly encourage line shopping before placing your wager. For this reason, I never tie myself to one particular sportsbook in order to search for the best lines.
If you have placed any straight or parlay bets, rest assured that Borgata Sports does offer you the option to Cash Out early on specific bets. The chance to cash out your wager to safeguard your winnings and minimize your risk or loss is a fantastic feature.
Simply look on the 'My Bets' section of your bet slip, or there is the 'Cash Out' section if the game has not started. However, please note that Cash Outs are not guaranteed on every bet. Also, even if you see the Cash Out option and click it, Borgata Sports has to verify Cash Out's availability. Thus, if the respective bet is frozen or odds changed, note that your 'Cash Out' request may be rejected.
If your bet has the Cash Out option available at Borgata, you can opt to change any straight or parlay bet. In this manner, instead of opting for a Cash Out, you can change it and add more selections or even increase your wager.
This feature allows you to modify your bet by adding, swapping, or even removing your previous bet selections. Keep in mind, though, that your eligible bet must have Cash Out available, and the outcome of the bet is unsettled.
If you have ever struggled with placing a parlay bet, Borgata Sports makes the process a snap. On the browser-based interface or mobile app, you can easily access the Parlay Generator.
Firstly, you can sort between 'Odds per selection' and 'Winnings more than.' These options are excellent because you can mitigate or take more risk if you prefer. Additionally, you can sort by 'NFL only' parlay bets. You can also choose to filter by 'Spread,' 'Totals' and 'Money Line.'
Additionally, before you 'Add to Betslip,' you can either 'Add Selection' if you would like a bigger parlay bet or even 'Spin Selection' to receive a whole new parlay bet. Overall, the Parlay Generator is a fantastic feature that even newcomers to sports betting can use easily.
Minimum and Maximum Bet Limits at Borgata
Unlike other online sportsbooks, where the minimum and maximum bet limits plus payouts are clearly outlined in House Rules, Borgata Sports does not disclose these amounts. In fact, if you contact customer support, the response is the same.
Minimum bet amounts do appear to be $0.50 for most wagers. Also, on-board parlays pay out a maximum of 10,000 to 1.
If you're looking to bet on live sports during the event, Borgata Sports gives you an excellent interface for in-play betting. Watch as the available odds shift as the game progresses.
If odds shift up, you will notice a neat little green tab that appears on the particular bet's upper right. As the odds move down, a small red tab appears on the bet's bottom right, indicating the change. Moreover, GVC Technology integrated these changes so that while they flash a few times to call your attention to the change, it is unintrusive and does not distract you from other bets you may be watching.
For in-play betting, there are various bet types available:
Straight Bets
Moneyline
Props
Parlay Bets
In-play betting is genuinely one of the many highlights of Borgata Sports. An excellent betting experience is offered, ensuring you will not be overwhelmed while trying to make changes or be flexible in your betting.
If you have ever wanted to watch live games for free, Borgata Sports has you covered. Remarkably, this online sportsbook has one of the least restrictive terms for live streaming compared to the competition. To live stream for free, you need to make a new player account and make a real money deposit. Compared to other online sports betting sites that require you to also have a wager on the game, Borgata Sports does not have the same restriction.
Enjoy the game either on your mobile app or on the browser-based interface. There is a 'Media' tab with a play icon on the right side of the interface. Additionally, you may also keep up with the game's progress by clicking the field icon to bring up an interactive view of the game.
Borgata Sports Betting Mobile App
As can be seen, Borgata Sports is a GVC Technology skin, which offers up a super clean, modern, and uncluttered sports betting app on Android and iOS devices. Quickly check for odds and lines, plus place your wager just as quickly and easily.
The Borgata Sports app categorizes plus prioritizes upcoming events based on popularity and what is trending. Namely, it is a snap to place a wager on upcoming events and view the odds change with in-play betting. While I did not have any issues with the software, which quickly refreshed, other users have noted that the mobile app tends to crash at times. Yet, the mobile app itself still is highly rated, especially in the Apple App Store.
Head over to the Borgata Sports website.
Now, download the 'borgatasports.apk' file for Android or iOS; your download starts automatically.
Allow the install (may need to allow downloads from 'Unknown Sources').
Finally, launch the app, fund your account, and bet with real money!
Definitely, like the mobile app, the browser-based interface at Borgata Sports is immaculate and responsive for Windows and Mac operating systems. Again, the interface, which GVC Technology powered, ensures that you have access to quick refresh rates and interactive live betting updates.
An issue is that the font size used is tiny, even on a large desktop monitor. While I appreciate that Borgata wants to condense the font size down to make more betting lines available, it is difficult to see. Some customers may also enjoy a small list of 'Mini-Games' listed to the right side and 'Games You Might Like' at the bottom; I would prefer that these be left entirely off to make more room for the betting lines. On the other hand, this is not a huge issue that takes away from the functionality of Borgata Sports.
Payment Methods and Withdrawal Limits
At Borgata Sports, choose from a variety of payment methods. Obviously, the limits and transactions may be limited to your chosen payment processor because Borgata does not charge any extra fees associated with banking.
For withdrawals, take note that Borgata does not have any pre-set limits. However, like most online gambling operators, you likely need to have used the same deposit option to withdraw with it in the previous 180 days.
While it is nice to note that PayPal is an accepted payment method, it is not an instant deposit or withdrawal. In fact, for most withdrawal methods, it could take up to 5 business days to process the transaction.
| Withdrawal Method | Processing Time |
| --- | --- |
| VIP Preferred e-Check | 3-5 Business Days |
| PayPal | 3-5 Business Days |
| Borgata Cashier Cage | Instant |
| Skrill | 3-5 Business Days |
| Physical Check in Mail | 14-20 Business Days |
| Play+ Card | 3-5 Business Days |
The Play+ Prepaid card certainly is an incredible and convenient way to manage your banking needs at Borgata Sports.
Indeed, you do need to sign-up first with your personal details. Then, the physical Play+ Card will be sent to your mailing addressing within 10-14 days. On the other hand, you don't need to wait until you receive the card to make a deposit. In fact, you can immediately deposit as soon as your account is set up.
Best of all, once you receive the card and withdraw, Play+ is accepted anywhere that Discover cards are.
Borgata Sports is Legal and Licensed
Borgata Sports is legal and licensed by the New Jersey Division of Gaming Enforcement. Besides, the physical Borgata Casino and Sportsbook is also regulated and in compliance with the Garden State's gaming laws.
Borgata Sports Company Overview
Parent Company:
MGM Resorts International
Software:
Entain, GVC Holdings
New Jersey Partner
Borgata Hotel Casino & Spa
Address:
1 Borgata Way, Atlantic City, NJ 08401
NJ License:
NJIP 10-001
International Licenses:
Macau
Email:
Form Submission
The Background of Borgata Sports
Technically speaking, Borgata was the first casino to accept a legal sports wager under the playMGM brand. MGM Resorts International, Borgata's parent company, operates in partnership with GVC Holdings (formerly Bwin.party) to offer up a range of online betting products: casino, sports, and poker.
In recent years, the playMGM brand has re-branded into the BetMGM brand, offering the same online betting platforms. Additionally, GVC Holdings also has another skin that operates on the same platform but with slight aesthetic differences, PartyPoker, and PartyPoker Casino.
While the Borgata skin of products may not expand into other states, BetMGM, which also belongs to the same GVC Holdings universe, is undoubtedly growing. To explain, BetMGM is available in the following states:
Colorado
Indiana
Nevada
New Jersey
West Virginia
Additionally, BetMGM recently signed on Jamie Foxx and other high profile partnerships such as the Yahoo! Sportsbook, Buffalo Wild Wings, and the Official NFL Data Provider. Next, look for BetMGM to launch in:
Tennessee
Pennsylvania
Iowa
At Borgata Sports, the high level of commitment ensures a range of different methods to help you properly establish boundaries for your gaming activity.
Set your own limits concerning:
Notably, once you set a limit on your gaming, the new limitation is effective immediately. Additionally, you will receive a text notification to the number associated with your player account. Finally, you can only increase your limits after the previous limit is expired.
For the wager limit mentioned above, you can set these daily, weekly, or monthly while specifying the maximum amount you can wager. To set a limit, go to 'My Account' -> 'Settings' -> 'Responsible Gaming Limits.' From here, you can choose which limit to apply to your account.
Moreover, there is a timeout action that lasts for a minimum of 72 hours where you will not be able to login into your player account. Finally, if you need to self-exclude, you can request that as well. Self-exclusion lasts and closes your account for a minimum of 12 months. Ultimately the most severe limitation, your account cannot be reactivated under any circumstances.
Enjoy casino games and poker at Borgata. Although limited to New Jersey, Borgata is offering all the products an adrenaline seeker is looking for.
Borgata Sports M life Rewards
If you're playing at Borgata Online, you automatically are a part of M life Rewards. Simply put, get perks at participating MGM Resorts. While most online sportsbooks don't have a rewards program for sports betting, Borgata Sports stands out from the competition. Receive discounts towards hotel stays, dining, or entertainment at MGM Resorts, not just the Borgata in Atlantic City.
The M life Rewards program consists of five tiers, and you move up in tiers the more you wager.
| m Life Tier | Points Required |
| --- | --- |
| Sapphire | 0-24,999 |
| Pearl | 25,000-74,999 |
| Gold | 75,000-199,999 |
| Platinum | 200,000+ |
| Noir | By Invitation Only |
Without a doubt, Borgata customer support agents are available to you 24/7. Live Chat in recent times has shown a marked improvement. Previously, Live Chat agents had connectivity issues. However, nowadays, this does not appear to be an issue. Additionally, Live Chat agents are quick to respond and typically respond in less than two minutes. Thus, I highly recommend trying the Live Chat support.
Also, there is a decent FAQ section, but there are sections with more information needed. For example, if you wanted to find out more about withdrawals and the process to withdraw, the FAQ points you to your Cashier window. Unfortunately, it does not answer the maximum per transaction you can withdraw or other more particular questions.
Finally, email is also an available option, but sometimes, I found that emails would go unanswered for a few days and requires a need to follow-up before being answered. Indeed, customer support could use some more improvement, although support has made some improvement in recent times.
New Jersey
FAQs: Available
Email: Form Submission
Live Chat: Available
Support Hours: 24/7
Borgata Sports NJ offers a solid betting experience overall. Not only do you have the brand recognition of the historic Borgata Hotel & Casino backing the online sportsbook, but the betting interface is straightforward to use. The variety of betting odds with live in-play betting and even a parlay generator means that experienced bettors and newcomers can easily find their desired lines. Best of all, Borgata Sports offers Live Streaming free, as long as you have made a real money deposit.
Without a doubt, I highly recommend Borgata Sports, especially when coupled with the generous $100 Free Bet welcome offer.
Borgata Sports Review FAQs
Specification:
Borgata Sports Review
Betting Features

Bet-Builder

Cash Out

In-play Betting

Live Streaming

Licenses

NJ

Payment Options

Amex

Bank Transfer

MasterCard

PayNearMe

PayPal

Play+

Skrill

VIP Preferred

VISA

Sports

Boxing

Cricket

Cycling

Darts

Golf

MLB

Motor Sports

NBA

NCAA

NFL

NHL

Soccer

Tennis

UFC