DraftKings Fantasy Sports Review
| | |
| --- | --- |
| Bonus Offer | 6 |
| Game Variety | 9 |
| Interface | 9 |
| Payment Options | 7 |
| Customer Support | 3 |
Get 20% of your first deposit as a bonus. Minimum deposit $5. Maximum Bonus $500.
$2500 first deposit required to unlock full $500 bonus.
$1 in bonus funds released per $25 wagered for 90 days after the account is opened.
DraftKings considers themselves the 'Big Daddy' of Daily Fantasy Sports (DFS). While the brand still offers some highlights such as the range of sports and the number of ongoing promotions, there is certainly room for improvement.
While the draw for most players is the massive prize funds that DraftKings Fantasy offers, there's more than meets the eye here, such as a tricky bonus offer and poor customer service. This comprehensive review of DraftKings Fantasy reveals all the highs and many lows that this former DFS giant offers.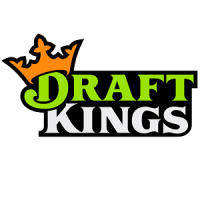 Room for Improvement
DraftKings is one of the top DFS sites. Certainly, there are some highlights such as large prize pools with various contests and a range of sports. Also, the rewards program is top-notch. However, the tricky welcome bonus terms leave a bad taste compared to other DFS sites' transparency. Finally, deplorable customer service means waiting for a long time for a response for any issues or tying up your funds unnecessarily.
PROS
Massive prizes
Loyalty Rewards Program
Ongoing promotions
Excellent range of sports and contest types
CONS
Tricky welcome bonus terms
Low 20% welcome bonus only
Poor customer service
Restricted in a small number of states
At first glance, the DraftKings $500 welcome bonus looks amazing. However, when I looked at the terms and conditions I realized that the bonus isn't quite as good as it seems. DraftKings will match 20% of your first deposit, so to get the full $500 an initial deposit of $2,500. The bonus isn't added instantly to accounts, instead $1 is released per every $25 spent on DFS, Casino and Sportsbook at DraftKings.
What this means is that to earn the maximum $500 bonus, a deposit of $2500 is required and then a total amount of $12,500 must be wagered. New customers have 90 days to meet these wagering requirements from the day they open their account.
Visit DraftKings DFS site by using our link.
Click on the 'Sign Up' button.
Enter your preferred username, password, and email address.
Register and make a first deposit (minimum $5).
Deposit $2500 to qualify for the maximum $500 bonus.
DraftKings will match 20% of your first deposit with bonus funds.
$1 in bonus funds released for every $25 spent on DFS, Casino, or Sportsbook.
$12,500 required to be wagered to release full $500 bonus.
Minimum deposit $5.
Sportsbook bets at odds of -300 or longer only count towards wagering requirements.
All wagering requirements must be met within 90 days to release the full bonus.
Only one deposit bonus per customer.
Promo ends Feb. 28, 2021.
The DraftKings bonus is easy to qualify for but releasing it is time-consuming and costly. The bonus will be equal to 20% of the first deposit. Once that first deposit is made, $1 in bonus funds is released for every $25 spent on DraftKings products. So, for a $50 sign-up bonus a deposit of $250 is required and then you'll need to wager $1250 within 90 days of opening your account to release the full $50 welcome bonus.
When it comes to providing awesome ongoing promotions to their members, DraftKings is streets ahead of their industry rivals. When I visited the DraftKings promos page I found over 20 unique promotions split across a nice selection of sports. NASCAR, Golf, Basketball, MMA, Tennis, NFL and Soccer were just some of the sports that had active promotions and that's not all. DraftKings also has a high-quality Rewards Scheme which I will talk about in greater detail later on.
The Micro Millions offer is a pretty cool one as it gives DFS players the chance to win thousands of dollars for small stakes ($0.25). The DraftKings Missions promo is another fun and interesting offer that sets out a 'Daily Mission' that must be completed before 12 am ET. If the mission is accomplished on time, DraftKings gives you a nice reward. No matter what your favorite daily fantasy sport may be, DraftKings will most likely have an ongoing promotion.
Fantasy Sports at DraftKings
DraftKings has an unrivaled selection of Daily Fantasy Contests for a wide range of sports. The big four sports, Basketball (NBA), Football (NFL and CFL), Baseball (MLB) and Hockey (NHL) are covered. College football and college basketball contests are also available at DraftKings, as are contests on Tennis, Golf, MMA, NASCAR and Soccer.
For fans of eSports like CS:GO, Call Of Duty and League of Legends, DFS contests are on the menu too at DraftKings. You won't find a better range of sports and eSports anywhere else. The variety of contests at DraftKings is extremely impressive too.
DraftKings members should have no problems finding the sport they want after opening a new account. The biggest decision they'll have to make is picking from one of the many contest types on offer at DraftKings. From a personal perspective, I like to play tournaments for small stakes that give me a chance of winning big prizes.
However, new players should be more cautious to begin with and I recommend sticking to the Beginners' Contests that allow them to compete against DFS players with similar experience. Other contest types for novices to consider include Head-To-Head and 50/50 events.
Beginner – Play against opponents that are also beginners (unable to enter after you have played 50 contests).
Casual – Compete against other casual players.
Tournaments – Competitions with modest entry fees, lots of players and big prizes.
Head To Head – Take on just one opponent in a winner takes all contest.
50/50 – In order to win, just finish in the top half of the competition.
Double Up – You can win double your entry fee in these contests.
Multipliers – Contests that enable participants to win multiples of their entry fee up to x10.
Satellites/Qualifiers – Stepping-stone contests that gain winners entries into bigger tournaments.
So, I am sure that the next question you'll be asking is how do the DraftKings Fantasy Scoring Systems work? Well, to put things in the simplest terms, if a player in your Fantasy Team does something positive during the game, they will earn points. If they do something bad, they will lose points. For example, in NHL contests a goalie is awarded points for making saves. However, points are deducted if they concede a goal. The scoring systems for some of the most popular sports at DraftKings are explained below.
NFL is one of the most popular daily fantasy sports at DraftKings. When picking a team, a total of 9 players must be included from at least two different games. The Salary Cap can vary depending on the contest type. The DraftKings fantasy NFL roster consists of 1x QB, 2x RB, 3x WR, 1x TE, 1x DST and 1x Flex which can be a WR, RB or TE.
Offense
Defense
Passing TD
4 Pts
Sacks
1 Pt
25 Passing Yards
1 Pt (0.04 pts per yard)
Interception
2 Pts
300+ Yard Passing Game
3 Pts
Fumble Recovery
2 Pts
Interceptions
-1 Pt
Punt/Kickoff/FG return TD
6 Pts
Rushing TD
6 Pts
Interception Return TD
6 Pts
10 Rushing yards
1 Pt (0.1 pts per yard)
Fumble Recovery TD
6 Pts
100+ Yards Rushing
3 Pts
Blocked Punt/FG Return TD
6 Pts
Receiving TD
6 Pts
Safety
2 Pts
10 Receiving Yds
1 Pt (0.1 pts per yard)
Blocked Kick
2 Pts
100+ Yards Receiving
3 Pts
2 Pt Conv/Extra Point Return
2 Pts
Reception
1 Pt
1-6 points conceded
7 Pts
Punt/Kickoff/FG Return TD
6 Pts
7-13 points conceded
4 Pt
Fumble Lost
-1 Pts
14-20 points conceded
1 Pt
2 Point Conversion
2 Pts
21-27 points conceded
0 Pt
Offensive Fumble Recovery TD
6 Pts
28-34 points conceded
-1 Pt
35+ points conceded
-4 Pts
0 Points conceded
10 Pts
Basketball contests are also a favorite with lots of fantasy players and the NBA is the main competition. Few sports can match basketball for excitement and high scoring and that is what makes it such a popular pick with Daily Fantasy fans. DraftKings require you to pick an 8 man roster for NBA contests which includes 1x PG, 1x SG, 1x SF, 1x PF, 1x C, 1x G (PG/SG), 1x F (SF/PF) and 1x Utility (PG/SG/SF/PF/C). The salary cap for NBA contests is $50,000.
Point = 1 Pt
Made 3 Pointer = 0.5 Pts
Rebound = 1.25 Pts
Assist = 1.5 Pts
Steal = 2 Pts
Block = 2 Pts
Turnover = -0.5 Pts
Double-Double = 1.5 Pts
Triple-Double = 3 Pts
In DraftKings Fantasy NHL contests the salary cap is $50,000 and just like in NFL tournaments, a roster consisting of 9 different players must be selected from at least three different teams. The DraftKings NHL roster must include 2x C, 3 x W (LW/RW), 2x D and 1x Utility (LW/RW/C/D).
Forwards/Wings/Defense
Goalie
Goal
8.5 Pts
Win
6 Pts
Assist
5 Pts
Goal Scored Against
-3.5 Pts
Shot on goal
1.5 Pts
Save
0.7 Pts
Short hand points
2 Pts
Shutout
4 Pts
Blocked shots
0.5pts
Overtime loss
2 Pts
Shootout goal
1.5 Pts
35+ saves
3 Pts
Hat trick bonus
3 Pts
5+ shots
3 Pts
3+ blocked shots
3 Pts
3+ points
3 Pts
This is another sport that has a $50,000 salary cap. At DraftKings, your MLB roster consists of a total of 10 different players and selections from a minimum of two different MLB fixtures have to be included. The positions that need to be filled are 2x P, 1x C, 1x 1B, 1x 2B, 1x 3B, 1x SS and 3x OF.
Hitters
Pitchers
1 Base Hit
3 pts
Innings Pitched
2.25 Pts
2 Bases Hit
5 Pts
Strike Out
2 Pts
3 Bases Hit
8 Pts
Win
4 Pts
Home Run
10 Pts
Earned Run Allowed
-2 Pts
Run Batted In
2 Pts
Hit Against
-0.6 Pts
Run
2 Pts
Base On Balls Against
-0.6 Pts
Base on Balls
2 Pts
Hit Batsman
-0.6 Pts
Stolen Base
5 Pts
Complete Game
2.5 Pts
Hit by Pitch
2 Pts
Complete Game Shutout
2.5 Pts
No Hitter
5 Pts
In 2020 DraftKings Fantasy signed a deal to extend their partnership with Stats Perform. This was great news for DFS players at DraftKings as the site will continue to implement Stats Perform data for basketball, hockey, football, basketball and lots of other sports. The fact that franchises in the NBA and other professional sports teams use Stats Perform to analyze the performance of their players during games just illustrates how highly the company and their data are rated.
I think it is also worth mentioning DraftKings Nation. To go to this site, just click on the 'Research' tab in the Lobby. DK Nation is a one-stop-shop for all the very latest injury news and top-class insight that could help to give you an edge over your DFS rivals. There is up-to-date information on NBA, NHL, MLB, NFL, UFC, NASCAR, golf, and soccer. I think it is a great resource for DFS players who need help in deciding who to include in their DraftKings Fantasy lineup, and best of all, it is 100% free to use.
Unlike at FanDuel and other DFS sites, there is no hard and fast rule concerning the number of entries. Instead, each contest has its own entry limit and you can find out what the limit is by checking in the 'Contest Details'. The upper limit for entries is 150, though the number varies depending on the tournament. When I had a look there was an NBA 'Classic' $75,000 Tournament that had a 20 entries limit per person, while the $800,000 PGA Tour Flop Shot Contest allowed a maximum of 150 entries per player.
The DraftKings mobile apps are among the very best in the industry. DraftKings went to the trouble of designing custom apps for both iOS and Android devices, as well as creating a Web App that you can visit on your mobile browser. I used the Android App and Web App and in my opinion, it is well worth making the effort to download the app.
The Web App works perfectly and is nicely designed but the DraftKings Android and iOS Apps have more features and I thought they just seemed slicker and more polished than the Web App. If you want to play DraftKings DFS contests on your mobile device then follow our instructions on how to download the DraftKings Mobile Apps below.
How to Download the DraftKings App
Navigate to the DraftKings website via one of our links.
Hit the 'Sign Up' button and create an account.
Once you log in via your mobile browser you will see a 'Download The App' banner at the top of the page.
After clicking on that banner you will be taken to the correct page for the type of device you are using (iOS or Android).
Download the DraftKings app and start playing.
I thoroughly enjoyed the DraftKings browser-based interface. The design is different from the Mobile and Web Apps but it is of equal, if not better, quality. It was very easy to find the sports and contests I was looking for and the entry fee filter enables players to locate the contests that suit their individual budgets. No matter what platform you are using, DraftKings has got you covered.
After signing up you'll then need to make a deposit. Those lucky enough to win some cash will need to make withdrawals too. DraftKings Fantasy players have a limited number of options for depositing and withdrawing funds. MasterCard, Visa, American Express and Discovery Credit and Debit Cards are accepted for deposits but only the amount deposited can be withdrawn to Credit or Debit cards. The minimum deposit limit at DraftKings via all methods is $10.
For withdrawals, customers have two choices. PayPal, which I recommend as the best payment method, or a paper check via the post. The limits and timescales associated with withdrawing funds from DraftKings are outlined in the following table.
If you want to have the fastest processing time for withdrawals then use PayPal at DraftKings. This is by far the most convenient payment method for both depositing and withdrawing funds to and from your DraftKings account.
Winnings take between 2-8 days to appear in your PayPal wallet and then they can be quickly and easily transferred to your personal bank account. In comparison, withdrawals under $2,000 made via Paper Check can take as long as 3 weeks. The maximum amount that can be withdrawn via PayPal is $14,999.
Talking about the legal status of DFS sites is always complicated due to the differing laws in multiple states. DraftKings is a legitimate and 100% legal DFS site in most states and the company is listed on the US Stock Exchange (NASDAQ). However, there are a few states where it is illegal to play DraftKings fantasy cash games.
DraftKings Daily Fantasy Restricted States
Arizona
Hawaii
Idaho
Louisiana
Montana
Nevada
Washington
The DraftKings Fantasy brand was established by Paul Liberman, Matthew Kalish and Jason Robins back in 2012. Baseball was the initial focus and in 2013 MLB invested in the new company. Industry rival DraftStreet was acquired in 2014 and DraftKings became the biggest DFS site in the country. Official partnerships were struck with NHL (2014) and MLB (2015) and they became the official DFS provider for both organizations. The NFL jumped on the bandwagon in 2019. In April 2020 DraftKings was listed on the Nasdaq stock exchange as DKNG.
It is imperative that DFS and sports betting sites take the promotion of safe and responsible gambling seriously. I am delighted to report that DraftKings share the same view. Just scroll down to the bottom of the Lobby page and click on 'Responsible Gaming'. This directs users to the dedicated responsible gambling page which outlines some of the resources available to encourage responsible gambling, including daily, weekly and monthly deposit limits and also self-exclusion.
There is a list of contact details for gambling helplines in a number of states and I also found some very useful advice on how to proceed if you think a family member or friend is gambling too much. Overall, I was extremely impressed with DraftKings' efforts to create an environment that is conducive to safe and responsible gambling.
Other Products from DraftKings
In 2018 DraftKings launched their first legal online sportsbook in New Jersey. Only residents of that state were able to bet online with DraftKings. They have now expanded their online sports-betting operation into New York, West Virginia, Indiana, Iowa, New Hampshire and Mississippi. As more states make online betting legal, expect further expansion in this area. The company also runs an online casino site that accepts players from New Jersey, Philadelphia and West Virginia.
Another great feature worth giving a mention to is the DraftKings Rewards program. This awesome rewards scheme enables players to collect Crowns, Contest Tickets and DK Dollars. The more contests that you enter, the more rewards you'll earn.
For every $1 spent, you receive one crown. Players can also complete missions or achievements to earn crowns and then the crowns can be exchanged for DK Dollars or spent on merchandise in the DK Store. The number of crowns earned during a month will determine your Daily Rewards Status for the following month. The higher level that is attained, the bigger and better the daily rewards will be.
DraftKings Fantasy Daily Reward Tiers
| | |
| --- | --- |
| Level | Crowns Required Per Month |
| Bronze | 100 Crowns |
| Silver | 500 Crowns |
| Gold | 2,000 Crowns |
| Platinum | 10,000 Crowns |
| Diamond | 25,000 Crowns |
| Black | 125,000 Crowns |
As is the case with many DFS Sites, the customer service at DraftKings leaves a lot to be desired. I expected a company of DraftKings' size to at least have an Online Chat help option, but they didn't, and I couldn't get in touch with them over the phone either. The only options for DraftKings Fantasy players to get in touch are via the contact form on the 'Contact Us page, email and mail.
On the plus side, there is a fantastic FAQ section that has a huge amount of information that is worth checking out if you have any problems. Otherwise, the only avenues through which to get in touch are the ones I have outlined above.
Email: Via Contact Form
Address: 222 Berkeley St. Boston, MA 02116
Truly, while DraftKings Fantasy is one of the biggest operators available, there are issues. First, there are highlights such as massive prize pools, a variety of contests, and sporting events. Yet, there are many issues, such as a welcome bonus offer that has tricky terms attached. Moreover, the customer service at DraftKings is downright abysmal, leaving you, the customer, in the dark regarding your funds or any other issues. 
DraftKings Fantasy Sports FAQs
Do you actually win money on DraftKings Fantasy?
Yes, you can win money on DraftKings if you manage to win or do well in a Daily Fantasy Contest. The amount is determined by DraftKings and usually depends on the size of the entry fee, the number of entrants and the type of contest. The biggest amount that can be won at DraftKings is the $2.5 million first prize at the Fantasy Football World Championships.
Can you lose money on DraftKings Fantasy?
Yes, you are a lot more likely to lose money than win it on DraftKings and that is why it is so important to gamble responsibly and never chase losses. Stick to a budget and never spend more than you can afford.
Do I have to pay taxes on DraftKings winnings?
If you manage to generate a net profit of $600 or more you'll have to pay taxes on DraftKings fantasy winnings. DraftKings is a fully legal DFS Site and they issue players and the IRS with a 1099-MISC tax form on which all winnings must be declared.
How long does it take DraftKings to pay?
The time it takes for DraftKings to payout is dependent on the payment method used. Those who use our recommended method, PayPal, can expect to receive their winnings 2-8 days later. If players request payment via paper check, it can take as long as 3 weeks, although checks over $2000 are sent by Fed-Ex and take between 1-3 days to arrive.
What states can I play DraftKings fantasy?
Players from most states can play DraftKings daily fantasy sports contests legally. Several states restrict DraftKings, including Arizona, Hawaii, Idaho, Louisiana, Montana, Nevada, Washington. The other DraftKings brands (sportsbook and casino) are restricted in a much larger number of states.
Specification:
DraftKings Fantasy Sports Review
Licenses

AL

AK

AR

CA

CO

CT

DE

FL

GA

IL

IN

IA

KS

KY

ME

MD

MA

MI

MN

MS

MO

NE

NH

NJ

NM

NY

NC

ND

OH

OK

OR

PA

RI

SC

SD

TN

TX

UT

VT

VA

DC

WV

WI

WY

Sports

Golf

MLB

MMA

NASCAR

NBA

NCAA

NFL

NHL

Soccer

Payment Options

Amex

Discover

DraftKings Gift Card

MasterCard

PayPal

VISA

DraftKings Fantasy Sports Review