SugarHouse Sportsbook Review
| | |
| --- | --- |
| Bonus Offer | 9.5 |
| Odds | 9 |
| Interface | 9 |
| Payment Options | 9 |
| Customer Support | 8.5 |
Bonus Terms:
Maximum of $500.
Bonus credits within 48 hours of making a successful first deposit.
Must activate the bonus via your Bonus Bank.
Bonus has a 1x play-through requirement.
Must wager on games and events with odds longer than -200.
Any + odds are counted for play-through requirements.
Bonus must be play-through by 30 days.
Bonus began on Aug. 16, 2019 at 4:00 pm EST and is ongoing.
SugarHouse Sportsbook drops in quite the sweet incentive for new sports bettors like a fantastic free bet up to $500. However, that's not all that this NJ sports betting site offers; one of the top NJ online casinos is directly integrated right into the desktop and mobile app.
That's not all, either. SugarHouse Sportsbook offers up some unique betting features such as a jackpot parlay for experienced and new sports bettors alike. Obviously, there is so much more to unpack about this delightful sportsbook. This extensive SugarHouse Sportsbook NJ review covers all the details, including an odds comparison with other NJ sports betting sites.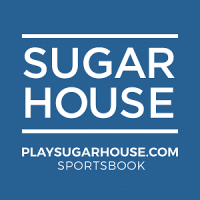 Exceptionally Sweet Bonus Offer
Overall, SugarHouse Sportsbook NJ is highly recommended. In fact, it offers up some unique bets, such as jackpot parlays, house bets, and teaser bets. Also, you can easily switch over to the casino for even more gaming options. However, I would recommend avoiding the mobile app and using the browser interface when searching and browsing for bets. Definitely, the most excellent incentive is the matched deposit bonus with an unheard of 1x play-through requirement.
PROS
Great Bonus Offer
Live In-Play Betting
Live Streaming
Additional Betting Features
CONS
Complicated Loyalty Program
Mobile App Lacks Optimization
No 24/7 Customer Support
SugarHouse Sportsbook Welcome Bonus
SugarHouse Sportsbook offers one of the best welcome bonuses compared to other NJ online sports betting sites. Right now, SugarHouse offers new sports bettors a free bet of up to $500. Simply enter the promo code "SPORTS".
The best part of this bonus is that it is released with a simple 1x play-through.
Visit the SugarHouse Sportsbook and click the "Join Now" button located on the top-right corner.
Use the promo code "SPORTS".
Place a bet, and if you lose, SugarHouse will give you a free bet of up to $500.
How to Release SugarHouse Sportsbook Bonus
There are some terms to be aware of as far as how to release the SugarHouse Sportsbook bonus. For example, the common misconception is that you can simply place a wager on any sporting event and wager the bonus once with the 1x play-through.
However, it rarely is that simple. Note that you cannot wager on games or events with odds that are longer than -200. In detail, if you wager on an event with odds that are -300, it will not count towards the play-through requirement. However, events with odds that are -190 are counted.
Also, note that you can also fulfill this bonus' requirements by playing SugarHouse Casino games.
Ongoing Betting Promotions
Certainly, SugarHouse Sportsbook keeps existing customers entertained with a variety of ongoing betting promotions. Depending on what available sports are in season, the ongoing betting promotions coincide with the event.
Here is a list of the ongoing betting promotions available at SugarHouse Sportsbook:
Sportsbook Profit Boost
Pick 'em NFL Winners for the season
Various social media promotions
Sports Betting at SugarHouse
PlaySugarHouse Online Sportsbook certainly has a fantastic variety of betting options. In fact, there are even some unique types of bets offered like jackpot parlays, which is why a detailed look into this NJ online sports betting site is needed.
In terms of vig %, SugarHouse Sportsbook falls in the middle compared to William Hill and FanDuel. However, this will not always be the case as this was one game that was randomly selected to make an odds comparison.
In the future or sometime next NFL season, I would like to make another odds comparison. Finally, it is important to always shop around for the best lines before betting by listing and comparing odds.
SugarHouse Buy-Out or Cash Out
While other sportsbooks call this feature a cash-out, SugarHouse calls it a Buy-Out. However, despite the different terms being used, the feature is still the same. Thus, you have the option to cash out your bet or have SugarHouse buy out your bet before the end of the sporting event. Obviously, the amount received is based on current odds and gives you the option of insurance on your bet.
To find out whether a Buy Out is available on your wager, go to 'My Bet History' on your menu. You will see if any of your bets are eligible for a Buy-Out on your open Bet Slips, highlighted by an orange button. Please note that not all bets will have a Buy-Out option.
Definitely, a unique feature at SugarHouse Sportsbook is the Jackpot Parlay Feature. The draw here is that the Jackpot Parlay is very similar to using quick picks in lottery games.
To begin with, click on the Jackpot Parlay banner located in the sports betting section.
Next, the Jackpot Parlay Feature automatically populates a combination of eight randomly selected bets. After reviewing the selected bets, you can choose 'Place Bets' located at the bet slip's bottom. If you would like Jackpot Parlay to select other bets automatically, you can choose automatically 'Re-Pick' highlighted in yellow. You may also set additional parameters such as what types of sports plus the time frame and finally, your bet amount.
Overall, this is an incredibly unique bet randomizer parlay feature that allows you to set your risk and reward parameters.
At SugarHouse Sportsbook, bets called Teaser+ is available. These bets are available on NFL, NBA and certain NCAA games. However, the NCAA teasers are on a test basis only.
Here's how to place Teaser+ bets:
First, choose your bets and place at least two and up to eight bets.
These bets need to be either against the Point Spread or to bet on Total Points.
Next, check your bet slip and select the Parlay option at the top.
If there is a Teaser+ option, check the bottom of your bet slip in blue.
Now, choose the Teaser+ option and you may select either 6, 6.5 or 7 more points per bet.
Finally, choose the amount you want to wager.
Maximum Bet Limits at SugarHouse
SugarHouse reserves the right to limit any net payouts, bets or combination bets to one player account at $250,000. Thus, if you are anywhere near that amount in combined wagers, your best bet is to contact customer support. Otherwise, here are the specific maximum bet limits at SugarHouse NJ:
Soccer
Basketball
Ice Hockey
Tennis
Football and Baseball
Cricket
Golf
Rugby League
Rugby Union
Motor Sports
Other Sports
Soccer
Limited to $250,000:
Olympic, World and Continental Tournaments for Men governed by FIFA or UEFA, including qualifiers.
International Club Tournaments for Men governed by FIFA or UEFA, including qualifiers.
Any top-level domestic league for Men and main domestic cups: Denmark, England, France, Germany, Italy, Netherlands, Norway, Scotland, Sweden and Spain.
Limited to $100,000:
Other international tournaments, including Club tournaments.
Top-level domestic leagues for other countries.
Main domestic cups in other countries.
Domestic leagues on the second level for men in: Denmark, England, France, Germany, Italy, Netherlands, Norway, Scotland, Sweden and Spain.
International Friendly regulated by FIFA.
Limited to $50,000:
Competitions and matches belonging to other types of soccer, except beach soccer and Futsal.
Soccer prop and novelty bets
Basketball
Ice Hockey
Tennis
Football and Baseball
Cricket
Golf
Rugby League
Rugby Union
Motor Sports
Other Sports
Located at the top left of the sportsbook dropdown menu, there is a yellow tab called 'Live Right Now.' Click on this tab to display all the available in-play betting offers.
Once the tab opens, the popular and in-play bets are available. Also, there is a handy search bar at the top to quickly look for your desired sports, leagues, or teams. Additionally, further down, there are tabs that are neatly organized for you to choose from:
Baseball
Golf
Soccer
Tennis
Basketball
Golf
Rugby Union
Soccer
Table Tennis
Indeed, a massive plus to PlaySugarHouse is that Live Streaming is available. Obviously, not all sporting events are available. Certain events are subject to blackout.
Through a partnership with IMG Arena and Rush Street Interactive, SugarHouse holds the title as the first US sportsbook to live stream sports. Beginning in 2019 with tennis, now you can live stream basketball, soccer, and table tennis.
Also, there is an interactive live match tracker located just beneath the live streaming box. Currently, the match tracker is available for football, basketball, hockey, and soccer. Additionally, the match tracker displays live clock, score by score, and which team has possession.
Directly under Streaming Live, there is also a yellow 'House Specials' tab. Here, you will find bets that PlaySugarHouse wants to highlight. At this time of this review, Friday Specials were available. Here is a small sampling of what types of bets and odds you will see:
Jalen Hurts to score TD vs. 49ers 10/4: +800
Anthony Davis & LeBron James each to recover Over 1.5 Dunks 10/2: +960
Dwight Howard to score first FG of the Game 10/2: +1000
SugarHouse Sports Betting Mobile App
Please note that the mobile app itself for SugarHouse is referred to as PlaySugarHouse Sportsbook. Currently, the mobile app is available for Android and iOS devices. Obviously, this is a difference for Apple users who will not find the app store's mobile app unless searching for PlaySugarHouse Sportsbook.
Unfortunately, the mobile app itself is overall, functional but lacks the browser-based interface organization. Mainly, the mobile app lacks the easy navigation of the web-based browser. The entire menu of available bets is missing. Thus, you may only use the search bar to locate bets that you want to make. The mobile app is challenging to browse available odds except for the 'Live Right Now' bets.
In conclusion, I highly recommend using the browser-based version of the SugarHouse Sportsbook whenever possible and placing your bets there. You will have a more comfortable experience browsing for bets and watching for odds changes for in-play betting.
Head to the PlaySugarHouse website.
Now, follow the prompts to download the mobile app.
For iOS devices, your download starts automatically. For Android devices, you may need to override security settings.
Finally, register for your new player account and start sports betting!
The SugarHouse Online Sportsbook is also available on your web-based browser and loads exceptionally quickly.
The menu located on the left side of the browser interface is organized neatly. In detail, although the majority of the categories are blue in color, two yellow categories, which are 'Live Right Now' and 'House Specials', call your attention. Obviously, this is well-designed and easy for you to access in-play betting quickly.
Also, in terms of live streaming, even if you do not click on the 'Streaming Live' tab, there is a play triangular icon located directly to the right of the sports that are currently streaming live. The added touch of a simple icon about what sports are presently streaming live is fantastic for sports bettors who enjoy live betting.
Frankly, the only downside of the SugarHouse Online Sportsbook browser interface is the newsfeed located to the right. The newsfeed always moves and updates big winners at SugarHouse. While a newsfeed itself is not problematic, the fast scrolling distracts the eyes, especially if you attempt to watch the screen for odd changes during live betting.
Payment Methods and Withdrawal Limits
Keep in mind that withdrawals are capped per transaction at $25,000. The minimal withdrawal request is $10, except for physical checks, which require a minimum of $500.
| Payment Methods | Payout Time |
| --- | --- |
| Online Banking/ACH | 2-5 Business Days |
| PayPal | 30 Minutes After Approval |
| Casino Cashier Cage | Instant |
| Physical Check in Mail | 10-14 Business Days |
| SugarHouse Play+ Card | Instant |
Another fantastic option, especially if you are a frequent sports bettor, is the SugarHouse Play+ prepaid card. Once you set up and are approved for your Play+ account, you can immediately deposit.
The only downside to Play+ is that the physical card takes 14-20 days to arrive at your physical mailing address. On the other hand, note that withdrawals are instant after approval.
Finally, Play+ is accepted everywhere that Discover cards are also accepted.
SugarHouse Sportsbook is Legal and Licensed
SugarHouse Online sportsbook is a fully legal and licensed gaming operator. In New Jersey, SugarHouse is regulated by the New Jersey Division of Gaming Enforcement.
SugarHouse Company Review
Parent Company:
Rush Street Gaming
Software:
Rush Street Interactive
International Licenses:
Canada
New Jersey
License: 01
License Partner: Monmouth Park Racetrack
Pennsylvania
The Background of SugarHouse and Bet Rivers
The namesake, SugarHouse, is an actual physical casino located in Philadelphia. However, the SugarHouse Casino officially rebranded to Rivers Casino, Philadelphia. The parent company, Rush Street Gaming, is creating consistency in their casino properties with the name Rivers Casino.
The online gambling arm of Rush Street Interactive is BetRivers. There is a possibility that BetRivers launches in New Jersey as skin while keeping the PlaySugarHouse brand as well. Indeed, this has been the case in Pennsylvania, where you can choose to play on BetRivers PA and SugarHouse PA.
SugarHouse Sportsbook in New Jersey is licensed through Monmouth whereas, SugarHouse Online Casino is licensed through Golden Nugget Casino. Ultimately, the sportsbook's license is through Monmouth to offer more bets on sports, such as the NBA.
Rush Street Gaming is currently building other brick-and-mortar casinos such as Rivers Casino Portsmouth in Virginia.
BetRivers is also currently available in Indiana, Colorado and Illinois. Michigan is next up and has a tentative launch date in early 2021.
Additionally, Rush Street Interactive is taking steps to become a publicly listed and traded company on the New York Stock Exchange.
Within the fantastic 'Help Center' are seven FAQ articles specifically about responsible gambling at SugarHouse Online Sportsbook.
Set your own self-limits regarding gaming:
Deposit
Spending
Time limits
Cooldown or self-suspension
Self-exclusion
Please note that for the more severe measures like cooldown and self-suspension, it is for a period of 3 to 365 days. Self-exclusion is the most stringent measure offered and is available for 1-5 years. Additionally, self-exclusion does not only apply just to SugarHouse but to all New Jersey gaming sites.
Other SugarHouse Products
SugarHouse has been long enough on the US market to have both a high-quality online casino and a sportsbook. Both of them are available wherever SugarHouse has licenses, and where both gaming and sports betting are legal.
iRush Rewards and Loyalty Program
Most NJ online sports betting sites do not offer rewards or loyalty programs. However, SugarHouse Online Sportsbook is one of the exceptions. Here, you can take part in the iRush rewards and loyalty program. A minor criticism of the iRush rewards program is, honestly, it is a bit complicated. Yet, this is a small criticism because, as previously mentioned, most sportsbooks do not offer any rewards programs. Thus, it is better to have a rewards program versus none at all.
| iRush Loyalty Level | Points Required |
| --- | --- |
| 1 | 40 |
| 2 | 160 |
| 3 | 400 |
| 4 | 760 |
| 5 | 1,400 |
| 6 | 2,800 |
| 7 | 5,200 |
| 8 | 8,800 |
| 9 | 13,600 |
| 10 | 20,000 |
| 11 | By Invite Only |
Also, SugarHouse has a bonus store where you can spend the Loyalty Level Points and earn discounts. Additionally, there is even a progress bar complete with an icon to easily see how many points are needed to make the next jump.
Remember that points work on a 60-day rolling basis. All of your points remain with you for 30 days based on the date earned. Then, over the 30 days, the points gradually decline. Realistically, the idea is that new points replace points that are scrubbed. Of course, this does not apply to Bonus Store points that remain for a year.
Here is the PlaySugarHouse Online Sportsbook Points breakdown:
| Combination Size | Sports Wager Per Point |
| --- | --- |
| 1 | $6.00 |
| 2 | $3.00 |
| 3 | $2.00 |
| 4 | $1.50 |
| 5 | $1.25 |
| 6 | $1.05 |
| 7 | $0.90 |
| 8 | $0.75 |
| 9 | $0.60 |
| 10-12 | $0.50 |
VIP Status for Level 7-11
Indeed, you can also become a VIP at Sugarhouse Sportsbook. Once you attain VIP status, you unlock significant additional rewards, perks, and benefits.
Here is the list of additional exclusive benefits of being a VIP:
A monthly promotional VIP calendar
Bonus money and birthday scratch cards
High stakes bingo games
Extra and free SugarHouse swag
Dedicated VIP concierge service
VIP Events for Levels 8-11
Expedited Withdrawal services for Levels 8-11
Luxury Gifts for Levels 9-11 who attained a status for six months
VIP dinners for Levels 10-11 every three months
VIP hotel stays
Additional Level 11 VIP promotions
Free Apple or Android device for those who maintain Level 11 for three months
VIP transportation
Ultra-luxe gifts for Level 11
Free Play and additional dining offers at Rivers Casino Philadelphia
Food comps translate to 200:1
Free slot play translates to 400:1
SugarHouse Customer Service
Unfortunately, SugarHouse Sportsbook does not offer 24/7 customer support. However, customer support is available for a large part of the day from 9:30 am ET until 2 am ET.
Thus, for any questions or concerns, look first to the SugarHouse FAQ section. To access the FAQs, click on the 'Help Center' on the top of your screen. Currently, there are ten articles dedicated to sports betting. Also, if you are new to sports betting, check out the 'Quickstart Guide.'
If you still have a question or concern that customer support needs to address, try Live Chat next. In my experience with SugarHouse Live Chat, agents are responsive, quick to connect, and quite helpful. Otherwise, if it is after hours for customer support, try email. Obviously, you will not receive a response after hours, but at least your concern will be addressed on the next day.
New Jersey
Email: Form Submission
Live Chat: Available from 9:30 am ET until 2 am ET
Pennsylvania
On the whole, the SugarHouse Sportsbook is not to be missed. There are some negatives, like the mobile app that just does not seem optimized well for betting on-the-go. Yet, there are so many positives that make this sportsbook great. In detail, there are fun betting features that you won't find elsewhere, like the jackpot parlays. Also, the casino is integrated right into the sportsbook for even more gaming options. Finally, the matched deposit bonus offer is available to sports wagers and casino games.
SugarHouse Sportsbook Review FAQs
How do I download the SugarHouse mobile app?
Downloading the SugarHouse mobile app is quite easy! Simply head over to the SugarHouse Sportsbook main website and click on 'Download Now.' The process begins automatically. However, you may need to override some security settings for Android devices.
What is the SugarHouse bonus code?
Currently, the SugarHouse Sportsbook has a free bet offer of up to $500. Use the code SPORTS when you deposit to claim the offer.
How do I contact the SugarHouse customer service?
You have several options to contact customer service. Call (855) 752-9101 from 9:30 am ET until 2 am ET. A live chat feature is available from the 'Help Center' located at your screen's top right. Also, you can fill in the email form request from the 'Help Center.'
Is SugarHouse Sportsbook legal?
Yes, SugarHouse Sportsbook is legal and licensed through the New Jersey Division of Gaming Enforcement.
Specification:
SugarHouse Sportsbook Review
Betting Features

Bet-Builder

Cash Out

In-play Betting

Live Streaming

Licenses

NJ

PA

Payment Options

Bank Transfer

MasterCard

PayNearMe

PayPal

Play+

VISA

Sports

Boxing

Cricket

Cycling

Darts

Golf

MLB

Motor Sports

NBA

NCAA

NFL

NHL

Soccer

Tennis

UFC

SugarHouse Sportsbook Review