Fanpicks DFS Review
Fanpicks – The New Breed of DFS Emerges
The daily fantasy sports industry has rapidly grown into a sophisticated business where players continuously demand more – new contests, innovative gamification suite, exciting events and promotions as well as exceptional customer service. It is in this environment where FanPicks is quickly emerging as one of the more prominent world-class players.
Launched in conjunction with the 2015 NFL season, FanPicks has already made impressive strides to position themselves as a New Breed of DFS destination… making daily fantasy sports a more entertaining and enhanced customer experience. FanPicks is continuously and diligently improving on their product every day.
Moreover, despite its recent launch, FanPicks has recruited an impressive list of professional-athlete endorsers. These luminaries do more than just attach their names to the site – they are playing in real contest. While playing at FanPicks, you may be playing against celebrities like Hulk Hogan, Roddy White, Thurman Thomas, Sammy Watkins, AJ Green, Le`veon Bell and Steve Smith Sr.; with many other super stars being added on a daily basis.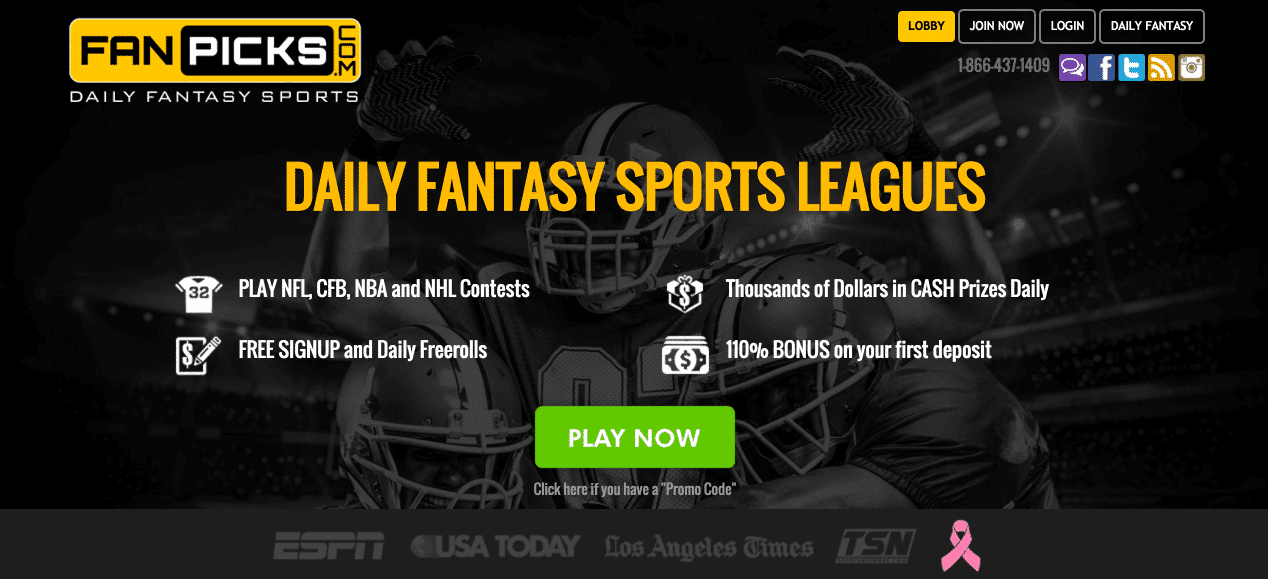 Beyond the novelty of having professional athletes participating in some of the games, FanPicks has built one of the most impressive sites in the industry. A highly engaging user interface coupled with dynamic roster formats, scoring settings and unique fantasy sports contests; all contribute to enable FanPicks to outmaneuver the competition and provide the most exciting player engagement. True trailblazers, FanPicks will soon be introducing ground-breaking gaming formats such props, Pick-Em, Multi-Sports, Over Under and Point Spread which no other DFS offers.
Sports Offered
FanPicks currently offers NFL, CFB, MLB, NBA, NHL, CBB, UFC, NASCAR and Pro Golf.
Currently only NFL, CFB, and MLB are open, but the others should be available shortly.
Rosters/Salary Caps
NFL: QB, RB, RB, WR, WR, WR, WR, TE, DEF ($50,000 Salary Cap)
NCAAF: QB, RB, RB, RB, WR, WR, WR, WR, TE, ($50,000 Salary Cap)
MLB: P, C, 1B, 2B, 3B, SS, OF, OF, OF ($50,000 Salary Cap)
NBA: G, G, G, G, F, F, F, F, C ($50,000 Salary Cap)
NHL: W, W, W, W, C, C, D, D, G ($50,000 Salary Cap)
NCAABB: G, G, G, G, F, F, F, F, F ($50,000 Salary Cap)
All games usually have nine roster spots with a salary cap of $50,000 in every sport to keep it as simple as possible for their users.
Users must implement three players from different teams in each lineup they build. You can even use seven players on the same team and build a super stack, as long as the other two players are on two different teams, unlike most other daily sites that limit the amount of players per team.
Game Offerings
Classic Tournament styles with GPPs (Guarantee Prize Pools) and WTA (winner-take-all) formats
Head-to-Head (play against a single opponent, winner takes all)
50/50 (the top 50% of the entrants wins)
Steps (Wins a ticket into a bigger tournament, win more cash and bigger prizes)
Multipliers (Win 2x, 3x, 4x, or 5x the contest entry fee)
Custom Games (User created contests)
Software and Interface
The overall website functionality is extremely intuitive and user friendly with a well-stocked lobby.   The contests are clearly laid out with a detailed description including the salary cap, contest size, prize pool, and start time. FanPicks designed filter which is located on the left hand side of the screen that cleverly allows access by sport, contest type, size and entry to make it more easily accessible – along with a key right below it that explains what all the little letters mean next to the individual contests. It was a bit choppy at times when trying to enter the same lineup into other entries, but these types of little nuances are being ironed quickly.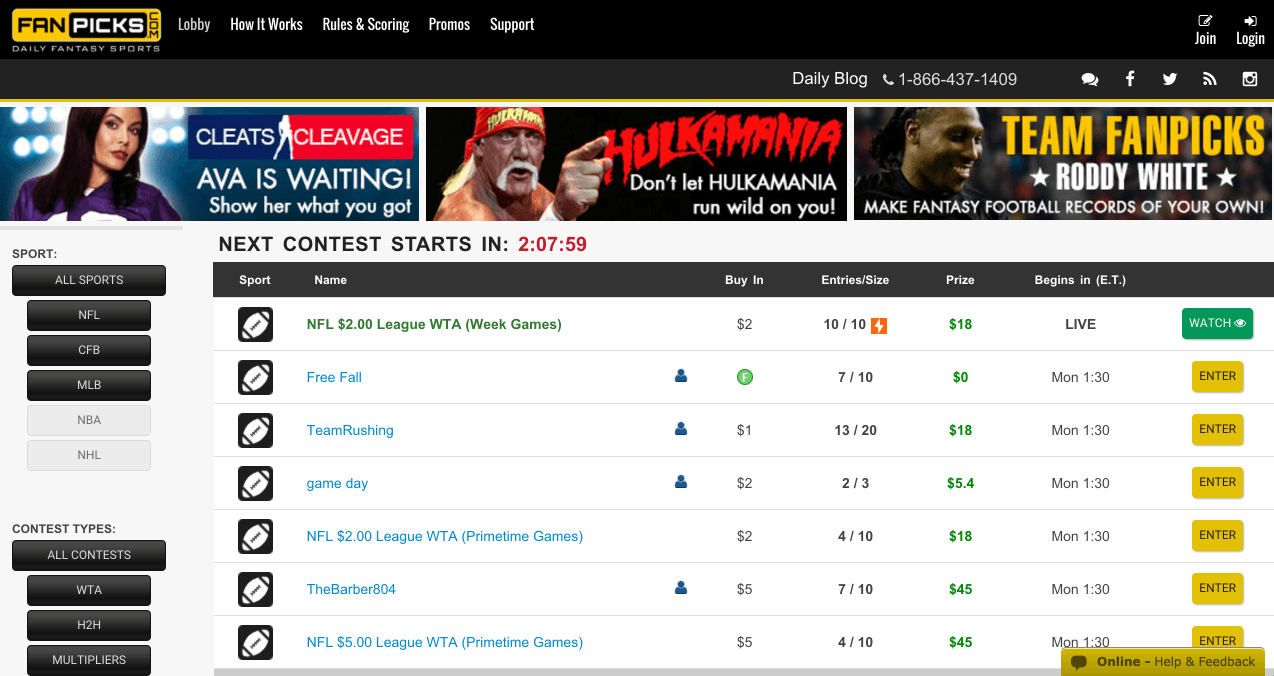 The contest entry format is simply fantastic easy as pie process with in-depth descriptions about the individual contest. Speaking with the management, they indicated their focus to further improve the contest format by enabling a quick player swap option along with an easier way to adjust rosters eliminating the need to scroll through players when entering a contest.
For a site that just started, the mobile layout is surprisingly clean and efficient. Almost everything on the desktop version is available on the FanPicks mobile device… making easy to play on the fly. Once all the bugs are ironed out… the FanPicks mobile site will prove to be a very popular destination with DFS players that like the ability to playing anywhere at any time.
Bonuses and Promotions on Fanpicks
Depositing Bonus: FanPicks offers a 110% bonus on player`s first deposit up to $1000.  The bonus is released into your account at a 5% rate, which is higher than most competitor sites. For example, if you enter a tournament for $10, you will receive 50 cents in bonus money. 
Freerolls:   FanPicks offer a multitude of freerolls on weekly basis staring from $5 all the way up to $100. Many of these freerolls are sponsored by All Star celebrities and pay $100 to first place in a winner-take-all format.
Unique Contests:   One of the many unique gamification that is coming to FanPicks is a multi-sport contest… enabling athletes form different sports like Ovechkin, LeBron, Tom Brady on the same fantasy roster! This is a unique type of contest that any true sports fan would love to get involved with, simply because it shows how expansive your sports knowledge is across the board. FanPicks will also create Point Spread, Props Pick-Em and Over Unders contests that will be offered in short order. This is the type of gaming innovation that is ushered in by FanPicks… contest that no other daily site offers.   FanPicks will add non-salary cap games, so instead of keeping your roster under a cap, you can choose any players you like under a spread format. Simply, the fantasy points are adjusted by spreads that are determined by the FanPicks expert staff. Examples would be Aaron Rodgers (-9.5), Eli Manning (-2.0), Teddy Bridgewater (+3.5). If you love sports gambling, this is the type of contest for you.
Magic Million Contest
The biggest tournament offered at FanPicks is their Magic Million and it has a very interesting format. Each Thursday during the NFL regular season, FanPicks offers unique Magic contests. The Magic Contest challenges you to pick the better fantasy points performer from 20 pairs of marquee NFL stars. Just rack up the points with each matchup victory and compete for big prizes. Score 10 for a matchup win and 5 for a matchup tie to start building up your season score. The top 3 scores win cash prizes and if you know your football and luck is on your side, you could score a perfect 200 points and collect $1 million.
Cashier
FanPicks has truly facilitated the both the deposit and withdrawal processes. The "Add Funds" button is an even more convenient way for players to make an easy transaction. The minimum deposit is $10 and you can go well above $5,000. The payment methods are the same as any other daily site, offering PayPal, MasterCard, Visa, American Express, and Discover as depositing options. There are two methods of withdrawals, you can choose to either have the withdrawal sent to your PayPal account or alternately receive a check in the mail.   All withdrawal requests will be processed within 48 hours or the next business day… the minimum withdrawal amount is $50.
Social Media and Help Desk
What many of the bigger site shave neglected… FanPicks provides live courteous 24hours 7 day a week customer support through their Customer Care Center: 1-866-437-1409 which is staffed by seasoned professional customer service agents.   They also have a handy live chat capability for instantaneous customer support.
On the social media front… FanPicks casts a giant shadow having recruited a long list of All Star Celebrities who not only endorse the site but actually participate and interact with players in various weekly contest and giveaway promotions.
FanPicks also set up an enviable Facebook page and a highly followed Twitter account. Moreover, they have one of the most informative and interactive blog platforms in the DFS industry. The blogs are strategically designed to help players win serious cash prizes and provide a daily trivia question for members to earn some free money on their site!