Mississippi Online Gambling | Is Gambling Legal in Mississippi?
Legal Online Gambling In Mississippi
This state strangely acts as both an active advocate for and against Mississippi gambling. The state has numerous casinos throughout the Mississippi territory and a high concentration of gambling in the city of Tunica. In fact, Tunica is the third most popular gambling destination in the United States. Atlantic City, New Jersey and Las Vegas, Nevada are the only two cities in the gambling industry that bring in a larger crowd. The state of Mississippi relies on its healthy gambling culture to bring in a majority of state tax revenue.
There is so much tax revenue available from gaming that Mississippi could expand into the realm of online gambling. However, the state is rather strict when it comes to gambling outside of its brick and mortar establishments. Though the Magnolia State does not have a plan in place to authorize gambling enterprises online, residents of Mississippi can still enjoy a few different online gambling options.
What Types of Gambling are Legal in Mississippi?
Mississippi is very particular when it comes to gambling regulations in the state. On one side of the fence, it is home to more casinos than almost every state except for New Jersey and Nevada. On the other hand, the state has put a ban on anything defined as gambling outside of its land-based facilities.
The Magnolia State acts in correspondence with United States Federal Law, allowing residents to wager on most types of skill games. Puzzle games such as Wheel of Fortune, as well as fantasy sports betting, is entirely legal to play in the state of Mississippi.
Although the state has built a large industry for gambling, it does not permit or condone horse and greyhound racing. For now, residents can choose to travel to one of the brick and mortar casinos, or stay at home and try their hand at a game of skill.
Participating in Offshore Gambling Websites
It is never safe to play on an offshore gambling site. Although these businesses claim to be available to residents of the US, they are not reliable. Unlike US gambling establishments, foreign enterprises operate outside of US legal jurisdiction. Instead, overseas sites run in countries with little to no gambling regulations. This means that no participant playing on an offshore site is guaranteed fair play or that they will walk away with all of their winnings.
Though these sites state that they hold proper licensing and are wholly legal, playing on an offshore site is a crime in the state of Mississippi. Mississippi State Statute 97-33-1 clearly defines illicit gambling is subject to a penalty of $500 and up to 30 days in jail for the offense.
Online Poker
With nearly every brick and mortar gaming establishment providing the popular table game, one would think the state would be open to the idea of releasing the availability of online gameplay to the public. Unfortunately, Mississippi is quite the opposite when it comes to online poker. This game form is not even being considered in the current bill proposals in legislature.
If a game of poker takes place outside a land-based casino, it is illegal in the state of Mississippi. Hopefully, the state will rethink its stance on the matter, given the vast amount of tax revenue that comes along with opening the doors to online gambling.
Online Sports Betting
Mississippi does not authorize, license, or manage any form of traditional sports betting. Similar to every state in the Union with Nevada being the only exception, Mississippi enforces the Wire Act, which focuses solely on sports betting.
Residents should beware of any offshore sportsbooks or underground bookies. Both are dangerous investments and do not guarantee a reliable game.
It does not look like the state will be lifting the restriction on this gambling type anytime soon. Residents can still get a piece of some sports gambling action through the legal alternative of fantasy sports betting. The new hit game that is similar to traditional sports betting is 100 percent safe to play as well as has better overall odds to win.
Online Horse and Greyhound Racing
Although the horse and greyhound industry is thriving online, Mississippi does not have any live racetracks for horse and greyhound racing. None of its land-based casinos allows anyone to make wagers on races, leaving it up to residents to commute to nearby states to get his or her horse and greyhound racing thrills.
Online Fantasy Sports Betting
Online fantasy sports betting is the best sports betting alternative when it comes to gambling in Mississippi. Although you will not find any legal sportsbooks online, the state allows residents to try their hand at online fantasy sports betting.
The sports gambling alternative was determined to be a game of skill, receiving an exemption from the 2006 Unlawful Internet Gambling Enforcement Act. United States Congress took into consideration the several variables that affect the overall outcome of the game. For one, the player must research and understand both past and present statistics, coaching strategies, play types, win streaks, as well as other conditions that change the theory of the game. Participants can test their skills against friends or other sports enthusiasts.
With over 57 million people partaking in at least one fantasy sports league, this fun gambling alternative is still exponentially growing. All sites that operate within US borders are held responsible and accountable for providing a fair chance to win and reliability for paying out winnings. The Fantasy Sports Trade Association currently oversees and regulates all sites that hold the proper US licensing.
Best online options for legal and safe fantasy sports betting:
DraftDay
DraftDay is another powerhouse site that gives members a great overall fantasy draft experience. DraftDay has a user-friendly interface that is easy to navigate, providing helpful drafting and wagering advice. There are round the clock updates on the latest fantasy sports news to help members of all experience levels. Sign up with DraftDay today and receive a new member bonus with your first deposit.
Online Casinos
Mississippi has not yet given the authorization for online operators to host the popular casino-style gaming found in its land-based gambling establishments. However, residents can still get some fun gambling action through wagering on skill games. Popular games such as Candy Crush Saga or Solitaire Rush offer real cash prizes and jackpots. All games of skill are completely legal in the Magnolia State, giving a fun at-home alternative to the brick and mortar casinos.
Online Casino Alternative:
WorldWinner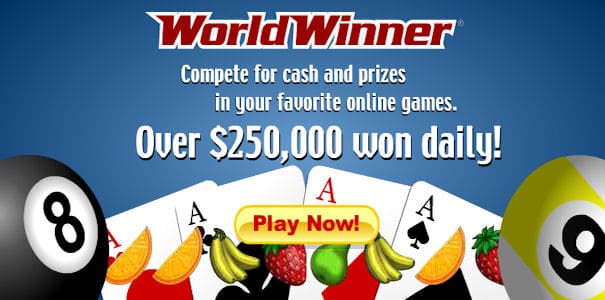 WorldWinner is one of the biggest online platforms for skill games in the nation. This company operates through the famous television company, the Game Show Network. Members can access hundreds of their favorite puzzle games for free or play for real cash. Enter into any number of competitions or tournaments to try your hand at winning real money online.
Conclusion
Mississippi is certainly not the most lenient state in the Union when it comes to online gambling. However, it does permit a few excellent alternatives that prove to be reliable and exciting to play. It is always safest to gamble within the confines of both state and federal law. Stay away from offshore sites and other illegal gambling enterprises. Remember your limits and know when to walk away. Have fun and good luck!