WSOP NJ Online Poker Review
WSOP.com NJ is one of the first online poker platforms to enter the Internet gaming industry in New Jersey. WSOP stands for World Series of Poker, which is one of the most reputable poker brands out there, regulated and licensed by the New Jersey Division of Gaming Enforcement. It first opened its doors to online players in November 2013 and still continues to be one of the best online poker options in New Jersey. WSOP New Jersey is owned and operated by Caesars Interactive Entertainment, which also hosts the Caesars, Harrahs, and 888 online casinos through its New Jersey Internet gaming license. WSOP.com offers players an extensive selection of poker games for a range of stake levels. You can play both cash games and tournaments 24/7 on the site. On top of a comprehensive review outlining the exciting gameplay offered at WSOP.com, we'll also walk you through the step by step process to receiving your exclusive welcome package which includes a no deposit, free registration bonus and a 100% match when you decide to make your first deposit.
Bonuses on WSOP New Jersey

WSOP.com has one of the best promotion sets in New Jersey that gives away freeroll tickets, satellite entries and a decent welcome bonus. The site also has a number of varying multi table and Sit N Go tournaments on different days of the week with hundreds of thousands of dollars in total guarantees. As a new player, you will receive a first deposit-matching bonus for up to $400. You will also receive tickets to enter seven different $100 Welcome Free Roll events, which will pay out 20 percent of the players who enter. To sign up for a real money account to receive your welcome bonus and to be able to join in on other promotions, you will need to be 21 years or older, playing within the state of New Jersey, and deposit at least $10 on your first deposit to be awarded any match bonus or free roll tickets. When you sign up, you will not need to enter a promotional code and you will just simply need to click the Claim your bonus button after your registration is confirmed.
If you decide to continue playing on WSOP.com NJ, you can earn Tier Credits on your Total Rewards card. These credits will aid you in moving up and give you exclusive benefits when you visit any Caesars location throughout the entire world. You will also earn Action Player Points (APPs) and even have a chance to earn double during Happy Hours, which are 8:00pm to 12:00am on every day of the week. APPs provide you chances at additional tournament entries, free rolls, and even cash. To find out about any current revolving promotions, head on over to the WSOP.com's website and click on Promotions, found under Play Online Poker.
How to Retrieve WSOP New Jersey Online Poker Bonus
Head to WSOP New Jersey Online Poker
Enter your details
Verify registration by opening your email
Make your first deposit of at least $10 and WSOP NJ  will match it for up to $400 + Free Roll tickets
Game Types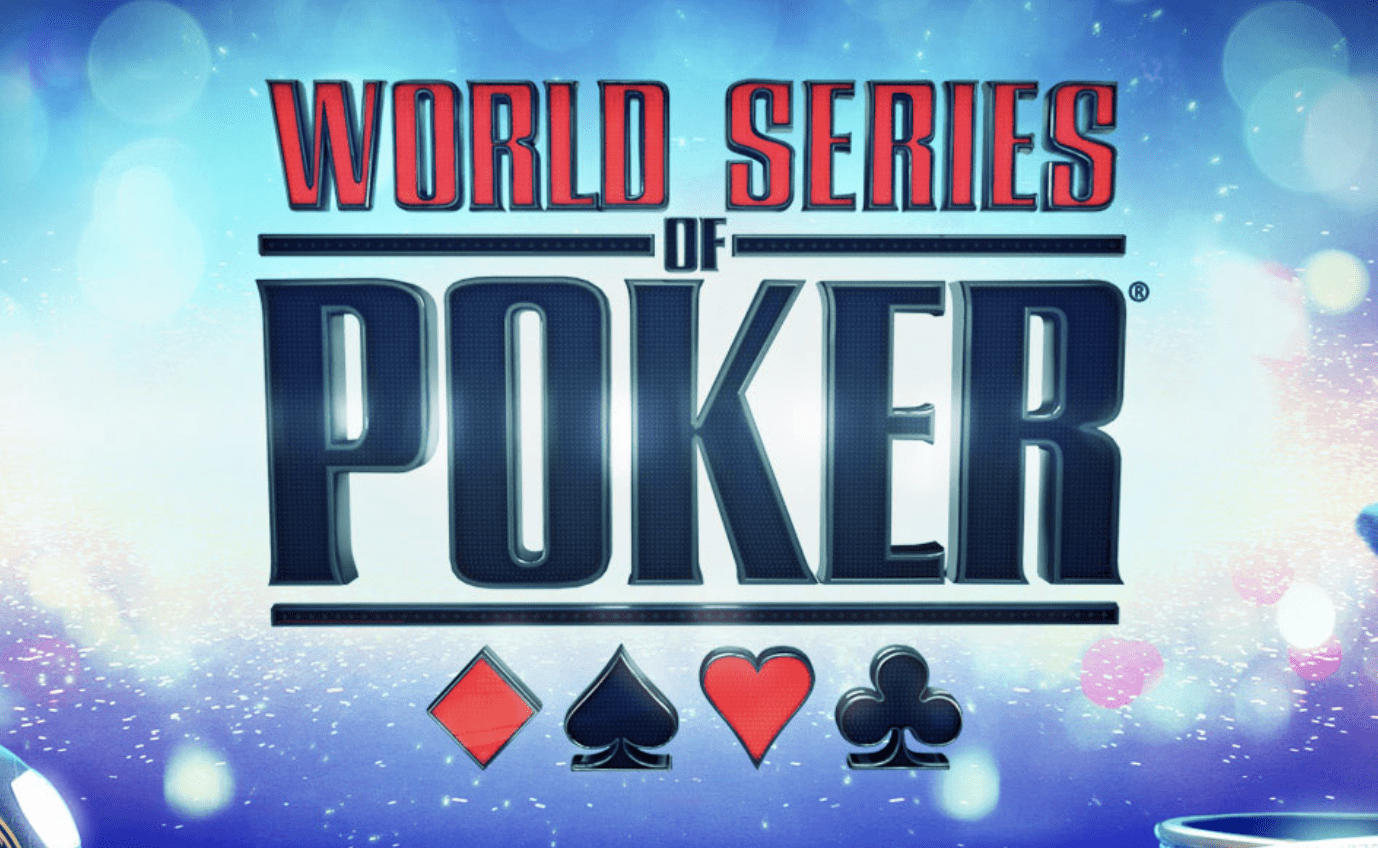 WSOP New Jersey has a joint player pool with 888 Poker NJ, and now that the states of New Jersey, Nevada, and Delaware have agreed to share their casino and poker player pools, you can always find fellow players with whichever game type and stakes you want to play. WSOP.com has all the typical cash games at rather low stakes starting $0.01 and going up to about $20 on average. Most of the time, there will be more players in the $1 stake games and lower due to the shared player pools with 888poker on smaller stake cash games. In regards to the popular No Limit Hold'Em, WSOP NJ will have just as many cash games available at any given time that you will find on any online poker platform.
Here are all of the available cash game types currently on WSOP NJ:
Fixed Limit 7 Card Stud

Fixed Limit Texas Hold 'Em

No Limit Texas Hold 'Em

Pot Limit Texas Hold 'Em

Pot Limit Omaha

No Limit Omaha

Fixed Limit Omaha
WSOP NJ Tournaments

When it comes to online poker tournaments, you can wager less at a chance to win more, although you will have to play against additional opponents. WSOP New Jersey has a wide variety of online poker tournaments that give their players outstanding guarantees for reasonable buy-ins. You can sort through the available tournaments under the Featured Tournaments or through the Promotions tab under Play Online Poker. WSOP New Jersey tournaments mix player pools with 888poker New Jersey as well as share certain tournaments. With the future bringing even more players from the states of Nevada and Delaware, there is bound to be more tournaments added in 2018. At the moment, WSOP NJ has both a $10K Nightly Rebuy and the $5K Nightly tournaments Monday through Saturday which also includes the famous Weekend Warrior. The biggest events at the online WSOP website occur every Sunday with a $10K Sunday Tournament and main event of the Weekend Warrior Tournament. Here are some more details on the most popular WSOP tournaments.
Gives You a Chance at a $10,000 Prize Pool Guaranteed
For the high rollers, there is also the $40K Sunday Weekend Warrior Tournament that has three additional events leading up to the finale that in total adds up to $100,000.
5K Nightly
This quick tournament usually has less players, giving you a better chance to be the last player standing. Also, the buyin is only $15 with the ability to rebuy unlimited times until  you hit the second break. You start with 4,000 chips but can add on up to 8,000 chips. Registration starts at 8:00pm and ends at 10:00pm.
The 10K Sunday Tournament
This Sunday tournament has players excited due to a long amount of playtime for only a $100 buy-in. The tournament starts at 8:00 pm, but players are able to join until two hours after as a late registrant. With your buy-in, you start with 4,000 chips and are playing with 15 minute levels in regards to blinds. This tournament also gives a 10x multiplier for WSOP NJ Player of the Year Points.
Weekend Warrior Tournaments
The Weekend Warrior events happen every Friday, Saturday, and Sunday with over $100,000 in guarantees with the largest payout being the Sunday 40K as the main event. Over the course of the weekend, players can join two different events on Friday, three events on Saturday, and four events on Sunday. Payouts start at $4,000 and range up to $40,000. The events include a warm up or Opening Strike with a $50 buyin, a late night 8:30pm event known as Lightning Warrior, and the biggest being the Ultimate Warrior.  
WSOP New Jersey Online Championships
WSOP.com players can also compete in the Series of Online Championships, which offer hundreds of thousands of dollars in guaranteed prize money, and the chance to win an exclusive WSOP.com Champions Ring.
Depositing and Withdrawing From WSOP NJ

WSOP New Jersey gives you a range of options to deposit money into your account, most of which you can also use to withdraw. Most deposits are verified and will be accessible in the WSOP NJ account within 24 hours. Withdrawals on the other hand typically take around 72 hours to clear, and will require a $10 minimum to cash out. However, the Caesars Casino in Atlantic City allows online players to cash out immediately without a minimum limit at the Cashier Cage.
Depositing Methods
Withdrawing Methods
Bank Draft/Check by Mail
Paypal
Neteller
ACH e-Check
Caesars Casino AC Cage
WSOP New Jersey Website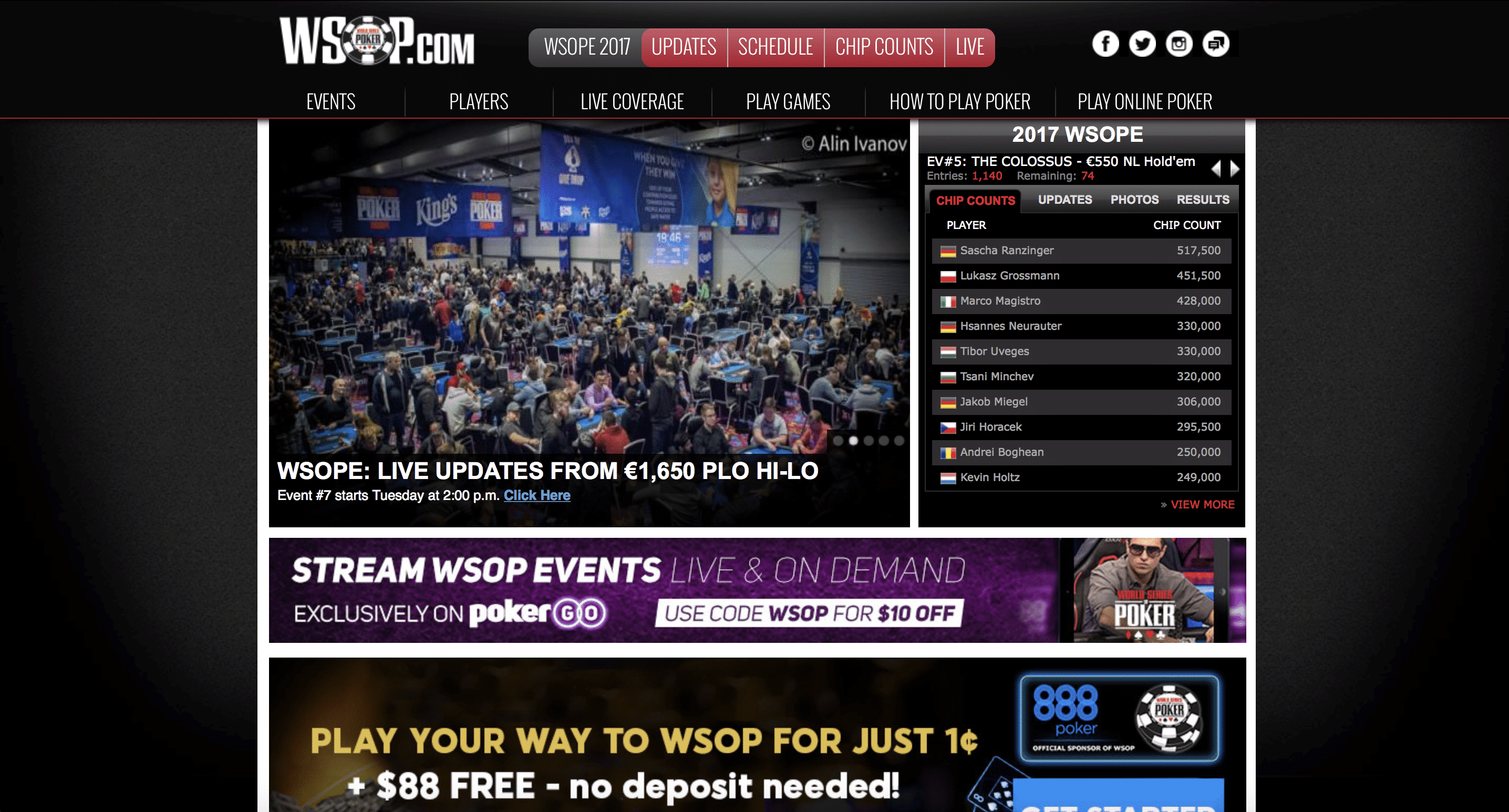 888 Holdings, the company that powers the famous online World Series of Poker platform for Nevada players, also is in charge for the gaming software on WSOP.com in New Jersey. The world renown Internet gaming company has plenty of experience with creating fluid online gaming platforms and even runs an online casino and alternative online poker site under the Caesars Interactive Entertainment license. Because of this, you'll find that 888poker and WSOP NJ have a similar structure, both using a tabular layout that gives you swift access to player information, banking, available tournaments, and cash games.
You can download WSOP NJ on your PC or Mac, and only need very basic system requirements to play. However, the website utilizes geolocation to ensure you are in New Jersey while providing an online poker experience to its players, so you will find it to be a little less intricate than others. Although it is not as fancy or complex, it boasts a flawless running client that has very few issues. If you do find any issues with your experience at WSOP NJ, then you can contact their support staff around the clock.
WSOP New Jersey Mobile Apps
Currently there are WSOP NJ mobile applications for the iPhone, iPad, and Android devices. The iOS apps can be downloaded via the Apple iTunes App Store, but the Android app can be downloaded through your device directly on the WSOP.com website under Play Online Poker section and then by hitting the Mobile tab. You can access both tournaments and cash games by using the mobile apps, which include all of the current games offered on the computer versions.
Is WSOP New Jersey Legal?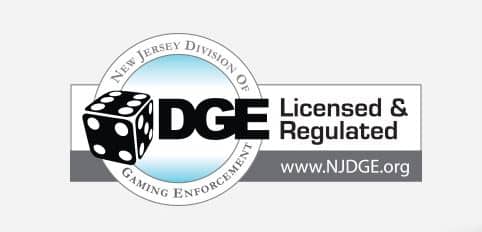 The WSOP NJ online platform is one of the few legal and regulated online poker options in the state of New Jersey. The site operates under the Caesars Casino AC Internet gaming license and is owned by Caesars Interactive Entertainment. The New Jersey Division of Gaming Enforcement regulates the site among other authorized and legal online casino sites and takes player safety and fair play laws very seriously. To play for real money on WSOP NJ, you will have to prove you are playing within the borders of New Jersey. To do this, you must have a Wi-Fi connection so that they can automatically verify your location. You can do this either through your mobile device or computer. You must also be 21 years or older to play for cash.
Customer Support

The WSOP New Jersey online poker website site has a decent support system for players, but can seem a little confusing when trying to find the correct frequently asked questions page or proper contact information. However, the WSOP NJ support team is available to answer question 24 hours a day, seven days a week with two different ways of getting a hold of them:
Email: [email protected]

You can email WSOP NJ at any hour of the day with any issues you might have. You can expect a response within 24 to 72 hours.

WSOP Support Number: 1-866-745-2385 You will find the call team to be very helpful with assisting you with any technical problems. Make sure to call within the hours of 9:00 am to 5:00 pm.
What We Love About WSOP New Jersey

There are several reasons why WSOP NJ stands out from the other online poker rooms available in New Jersey.
WSOP's brand recognition brings in a range of players from those who play recreationally or are just getting their feet wet in the poker world to the big time known professionals. The platform offers a wide range of low stake cash games with many more players available through the 888poker player pool combination.
The multitude of Free Roll events on WSOP NJ are unlike any other in the online poker market for New Jersey. Daily free rolls and special events bring free money back to the players, and players who are just starting get seven additional chances when they register.
The mobile applications offer all of the same feature and game selection as the PC or Mac versions of WSOP NJ. For those playing on the go, WSOP NJ is at the top of our list for real money mobile poker.
Lastly, and most importantly, playing on WSOP NJ allows you to remain in the regulated and legal sphere of poker, which thus means that government regulations protect your deposits and winnings.
Conclusion
It is not a surprise that WSOP NJ is one of the most prominent and largest poker websites in New Jersey. Although other online poker providers have risen within the industry, WSOP NJ still manages to use its world renown brand name to bring in new and experienced players and consistently host new tournament events daily. You'll find an excellent range of cash games and arguably the best tournament action statewide. Because of its World Series of Poker connections to Nevada and the newly player pool laws, it does look to be expanding its game offers for both ring games and tournaments. If you have not tried your hands at the thrilling poker action offered on WSOP NJ then now is the time to try it out. Remember to play responsibly and know your limits. Have fun and good luck!