"Human Error" Switches Wagering Site Offline During Kentucky Derby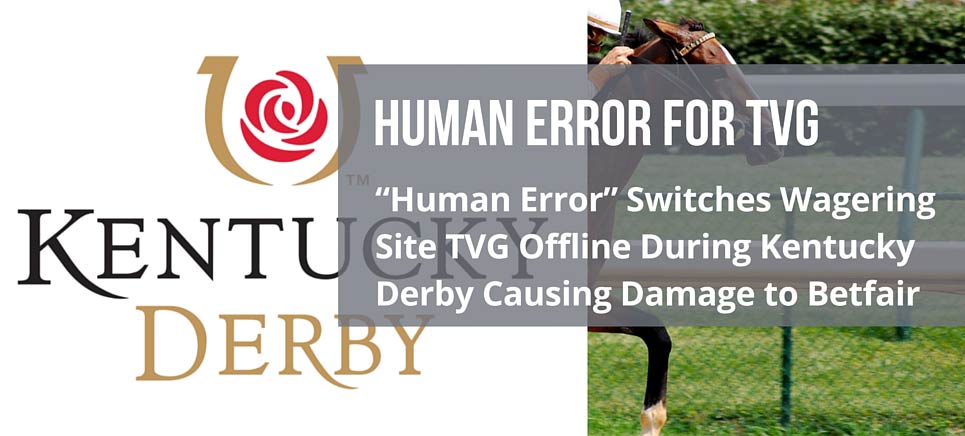 Wagering at the Kentucky Derby failed to top the numbers set in 2015; but it may remain unknown whether the figures from this year are a true reflection of the bettors' intentions or the result of a major glitch that occurred at TVG; Betfair's US advance deposit wagering (ADW) operations suffered a major technical malfunction and lost precious play-time during the Kentucky Derby Race
Last year proved very exciting for the whole of the American horse racing industry; not only did they have one horse, American Pharoah, take the trophy for all three races at the American Triple Crown, the nag also managed to snag the Breeders' Cup Classic; winning all four races for the first time in history. Betting on the races were also at a record high; the Kentucky Derby, which is the most popular of the races in the USA, saw new records for money wagered on race day. The Kentucky Derby, which is the first leg of the American Triple Crown, is held annually at Churchill Downs in Louisville, Kentucky.
Falling numbers?
According to data released by Churchill Downs Inc., the owners of the Kentucky Derby, total wagering on the race day this year amounted to $192.6 million, which marks a 1% falls from last year's figures. However, overall wagering on the actual Kentucky Derby Race, recorded at $124.7 million had fallen by a much larger margin, a 10% year-over-year loss; this was the lowest reported figure for money wagered since 2011.
On-track wagering was up 2% to $23.5 million on the total package for the day but had dropped 6% to $11.3 million on the Marquee Race. Churchill Down's own ADW site, TwinSpires.com, saw a sharp rise in business; they reported the wager on the day up by 29% to $26.8 million and racing on the Marquee Event also saw a sizable increase in profits, a 22% increase to $16.6m.
TVG went dark
Unfortunately US operators of Betfair had very bad luck and a massive loss of business on the day; the company's US-facing ADW site, TVG, went offline for almost three hours on Saturday, the day of the race.
Approximately one hour before the 2016 winner was declared, at around 5:30pm, TVG's site went blank and remained non-functional for a full few hours and came back online around 8:15pm; as a result, many of their players were unable to place their wagers in time and the company saw disastrous drop in trade.
The loss of service also left Betfair's New Jersey based site, 4NJBets.com, out of action; given that Betfair is the sole ADW in New Jersey, this translated to a total loss of all bets from the area for those three hours.
Kip Levin, the CEO of Betfair USA stated in an email, apologizing to all their customers that the loss of services was caused by some "human error … during a final readiness check." He also assured customers that everything is being done to ensure this issue is never repeated, especially during the spring and summer racing seasons.
The timing was doubly bad for the company, as after almost a decade of lobbying, Betfair US is finally about to launch America's first Locally licensed exchange wagering site in New Jersey, on Tuesday.
Some suspect that the outage may have been caused by a disturbed denial of service (DDOS) attack, where criminals target big sports betting sites just before major events in an attempt to ruin their reputation.
Xpressbet with DDoS Attacks
Rival ADW operator, Xpressbet, which is part of the Stronach Group, admitted that they were the victims of a "sophisticated, malicious DDOS attack," last year, in August. TVG's network also suffered some loss of service during the same weekend in August, last year but made no public claims of DDOS attacks about their site. It is unclear what had led to the outage but even if the loss was caused by a DDOS attack, Betfair unlikely to admit that publicly, as players feel much safer with the occasional human error on a wagering site than a company which cannot protect itself and in turn keep the players' information and financial details safe from the attack of malicious third party hackers.