William Hill Signs Deal to Upgrade and Operate Two Resorts at Reno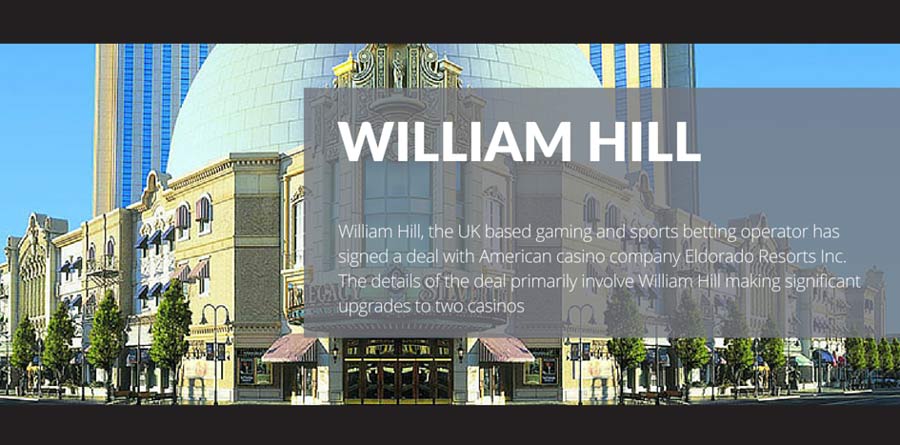 William Hill, the UK based gaming and sports betting operator has signed a deal with American casino company Eldorado Resorts Inc. The details of the deal primarily involve William Hill making significant upgrades to two casinos – The Silver Legacy Casino Resorts Reno and The Circus Circus Hotel Casino, also located in Reno, Nevada, before taking over management of their racing and sportsbooks services till the end of this long-term contract.
Silver Legacy Resort Casino Reno
A brand new William Hill Race & Sports Book facility will be launched at the Silver Legacy once all the necessary regulatory approvals have been received. The facility will span a total of 7,200 square feet and offer their gambling customers several new amenities; it will feature a new sports bar with innovative video wall technology for broadcasting sporting events, as well as the option for in-play betting odds. On top of that, a huge HD video wall, which is to be laid across the total width of the sportsbook, will provide their customer with a panoramic viewing experience.
Silver Legacy Resort Casino Reno is the central of the threesome of hotel casinos in the downtown Reno area, owned and operated by Eldorado Resorts. The venue first opened in the summer of 1995 and now boasts the tallest building in downtown Reno, with 1,700 hotel rooms and suits.
Circus Circus Hotel Casino Reno
William Hill plans on giving the race and sportsbook at Circus Circus Reno a major makeover, with extensive renovations, the sportsbook offering at the property will be upgraded considerably. State of the art big screen TVs and an all new sports bar and lounge are to be added as part of the deal.
Circus Circus Hotel Casino Reno, the second largest hotel in downtown Reno and the third largest in the entire of Reno, is the second Eldorado Resorts hotel casino in the neighbourhood. The interesting characteristic about  this venue is that they feature free circus acts throughout the day and offer an option of 33 carnival games to their patrons. The property features a 66,515 square foot casino and more than a 1,500 hotel rooms.
William Hill
William Hill Plc is a London based bookmaker that was founded against legal odds in 1934, when gambling was illegal in Britain. The company operates worldwide and employs around 16,601 people globally; they expanded to the USA in June 2012 and have been operating the Eldorado Resorts Reno Casino and sportsbook since then.
Eldorado Resorts
Eldorado Reno is the third of hotel casinos owned by the company in downtown Reno; the hotel which opened in 1973 with a 10,000 square foot gaming area and 282 guest rooms now feature 10 floors of luxury accommodation, a 78,987 square foot casino with 1,500 slot machines, 55 table games, a keno lounge, full service race and sportsbook and poker room, as well as a 10,175 square foot convention centre, a 580 seat Broadway style showroom, a 10 storey carpark and much more. The casino's current operating company Eldorado Resorts Inc. was formed on September 19, 2014 by the merger of MTR Gaming Group and Eldorado Holdco LLC.
Comments
Joe Asher, the CEO of William Hill USA, said, "We are thrilled to expand our relationship with Eldorado Resorts and the Carano family to bring the William Hill brand and enhanced betting product to the three largest resorts in Downtown Reno. The Caranos have always created best-in-class experiences for their customers and we are excited to invest in their properties."
"William Hill is the premier sportsbook operator in Nevada, and we are excited to work with them to upgrade the Silver Legacy and Circus Circus race and sportsbooks and provide expanded betting opportunities to our customers," said Gary Carano, chairman and CEO of Eldorado Resorts.
"The race and sportsbook is increasingly important to the resort experience, and the new books will help drive additional visitation and excitement to our casinos as we continue to invest in our downtown Casino Resorts."