Palms Casino Las Vegas Becomes the Latest Asset for Red Rock Resorts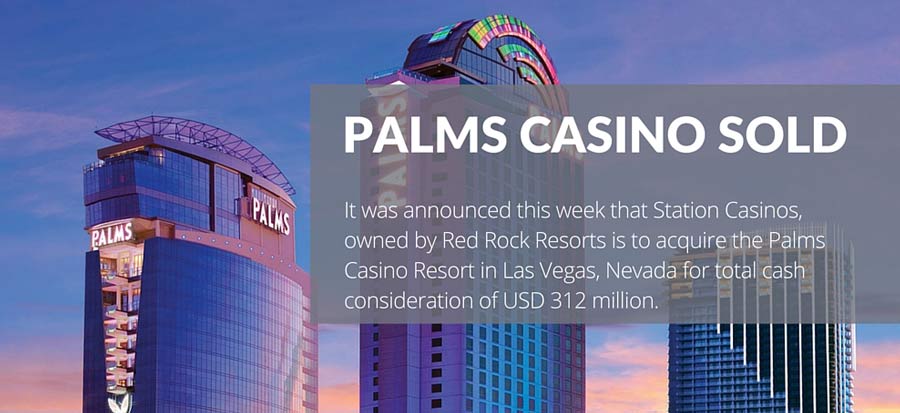 It was announced this week that Station Casinos, owned by Red Rock Resorts is to acquire the Palms Casino Resort in Las Vegas, Nevada for total cash consideration of USD 312 million.
Station Casinos, the gaming company was founded by Ferrtita brother, Frank Ferrtita. Station Casinos is one of the Las Vegas Market leaders; the company acquires sites, where, with the right permits, new casinos are built; however with the availability of such locations dwindling in Las Vegas, Station Casinos have now branched out into managing casinos they do not own on top of their original business. Red Rock Resorts Inc., a publicly traded holding company owns a portion of their shares.
About the Palms Casino
Located directly across I-15 from the core of the Las Vegas Strip, Palms Casino Resort Las Vegas has become a popular destination for young Hollywood actors and celebrities. The hybrid facility, houses both a casino hotel and residential apartments. The Palms Casino Resort has 710 hotel rooms in its two towers with 85 suites and 19 penthouses, a 95,000 square foot casino with 1,250 slots, 48 table games and a race and sportsbook. The property also boasts 599 AAA Four Diamond award-winning condos, 15 eateries, including the award winning N9NE Steakhouse and Nova Italiano, a nightclub, a 2,500 seat Theater, a luxury spa, a 14 screen Theaters with an IMAX movieplex and 60,000 square feet of meeting and convention space.
Red Rock Resorts in thrilled that after factoring in anticipated synergies, the company estimates that the Palms will still generate $35 million in EBITDA during the company's first full year of ownership, which resulting in an implied multiple of 8.8 times EBITDA for the transaction. The firm also expects the acquisition to be go from strength to strength, cretive to earnings per share and free cash flow positive in first full year of operations.
The idea behind it
Marc Falcone, Executive Vice President, Chief Financial Officer and Treasurer of Red Rock Resorts said, "With the acquisition of the Palms we gain a leading gaming asset in Las Vegas with key strategic benefits in the Las Vegas locals market and close proximity to the Las Vegas Strip."
He also added, "With its appeal to both Las Vegas residents and tourists alike, the Palms is a hybrid gaming property that is uniquely positioned to benefit from the strong economic trends in Southern Nevada and record visitation levels in Las Vegas. With our experience owning and operating other hybrid offerings in Las Vegas, it is a compelling strategic addition to our portfolio of properties and we look forward to welcoming the Palms' team members to our company."
Palms Chief Executive Officer, Todd Greenberg, said, "We are very proud of our team members for their hard work, dedication and commitment to guest service and the community.  "We are extremely excited for all the great opportunities our team members will have with Red Rock Resorts and Station Casinos."
The acquisition is expected to be completed during the third quarter of this year, 2016. The transaction is expected to close during the third quarter of 2016, subject to the satisfaction of customary closing conditions, including the receipt of all required gaming approvals and the expiration of the waiting period under the Hart-Scott-Rodino Act.