World Poker Fund to Acquires stake in Universal Entertainment Group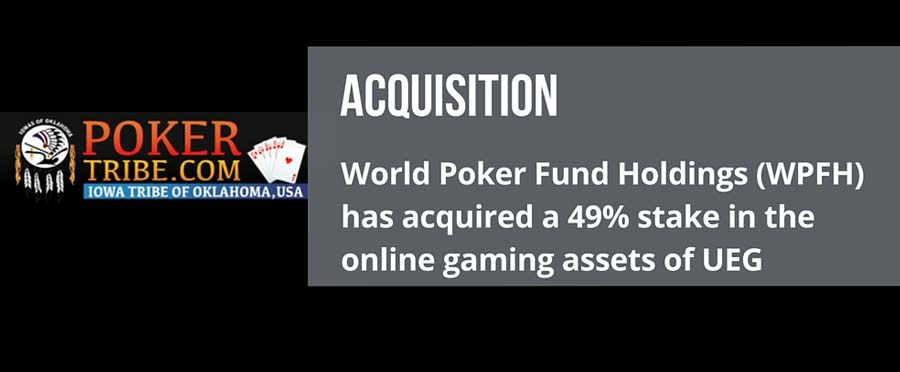 World Poker Fund Holdings (WPFH) has acquired a 49% stake in the online gaming assets of Universal Entertainment Group (UEG), which is owned by the Iowa Tribe of Oklahoma.
The acquisition gives WPFH access to trademarks, online gaming platforms and source codes of UEG, as well as casino licensing and consulting agreements.
World Poker Fund Holdings
World Poker Fund Holdings (WPFH) owns the company by the same name World Poker Fund Incorporated (WPF); they are comprised of four components – sponsorship tournaments, entertainment, web gaming and casino and resorts services. WFP runs tournaments where player battle through a series of non-cash, multi table tournaments to win WPF sponsorship contracts; they also provide Casino and Resorts services and are heavily involved in the entertainment industry. Lastly, they are involved in Web Gaming in all four legalised states and provide gambling platforms for both the online and brick and mortar casinos in areas where they have tribal sovereignty.
Universal Entertainment Group
Universal Entertainment Group (UEG) is an entertainment and gaming developer that is involved in online broadcasting around the music, movies and sports industries. The digital division of Universal was established in 2011 and has shown considerable growth since then. They have gained a reputation for superior quality through the delivery of low cost and high efficiency programmes. UEG currently develops patented free-play and real-money software and intellectual property for the Iowa tribe's dot.com and dot.gov casino and poker sites, which include InSkyCasino.com and PokerTribe.com.
Jurisdiction and Financial Details
The full financial details of the transaction between WPFH and UEG remain undisclosed but an educated guess can be made by looking at an example from 2013, when the Cheyenne and Arapaho Tribes of Oklahoma paid UEG a reported $9.4m to set up an online poker room called PokerTribes.com. However, the project was promptly shut down by the Federal Department of Indian Affairs.
On April 18, 2016, the United States District Court for the Western District of Oklahoma granted permission to the Iowa Tribe to launch their online poker site and share it with all other States and countries, where online poker had been legalised. The Iowa Tribe claims to be the first Indian tribe permitted to launch a legal iGaming offering in the US.
A press release by organised by 1-800-PublicRelations Inc., WPFH's PR company, stated that they expect the tribes "online real money play casinos to be launched and generating revenues within the next 90 days domestically and globally."
Financial Problems
There is some suspicion that the acquisition was arranged to alleviate the financial troubles of Fereidoun Khalilian, the owner of UEG. In 2011, Khalilian reached a $4.2m settlement with the Federal Trade Commission (FTC), when his telemarketing company, The Dolce Group Worldwide LLC, was found guilty of making deceptive auto warranty pitches. However, his corporate and personal property then only amounted to $50,000 and FTC were given instructions to collect the remainder over time. His records show another telemarketing fine he had endured in 2001, for $185,000, for making dubious pitches for travel packages.
Other News
In related news, WPFH has appointed a new Vice President for Investor Relations, Eddie Kwong, the finance author and professional financial tools developer.
Kwong has written several trading and investing books such as The Real Holy Grail: Money Management Techniques of Top Traders and The 401(k) MarketBuster: A Proven Way to Beat The Market With Your 401k Retirement Plan.
He commented, "I am happy to join the team; over the years, I have seen some great companies but there have been few whose stories are as compelling as WPFH's. This is a good place to be in this moment in history."