FanPicks Fantasy Review
| | |
| --- | --- |
| Bonus Offer | 7 |
| Game Variety | 9 |
| Interface | 9 |
| Payment Options | 7 |
| Customer Support | 5 |
$10 Voucher Terms
No deposit required.
Use the Promo Code FREE10.
New customers only.
Bonus FanPicks voucher can only be used for entering contests and can't be withdrawn.
FanPicks is a daily fantasy sports site that made its name by offering College Sports DFS contests. Their rivals have caught up in this department, but thanks to their awesome range of ongoing promotions, FanPicks is still a DFS site worth paying attention to.
Furthermore, PayPal is accepted, all the biggest sports are covered, and there is a high-class loyalty rewards program. Keep reading to learn more.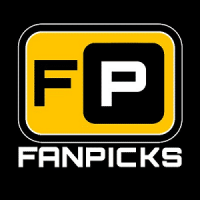 A Fantastic DFS Site
FanPicks may not be as big as DraftKings or FanDuel in terms of the number of players, but that does not detract from the quality of this top-notch daily fantasy sports site. New members can claim a free $10 voucher by using the promo code FREE10 and contests are available for baseball, basketball, hockey, soccer, MMA, golf, and football. FanPicks has some excellent ongoing promotions for existing customers, and there are lots of different contest types to choose from.
PROS
Quality promotions for existing customers.
PayPal accepted for both withdrawals and deposits.
Wide range of professional and college sports leagues covered.
Nice variety of contests.
$10 No deposit welcome bonus voucher.
CONS
Customer service needs to improve.
High number of restricted states.
Lack of responsible gambling resources.
The FanPicks welcome bonus isn't as lucrative as some of the other offers I have come across but it is one of the few sign-up offers that doesn't require the new customer to make a deposit. Just use the promo code FREE10 when opening your FanPicks account and the bonus is automatically applied. Find out how to claim the offer, how to release the bonus and some of the key terms below.
Use one of our links to go to the FanPicks website.
Make sure to enter the promo code FREE10.
Register your account details and tick the boxes as required on the right-hand side.
Head to the FanPicks Lobby.
Choose any $2, $5, or $10 voucher contest.
Click on 'Enter' and pick your daily fantasy team.
Releasing the FanPicks welcome bonus is not complicated. Simply sign up using the Promo Code FREE10 and your free $10 voucher will instantly be added to your account. No deposit is needed and you can only use the free $10 to enter voucher contests.
One of the best things about FanPicks is the availability of some superb ongoing promotions for existing customers. For every deposit made of $25 or more, FanPicks will give you 1 ticket to enter the weekly depositor freeroll, which has a guaranteed prize fund of $100.
Another cool promotion at FanPicks is the Magic-Million offer. Enter any tournament with the 'Magic-Million' mark ($1, $5, or $25) and qualify for a bonus payout if you score a certain number of points. To get the full $1 million winning bonus, a score of 490+ points is required for MLB. To win a mega $5 million bonus in NFL Magic-Million contests, you'll need to achieve a score of  375+ points.
There are even more Magic Million contests for NHL, NBA, College Football, and College Basketball. All the information on the points required to win the 'Magic-Millions' Bonus can be viewed via the promos tab on the top menu bar.
Fantasy Sports at FanPicks
FanPicks has a decent selection of sports available for DFS. Football fans can choose from NFL and College football contests, and those who are into basketball can also enter tournaments for NBA and CBB.
Other sports covered at FanPicks include Baseball, Hockey, Soccer, Golf, and MMA. There is a wide range of contests available for each discipline, so DFS fans should find something to suit their preferences at FanPicks.
Overall,  FanPicks features an impressive variety of contest types. As you can see below, there are tournaments to suit every level of DFS player, from beginners to seasoned vets.
Salary Cap Contests – Usually a $50k salary cap. 9 roster spots and all entries have to include roster picks from 3 different teams.
Pointspread Contests – Same rules for roster numbers as Salary Cap contests. No salary cap restrictions. Each player is assigned a 'fantasy spread' which is added or subtracted from their score at the end of the game to determine their final score.
Cross Sport Contests – Fill your 9 man roster with selections from multiple sports. Pointspread and Salary Cap Cross Sport Contests are available. Usually limited to selections from 2/3 sports. Standard scoring rules for each sport apply.
Easy Pick Contests – Players are paired together in groups of 2. From six pairs 1 result must be selected from each pair– Player A, Player B or tie. For example, if Player A is selected that player must score more than 3.00 fantasy points than Player B to score a point. Whoever scores the most points from their six picks wins.
Fantasy Lotto – Just pick a single athlete from a pool which is formed by FanPicks. If the athlete that you select scores the most points in the pool, you will earn fantasy points.
Side Jackpot – If a player scores above a certain number of points in any sport they can win all or some of the side jackpot. There are three tiers and the prize depends on which tier is reached.
Head To Head – Take on just one opponent in a winner takes all contest.
50/50 – A great choice for beginners that only requires you to finish in the top half of the contest to win.
Step Contests – These tournaments give players the chance to qualify for more lucrative contests with bigger prize funds.
Multipliers – Contests where the first prize is a multiple of the entry fee. There are 2x, 3x, 4x and 5x multipliers available.
Scoring Systems and Rules
Additionally, now I will outline the scoring systems and roster rules for the most popular sports at FanPicks.
In most contests, a roster of 9 athletes must be picked, but there are a couple of exceptions (Fantasy Lotto/Easy Pick). The athletes score points for positive contributions, like scoring a TD in football or hitting a home run in baseball. Points are deducted for negative plays like losing a fumble or throwing a pick. All scores are calculated using statistics provided by Sports Direct Inc.
When choosing your NFL fantasy team, a total of 9 roster spots need to be filled – 1x QB, 2x RBs, 3x WRs, 1x TE, 1x Def, and 1x Utility Player (RB/TE/WR). Players earn (or are deducted) points as outlined below.
Offense
Defense
Rushing Yards Made
0.1pts per yard
Sacks
1pt
Rushing TDs
6pts
Return TDs
6pts
Passing Yards
0.04pts per yard
Opponent Fumble Recovered
2pts
Passing TDs
4pts
Fumble return TD
6pts
Interceptions
-1pt
Safety
2pts
Receiving yards
0.1pt per yard
Blocked Kick
2pts
Receiving TDs
6pts
Interceptions Made
2pts
Receptions
1pt
0 points conceded
10pts
Kickoff Return TD
6pts
1-6 points conceded
7pts
Punt Return TD
6pts
7-13 points conceded
4pts
2-point conversion
2pts
14-20 points conceded
1pt
2-point conversion passes
2pts
21-27 points conceded
0pts
300+ Passing yds
3pts
28-34 points conceded
-1pts
100+ Rushing yds
3pts
35+ points conceded
-4pts
100+ Receiving yds
3pts
Shutout bonus
5pts
Fumbles lost
-2pts
Own fumbles recovered TD
6pts
Just like in football, a total of 9 athletes must be selected and a minimum of 3 teams must be represented in the fantasy lineup. In NBA contests, your roster consists of 3x Guards, 3x Forwards, 1x Centre, and 2x Utility players (G/F/C).
| Action | Points |
| --- | --- |
| 3 Pointer | 2.5 |
| 2 Pointer | 1.5 |
| Free Throw | 0.5 |
| Rebound | 1 |
| Assist | 1 |
| Block | 1 |
| Steal | 1 |
| Turnover | -0.5 |
| Double Double | 2 |
| Triple Double | 3 |
Again, 9 picks are required for your team, and points are scored via pitching and hitting. A 9 man baseball roster consists of 1x Pitcher, 1x Catcher, 1x 1st Baseman, 1x 2nd Baseman, 1x 3rd Baseman, 1x Shortstop, and 3x Outfielders.
Hitters
Pitchers
1 Base Hit
3pts
Win
7.5pts
2 Bases Hit
6pts
Earned runs
-3pts
3 Bases Hit
12pts
Strike out
3pts
Home Run
15pts
Innings pitched
3pts
Run Batted In
3pts
Walks
-0.5pts
Runs
3pts
Hits Allowed
-0.5pts
Walks
3pts
Hit Batsman
-0.5pts
Stolen Bases
7.5pts
Complete game
6pts
Caught Stealing
-3pts
No Hitter
6pts
Strike Out
-0.5pts
Shut Out (whole game)
3pts
This 9 man roster for Ice hockey DFS contests includes 2x Left Wings, 2x Right Wings, 2x Centers, 2x Defensemen, and 1x Goalie. Fantasy points are scored by the actions indicated in the table.
Outfield Players
Goalie
Goal
9pts
Win
9pts
Assist
6pts
Goal Conceded
-3pts
Shot on goal
1.5pts
Save
0.6pts
Short hand points
3pts
Shutout
6pts
Blocked shots
1.5pts
Daily Fantasy soccer contests are also on the menu at FanPicks and both domestic and international leagues are included. EPL, MLS, Champions League, Serie A, Ligue 1, La Liga and the German Bundesliga are covered at FanPicks. When you pick your 9-man team it will include 1x GK, 2x DF, 2x MF, 2x FW and 2X Utility (DF/MF/FW).
| DFs/MFs/ATTs Only | GKs Only | DFs Only |
| --- | --- | --- |
| Goal Scored = 20pts | Clean Sheet = 10pts | Clean Sheet = 10pts |
| Assist = 8pts | Goals Conceded = -6pts | |
| Shots = 2pts | Save = 6pts | |
| Shots On Goal = 5pts | Win Bonus = 5pts | |
| Tackles = 2pts | Penalty Save = 5pts | |
| Interception = 2pts | | |
| Yellow Card = -1pt | | |
| Red Card = -2pts | | |
| Missed Penalty = -2pts | | |
| Foul Drawn = 1pt | | |
| Cross = 1pt | | |
| Block = 6pts | | |
The golf rules are different from the team sports I talked about earlier on. 9 players must still be selected, but 6 are 'starters,' and 3 are 'bench golfers.' After each round, teams can be rotated, and bench golfers can be switched with starters. Only starting golfers will score points.
Fantasy points are awarded when players finish in the top 50, with 30 points for the win, 20 points for 2nd, 18 points for 3rd, all the way down to 1 point for finishing between 41st-50th.
Score
Bonus/Streaks
Eagle
8pts
Hole In One
10pts
Birdie
3pts
Bogey Free Round
3pts
Par
0.5pts
Streak of 3 birdies or better
3pts
Double Eagle or better
20pts
Bogey
-0.5pts
Double Bogey
-1pts
Worse than Double Bogey
-1pts
Unless it is otherwise specified by FanPicks, DFS players can only have one entry per contest. I scoured the terms and conditions, as well as the rules, and found very little information on the maximum entries allowed per customer. FanPicks states: 'Some matches may allow for "multi-entries" meaning more than one entry into the contest by the same user is allowed.' Apart from that, no other info is available.
Those who wish to keep track of the performance of their fantasy lineups during contests can do so by visiting Sports Direct Inc. They are the official statistics and scoring providers for FanPicks.
Likewise, Sports Direct Inc. is a brilliant resource if you wish to use the latest sports data to help with your fantasy lineup selection. Detailed and in-depth stats, news, and analysis are available for Football, Hockey, Basketball, Baseball, Golf, Tennis, and Soccer; so make sure to take full advantage.
If you play DFS games more frequently on your mobile device, FanPicks has a decent mobile website. When I visited on my Android browser, there was a link to download the Android and iOS Apps on the landing page, but neither link worked.
Consequently, the only way to play in contests on your phone at FanPicks is to use the web browser via your mobile device.
As stated previously, there are currently no apps for Android or Apple devices available to download at FanPicks. Instead, follow the instructions below to start playing FanPicks DFS contests on your mobile device.
Visit FanPicks by clicking on one of the links provided on this page using your mobile browser.
Create a new account and log in.
Make your first deposit.
Choose the contest you want to play in, pick your lineup and that's it!
The FanPicks mobile web site is well designed and the way the lobby is laid out makes it simple to find the sport and contest you want. The menu button in the top left hand corner allows players to navigate with consummate ease and some of the options include links to 'How To Play' instructional videos, scoring systems and rules, customer support and FP Rewards.
Everything works smoothly, the graphical display is sharp and the colour scheme makes the information on each page nice and easy to read. Clearly, it would be better if they had native apps for Android and iOS but for mobile fantasy sports players, the FanPicks web app gets the job done.
When you are opening a new account with a DFS site the first thing that should be checked is whether deposits and withdrawals can be made via your preferred payment method. After all, there isn't much point in setting up an account if you can't deposit or withdraw funds!
At FanPicks, there are three different methods via which to fund your account: Credit/Debit Cards (Mastercard/Visa), PayPal or via GoCoin (cryptocurrency). The minimum deposit amount at FanPicks is $10. For withdrawals, a check can be requested or alternatively PayPal can be used. The minimum withdrawal amount for both methods is $50.
Overall, PayPal is by far the best choice when depositing or withdrawing funds at FanPicks. Withdrawals cannot be made via Credit or Debit Cards, so PayPal is perfect for those who want to carry out all their transactions online.
Withdrawals via paper check take longer, so not only is PayPal more convenient, but it is also a lot quicker. You'll be able to access your winnings much faster via PayPal, and deposits are processed instantly. Simply put, if you sign up with FanPicks, use PayPal!
The legal status of FanPicks depends on the regulations of individual states. For any questions regarding specific state regulation, FanPicks outlines a list of non-eligible states in the terms of service.
Residents of Quebec are unable to play DFS at FanPicks. Unfortunately, FanPicks is restricted in a lot more states than FanDuel and DraftKings. Hopefully, that situation will change in the near future.
FanPicks History and Background
FanPicks Company Review
Parent Company:
Fantech Software Inc.
Software:
Alphastreak
Address:
1100 Begin Suite 101 Montreal, QC H4R 1X1, Canada
International Licenses:
N/A
FanPicks was established as a DFS site by Fantech Software Inc in 2015. The main shareholder and chairperson of the company is Joshua Bazov. Early on, WWE hero Hulk Hogan was the face of the brand, and he helped raise the brand instantaneously.
Initially, the big focus for FanPicks was College sports, and that was their unique selling point compared to their two main industry rivals (DraftKings and FanDuel). However, both DraftKings and FanDuel have added college sports, and as a result, FanPicks has struggled to maintain its market share.
The promotion of responsible gambling habits should be a top priority for all Daily Fantasy Sports sites. I have to say that the FanPicks responsible gambling page was underwhelming. Unlike many of their competitors, no links are provided to external problem gambling resources.
Although a 24 hour to 3-year self-exclusion is possible, I couldn't find any way to set deposit or spending limits. It comes across as a half-hearted attempt at promoting safe gambling and this is one area where FanPicks most certainly has lots of room for improvement.
Once you sign up with FanPicks and start playing DFS games, your account will be credited with 1 Voucher Point (VP) for every $10 you spend. These Voucher Points can be redeemed for either cash or one of the awesome products in the FanPicks Rewards Lobby.
Moreover, there is a vast array of cool gadgets, fashionable caps, tailgating equipment, and lots more on the FanPicks Rewards page. One of the specials that most stood out to me was a Folding Picnic Table for 13,374 VPs while personalized football jerseys were available for between 4875-6700 VPs.
I read some other reviews of FanPicks and most were very positive about the level of customer support. However, when I tried to get in touch with FanPick's customer service reps there was only one way – via a form on the 'Support' or 'Help' pages.
FanPicks states that they will reply as promptly as possible but no exact timeframe is specified. 
It's fair to conclude that FanPicks may lag behind some of their rivals in a number of areas. The customer service could definitely be better and even their approach to responsible gambling leaves plenty to be desired.
Although, on the plus side, there are some excellent perks in playing at FanPicks. Alongside the excellent ongoing promotions and the great selection of sports available, the availability of PayPal for both deposits and withdrawals is another positive. Overall, FanPicks is a DFS site that is rough around the edges, but well worth a second look.
FanPicks Fantasy FAQs
Does FanPicks have Fantasy College Football?
Yes, FanPicks has lots of different contests you can play throughout the College Football Season. College basketball fantasy tournaments are also available and contests for professional leagues like the NFL, NBA, MLB, and NHL.
How can I withdraw funds at FanPicks?
Those wishing to make a withdrawal at FanPicks have two payment methods to pick from. The first and best option is to use PayPal as payments are processed in up to 48 hours and it is a very convenient way to access your winnings. Alternatively, you can request to be paid by check via post and this takes up to 7 days.
Does FanPicks have an app?
FanPicks has a pretty solid mobile web app but when I tried to download their native Android and iOS Apps they were unavailable. For those who wish to play DFS contests at FanPicks on mobile, they can do so by visiting the site on their mobile internet browser.
Is FanPicks the best DFS site?
The two biggest DFS sites are FanDuel and DraftKings but FanPicks is another one that deserves to be mentioned. FanPicks has an awesome selection of sports, lots of different contest types, and some great ongoing promotions for existing customers.
Does FanPicks have a sign up bonus?
Yes, new customers can take advantage of a great $10 welcome offer, and most importantly, no deposit is required. Simple sign up, use the FanPicks promo code FREE10 and they will credit your account with a $10 bonus voucher that can be used to enter contests where you can win real cash.
Specification:
FanPicks Fantasy Review
Payment Options

Debit Way

GoCoin

GraceNote

MasterCard

PayPal

VISA

Licenses

AL

AK

AR

CA

CT

FL

KS

KY

ME

MI

MN

NE

NH

NJ

NM

NC

ND

OH

OK

OR

RI

SD

UT

DC

WV

WI

WY