William Hill NJ Sports Book Review
Welcome Bonus: up to $500 Free Bet
Software: William Hill
NJ License: NJIGP 15-005
New Jersey Partners: Monmouth Park, Tropicana Atlantic City, Ocean Casino Resort
Best Feature: In-Play Betting
Last Updated: September 2020
Bonus Terms:

No rollover required
Free bet must be used within 7 days
William Hill NJ has a lot to prove. They may dominate the EU online gambling market, but the US is a tough nut to crack. The sportsbook features outshine some of its competitors, but "all that glitters" is not gold.
My William Hill NJ Sport Book review reveals all the details about the free bet offer. As a teaser, the sportsbook comes with one of the best in-play betting platforms.
Author's Comment
William Hill clearly excels in certain areas. However, some basics are missing, like cash out and loyalty rewards. On the other hand, they are one of the most prominent bookmakers with live streaming. Their bonus terms are short, yet extremely favorable.
Pros
Live streaming
Transparent terms of use
Generous welcome bonus offer
Responsive customer support
Complete odds offer
Cons
No cash out
The user-interface can tweaked
Free Bets – New Customer Offer
William Hill keeps me on my toes by changing the welcome offer monthly. Right now, receive a free bet, up to $500. Before you get your hopes too high, the free bet offer comes with a set of rules.
The offer states you can get "up to $500", but it comes at a price.
Sign up with the promo code PLAYINGLEGAL500 and deposit:
$50 – $99.99 – to get $100 free bet
$100 – $249.99 – to get $250 free bet
$250 or more – to get $500 free bet.
In addition, there are a few more terms to be aware of.
Bonus Terms
The minimum qualifying deposit is $50.
The free bet must be used within 7 calendar days.
Any attempt to withdraw before wagering voids the free bet.
There is no rollover requirement.
Customers MAY HAVE TO wager the qualifying deposit to cash out winnings.
This William Hill NJ free bet offer is valid until September 30th, 2020.
How do you use the William Hill Free Bet?
Remember that first and foremost that a free bet is a promotional bonus that is not cashable. So, this means that the William Hill Free Bet can only be used in certain instances. Also, requesting a withdrawal during your Free Bet promotional period voids it. 
Fortunately, according to the House Rules, there aren't any big restrictions on the Free Bet except that you can't split the Free Bet on multiple results. In detail, don't use the Free Bet on a round-robin, full covers or specialty wagers. Also, you can't just partially redeem the Free Bet. Use it or lose it, especially within the promotional period of 7 days. 
My recommendation on how to use it is to bet the entire Free Bet qualifying amount (if you deposit $250 and receive a $500 free bet) of $500 on a straight wager of a sporting event of your choice. As far as what to specifically wager your Free Bet on, it truly depends on how risk-averse you are. 
Ongoing Betting Promotions
William Hill clearly wants to adapt to what sports bettors desire. Despite UK origins, close attention is paid to American sports within the promotions page. At the time of writing of this William Hill NJ sportsbook review, there were 10 promotions each better than the other in its own way. Of course, it all comes down to what you want to bet on.
Baseball was dominant with 3 promotions out of the total 10 in there. The NHL came in second with 2 promotions, whereas the rest went to NFL, the NBA and one promotion went to the Indy500.
Bettors who are into parlay bets should seriously consider William Hill as their next stop. There is clearly a trend going on here, and I don't think it will stop any time soon.
Then again, these are just ongoing promotions, and they are subject to change. Take this segment as something that can change depending on seasonality for the most part.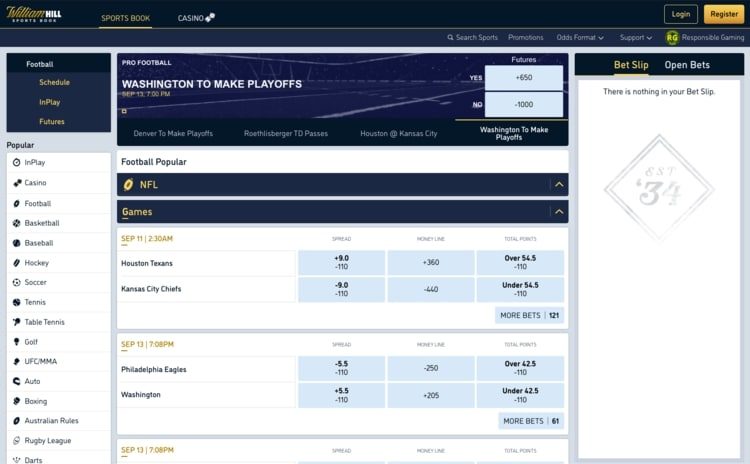 Sports Betting with William Hill in New Jersey
The brand is synonymous with betting. One might say that Will Hill himself started the modern betting industry as we know it today, back in 1934. Obviously, this in no way affects you or me in the present time.
With the betting bonuses covered, it's time to take you through what's under the hood at William Hill NJ along what comes in the toolbox!
Let's start with the sports available and what you can expect.
Sports Coverage
It is a complete sportsbook, one that fits all appetites. Besides the top sports covered in detail below, William Hill NJ offers odds on soccer, tennis, golf, boxing, rugby, plus more.
Bear in mind, that the amount of sports varies, but note that the important ones are fully covered.
Football
As expected, William Hill offers football odds, including on NFL and NCAA games. A strong plus to William Hill regarding football betting is that the ease of navigation through all games available. For example, quickly find football games within a specific conference if you desire.
William Hill offers NFL odds a couple of weeks before the actual game takes place. As game day approaches, more bet types and props are offered.
Basketball
The NBA takes the spotlight, then followed closely by NCAA and WNBA. Of course, this completely depends on the season. Futures are in an entirely separate category and neatly organized. Additionally, the types of bets available are downright incredible in terms of quantity.
My tip for if any basketball game catches your attention,  click on "More bets" and check out the full spectrum of bets available!
Baseball
Nothing out of the ordinary here. To be more specific, at the time of writing this review, the World Series was playing out. For each game, a grand total of 75 bet options were available. Surely, non-baseball fans would be lost in the sheer volume of bets available at William Hill.
Ice Hockey
As far as hockey goes, bets are neatly categorized similar to basketball. Find the NHL futures separately and easily, plus the full William Hill Sportsbook hockey bets are available right on top. Even further up, the featured bets and games are highlighted, calling your attention.
Types of Bets
All of the basic bet types are available at William Hill, which is to be expected. However, there's more than just the basics. Here's a sample of the bets you'll find when you're perusing the William Hill odds:
Moneylines
Point Spreads
Parlays
Teasers
Totals
Alternate Lines
Props
Futures
Runlines
Pucklines
Odds Comparision
Here at PlayingLegal, I compared odds offered during a regular season NBA game  between the Brooklyn Nets and Toronto Raptors.
| August 19, 2020 | William Hill USA | Unibet | BetAmerica |
| --- | --- | --- | --- |
| Brooklyn Nets | +600 | +575 | +565 |
| Toronto Raptors | -900 | -835 | -875 |
| Vig % | 4.29% | 4.12% | 4.78% |
William Hill's sportsbook sits in the middle compared to one newcomer to the NJ sportsbook landscape versus one that's been on the market for a few years now.
This is why I always recommend shopping around for the best odds available because different sportsbooks vary.
William Hill NJ Bet Cash Out
Unfortunately, William Hill does not currently offer cash outs. Not offering the ability to cash out is a real detriment, as having the option would be nice in case you want to take your partial winnings.
Other NJ sports betting sites such as BetMGM Sports do, so it is not unreasonable to expect the feature of cash outs. In fact, William Hill should add cash outs as soon as possible to stay competitive with other sportsbooks. Fortunately, I conducted some in-depth research into cash outs. William Hill does mention cash outs in their House Rules within the mobile app which strongly hints that this feature will be added in the future.
Blog and Stats 
Forget about getting pre-game data through William Hill for now. I couldn't find any stats for past performance, and there is no blog section. On the other hand, tips aren't something I look for by default. However, I like to hear what advice experts offer.
Ideally, I'd like to see both added. Then again, this appears to be a feature that online sportsbooks add a few years after establishing a decent customer base.
As an example of what should be offered, check out the NFL Draft Hub offered by FanDuel Sportsbook.
Payout Limit
On the other hand, William Hill is very clear when it comes to the "House Rules" and the payout limits. Think of payout limits almost like "winning limits."
Here are the William Hill NJ's payout limits per sport:
Football – $2 Million
Baseball – $1 Million
Basketball – $1 Million
Hockey – $1 Million
Soccer – $500k
Boxing – $250k
Golf – $250k
Tennis – $250k
UFC/MMA – $250k
Other Sports – $25k
Novelty/Specials – $10k
Surprisingly, a fair number of other NJ online sportsbooks do not show any payout limits at all. Overall though, this does not appear to be an issue for the majority of sports bettors. Yet for those that like to place higher amounts, or simply go for "virtually impossible" parlay bets and excessive multis, payout limits may affect the final outcome.
"If it's not on the wall, it's not a rule" translates into, "if it's not in the terms and conditions, it's not a rule." Transparency is truly something to be valued.
Betting Limit
Minimum bet limit: $0.10
Maximum bet limit: $10,000
Based on the details provided at the William Hill NJ, you can bet between $0.10 and $10,000 per bet slip. Obviously, the more massive the bet, the higher the possible payout, which needs to be vetted by traders.
Again, when comparing to other competing sportsbooks, William Hill wins in terms of transparency. Whereas, other NJ online sportsbooks like to individually assess how much a customer is able to bet.
Moreover, the minimum bet limit at most other online sportsbooks is $0.50. Not truly a big deal, but with more options available such as lower minimum bet limts, the better you can make your own betting decisions.
In-Play Betting
William Hill's interface for the in-play betting platform is downright impressive. Unfortunately, that's not something that I can say about the pre-game sports betting section. Clearly, William Hill has room for improvement there.
Circling back, the in-play betting current stats are easy to follow. Moreover, follow the game by following the "virtual playing field." However, I must caution you not to solely rely on the virtual playing field with scores or time as it may not be 100% accurate. Yet, this is a nice option to have in case you have no other options to watch or follow the game.
Also, William Hill NJ offers live text commentary. Again, not the best option compared to say, Live Streaming. However, in the event you have no other alternative, it works.
Last but not least, you can find more in-depth stats on the game by accessing the stats tab. Although this is not the most detailed stats offered, but ranks among one of the better options found in New Jersey.
Live Streaming
Live streaming is available at the William Hill sportsbook, including New Jersey. Note that not all games or events are available for live streaming. Due to copyright issues and regional blackouts, it really depends what live streams are available.. Hopefully, more live streams will be available, thanks to the partnership with ESPN.
To access a live sports stream, go to the in-play betting tab. Then, find the game you desire to watch. The live stream button is located on the right of the four buttons, just under the "virtual playing field."
Horse Racing at William Hill NJ Sports
For the time being, William Hill NJ does not offer any odds on horse racing. The moment the legal situation changes, and William Hill is allowed to offer horse racing betting odds in New Jersey, I will revisit the review and update it accordingly.
William Hill NJ App for Mobile Sports Betting
Less is more, and this is true at William Hill. Everything is where you would expect to find it. In addition, the William Hill NJ app is all-inclusive, including both the casino and the sportsbook. Also, switching between the sportsbook and casino is easily done.
An improvement that I would like to see is the search box should be more visible. For now, it is difficult to find unless you are a seasoned sports bettor. To find the search box, tap on the "All Sports" button and scroll to the bottom. Now, you can search for events or sports.
How to Download the William Hill app?
Visit the William Hill NJ website by clicking here.
Click the Download button.
Once the App is downloaded, install it.
The app should appear on your home screen.
Log in to start betting with William Hill.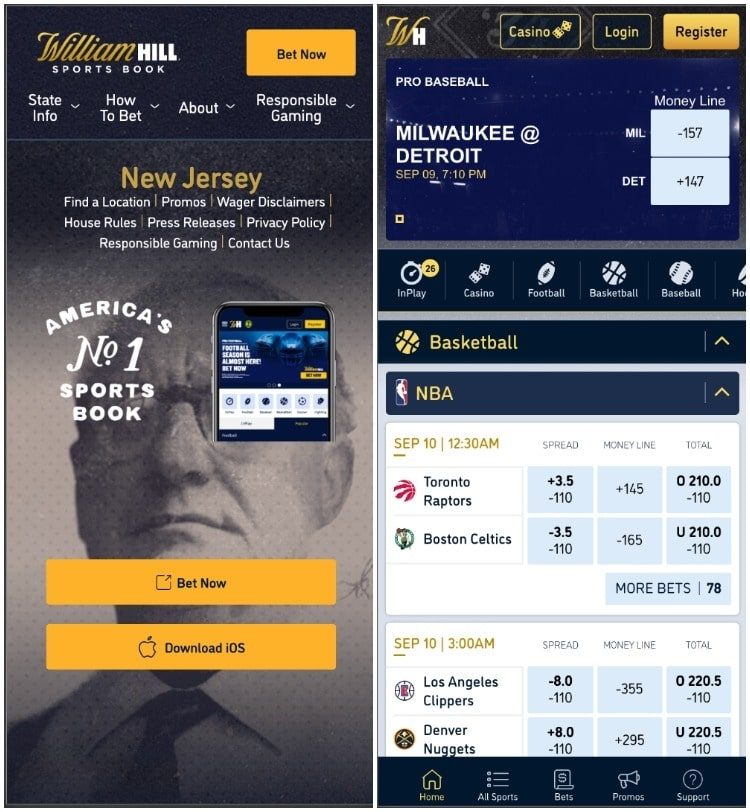 Payment Methods and Withdrawal Limits
| Payment Methods | Withdrawal Time |
| --- | --- |
| Online Banking | 3-5 business days |
| ACH | 3-5 business days |
| Skrill | Up to 3 business days |
| Cash in Person | Instant |
| William Hill Prepaid Card | 3-5 business days |
| Bank Transfer | 3-5 business Days |
| VIP Preferred | 3-5 business days |
| PayPal | Up to 3 business days |
Choose from a straightforward selection of payment methods at William Hill NJ. As of Sept. 2020, William Hill NJ added PayPal as an accepted payment method. Please note that PayPal is not accepted in other states yet.
However, if you need another e-wallet, a solid alternative is Skrill. Best of all, online banking guarantees top security and convenience. The only drawback is that your deposit or withdrawal will not be instant.
The minimum deposit is $20, which unlike other online gambling operators is higher. On the other hand, there's basically no upper deposit limit by William Hill NJ.
Do note that there are maximum deposit limits per payment provider. In any case, should this become an issue, contact customer support for further help. In most cases, issues are resolved with a simple bank transfer. 
William Hill Prepaid Card
Planning to be a regular bettor at William Hill NJ Sports? Then, I recommend applying for the William Hill Prepaid Card. It's nothing extraordinary because it's a Play+ card, but William Hill markets it under a different name. For what it's worth, moving your William Hill funds will be much easier, and more convenient.
You will have to wait 10 to 14 days to get your card, from the day you are approved for your account.
William Hill USA Sports Book is Legal in New Jersey
Even before William Hill's expansion in the USA, most sports bettors were well aware of the brand name. Now, it has evolved into a fully licensed sportsbook. In fact, you can even search under the short William Hill name, or use the longer, more formal, and preferred name, William Hill Sports Book.
William Hill Company Overview
Parent Company:
William Hill PLC
Software:
William Hill
New Jersey Partner
Monmouth Park, Tropicana & Ocean Resort
Address:
2831 Boardwalk, Atlantic City, NJ 08401, United States
License:
NJIGP 15-005
International Licenses:
UK, Spain, Italy, Sweden
Phone:
1-855-754-1200
Email:
[email protected]
ESPN Partnership and US Expansion
William Hill, a brand that has a lot on the line, is willing to go the distance by delivering a complete online sports betting experience. In recent years, William Hill made the move towards closing retail shops in the United Kingdom, in order to fully focus on the online product. Moreover, UK customers already made the transition to online, preferring the ease of sports betting on-the-go.
As for the US, which is home to a rapidly expanding sports betting industry, William Hill partnered with ESPN in Sept. 2020, as the official odds supplier. For any sports bettor located in a state with legal sports betting, look for William Hill to be directly integrated throughout ESPN. 
Technically, the partnership resulted due to a previous partnership with Caesars Entertainment and ESPN. Caesars and El Dorado Resorts recently completed another merger, which will see William Hill taking over sportsbook operations throughout their properties. Specifically, look for William Hill in more than 170 retail sportsbooks spanning 13 states. 
Currently, the William Hill Sportsbook online is available in NJ, WV, CO, NV and MI. The company is already planning for a launch in IL, IN and TN in the coming months.
Responsible Gambling
William Hill actively promotes responsible gaming and touts the principles of self-protection and self-help. To this end, you can set the following personal limits on your account: 
Deposit limits either daily, weekly or monthly.
Spend limits either daily, weekly or monthly. 
Daily time limit. 
Cool-off time limit from 3 to 30 days. 
For a more serious measure, you may temporarily suspend your account from any further gaming for a period of 3 to 30 days. Then, self-exclusion is available through the New Jersey Division of Gaming Enforcement (NJDGE) which bans you from any gaming operator for 1-5 years. For this option, you will need to physically be present at the DGE office. 
If you need immediate help, the Council on Compulsive Gambling of New Jersey offers a 24/7 confidential hotline at 1-800-GAMBLER. Also, the National Council on Problem Gambling provides additional resources. 
Loyalty Rewards
William Hill NJ does have a Rewards Club, but unfortunately, it is only available at the retail sportsbook locations. Earn points for any of your wagers and redeem them for either more sports bets or other comps, which are only available at the physical sportsbook locations. 
Nonetheless, here are the Reward Club Points for each $1 bet: 
Straight Bets: 1 Point
Parlays and Teasers: 2 Points 
Parlay Card: 5 Points 
Pari-Mutuel Race: 1 Point 
Every 1,000 Points earned equal $1 in free bets but note that points earned in pari-mutuel races are not redeemable for the free bets.
Overall, it does not appear that most online sportsbooks offer loyalty or rewards programs. Perhaps in the future, as the sports betting industry continues to grow and mature, a loyalty rewards program will be implemented.
William Hill NJ Customer Support
William Hill NJ states that customer support is available 24/7, but this is not entirely true. Technically speaking, you can send an email anytime you want, but you will wait for a reply. In my experience, the live chat is not available late at night. Then again, there's not much to bet on, especially if you're not betting on European sports.
Indeed, offering phone support is nice but, even better texting through your mobile device is available.
Phone: 1-855-754-1200
Text: 732-786-3968
E-Mail: [email protected]
Live Chat: Available
Support Hours: 24/7
Final Thoughts
Overall, this is a sportsbook with a great reputation, a huge selection of pre-match plus live betting lines and first-rate customer service. Clearly, it is no accident that William Hill is a global sports betting giant with many customers attesting to their popularity over the last century.
Ready to deposit and get your free bet?
William Hill Sports NJ FAQs
How do you get free bets on William Hill?
How do I use the free bet on William Hill?
After the William Hill credits to your account, using the Free Bet is easy. Make sure to wager it fully, within 7 days. Also, the Free Bet cannot be split, so specialty bets such as round robins are excluded.
Who owns William Hill?
William Hill NJ owned by William Hill PLC. The company goes way back to 1934. Over the decades, it grew, expanded across several continents. As of 2019, William Hill officially launched in the US. It is a publicly-traded company, meaning it's a safe and reliable company. Their sportsbook is one of the most popular ones in the world.
How do you deposit at William Hill NJ?
William Hill accepts a range of payment methods that covers e-wallets, online banking, credit and debit cards. Also, cash deposits are accepted. Open an account with William Hill, go to the cashier, select your deposit method, insert the amount, and complete the transaction. The money will be in your account within seconds. You can now bet with real money with William Hill NJ.
Do William Hill NJ offer live streaming?
William Hill NJ is one of the very few online sportsbooks in New Jersey that offers live streaming on sports. The only condition to have access to the live streams is to have a funded account. In short, the live streams will not cost you anything. You get it for free, simply by being one of William Hill's customers.
Do William Hill NJ have cash out?
At the time of writing of this William Hill NJ Sports Book review, there was no cash-out option on any sports or events. However, there are some traces of cash out terms in William Hill's terms and conditions. This leads me to believe that they might add the feature in the near future.