Betfair launches First Exchange-Wagering Site in the USA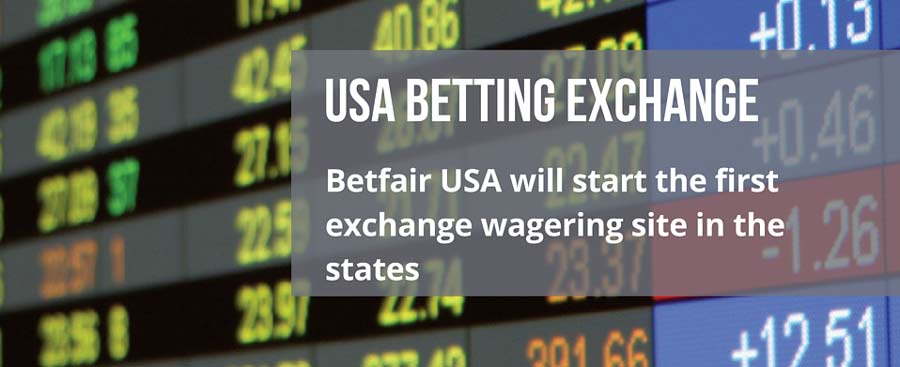 After a long period of deliberation, the first exchange-wagering site is to open in the USA; the date for the launch has been set for May 10, 2016. The operator, Betfair, has also announced that wagering on the site will be restricted to New Jersey residents, who are physically present in the state while placing their bets. This could potentially limit the site's reach but they are optimistic that their appeal will grow with time.
Announcing the Launch
Betfair has been campaigning the benefits exchange-wagering presents for the racing industry and gamblers. Last week, on Wednesday and Thursday, they held several meetings with media channels in the states the New York and New Jersey, as part of the marketing campaign, where they announced the launch date.
The announcement brought out both excitement and concern amongst horseplayers; while many gamers are waiting in keen anticipation for the site to go live, others are worried that the debut of this form of betting with increase chances of race fixing and threaten the existing revenue streams for racetracks.
History
Betfair Group plc is the world's largest internet betting exchange; the company was founded in 2000; headquartered in London, Betfair has become the largest online betting company in the UK and the largest betting exchange in the world.
Betfair purchased TVG, the horse-race broadcasting and account-wagering company, in a bid to expand into the American market, in 2009. They immediately started lobbying to sanction exchange wagering; and after seven year, finally announced the launch of their site.
However, only California and New Jersey have agreed to the launch, so far, and only horsemen in New Jersey have agreed to the company's terms.
The president of the horsemen-led group, which operates Monmouth Park, Dennis Drazin, said, "I think this is a whole new growth areaand in this industry, we have to figure out new ways to conduct our business."
Hurdles
Although it has taken the better part of the decade to reach the American launch of exchange-wagering, Betfair is still faced with several major hurdles. Firstly, most major racetracks and horsemen outside the New Jersey area are yet to embrace the idea, limiting the site's opportunities and reach; the company is also concerned about the number of initial bettors and whether or not they will gain adequate liquidity.
Betfair is still conducting discussion about contracts with many racetracks and are yet to release a full list of racetracks that are going to participate in their venture. It is, however, already known that Monmouth Park will definitely be taking part and The Stronach Group, which include Santa Anita, Gulfstream, Golden Gate Fields and Pimlico have declined to participate in Betfair's exchange-wagering. Some major racetrack operators, including the New York Racing Association and Churchill Downs Inc., have not committed either way as yet.
Kip Levin, the Chief Executive of Betfair USA, said that many racetracks and horsemen are reluctant to commit to the site until they can see definitive proof of their success in the USA. He predicted that once the site has been active for a few months and the New Jersey operation has generated significant data, more racing communities will sign on.
Levin stated, "I think everyone is watching with a wary eye right now, if the data show that we are adding incremental revenue, I think we'll bring more tracks on board."
Technical Details
Betfair acquired approval in NJ in 2011 but has taken more than five years to finally arrange its launch. The state racing commission has also drawn up a set of regulations, which restrict the services to only those players who are both residents of New Jersey and are present in the state when they place their bets; any bets placed from devices outside the New Jersey borders will automatically be blocked, using geolocation technology; however, customers of Betfair UK will be able to participate.
Like any other racing jurisdictions, Betfair USA will allow customers to place and accept bets on horses with other customers on the site at prices established by the customers. Betting on the site will be limited to win, place and show wagers; in-race betting will also be made available, whereby they will be able to post and accept bets after a race has already started. In addition, unlike traditional parimutuel markets, customers will be able to use a variety of tools on the site allowing them to unwind or trade the positions they have established on races.
In order to familiarise potential customers to the concept of exchange wagering, Betfair has launched a website simulator that uses data from overseas races to train and familiarise players with the site's workings. This could usher in a new era for racing, especially for those who technologically savvy and understand sophisticated concepts of risk
Chip Tuttle, a racetrack and PR executive for Betfair USA, said, "The unique thing about exchange wagering is that you can be really good at betting markets without having a very strong opinion about a horse."
What is Exchange-Wagering?
Exchange wagering is the generic term for a system of betting where bets or betting propositions are matched amongst customers, while the betting exchange takes a commission.
Betfair will be making their money by charging a 12% commission to the winning player on their net profits; if the player loses money or breaks even, Betfair will not charge them any commission. This is significantly different from parimutuel betting, where 20% of each pool is taken before any payout is calculated.
Resistance towards Exchange-Wagering
As exchange wagering generates a much smaller profit than current parimutual betting practices, many horsemen's groups have resisted the practice, fearing loss of revenues.
Others have resisted this form of betting in fears of race fixing. Betfair has reaffirmed that they have a system in place to identify suspicious wagers and are always happy to allow any investigations of betting patterns on the site.
The Jockeys' Guild held a panel at their annual assembly, where they urged jockeys to be careful at tracks that allow exchange-wagering on their races. They recommended that owners and trainers should not be allowed to pick up checks at restaurants for jockeys or present them with other gifts. It has also been advised that jockeys should restrain themselves from casually discussing their horses' chances; and finally, the guild has expressed concerns over how to handle investigations focusing on bets the riders may place on the site.