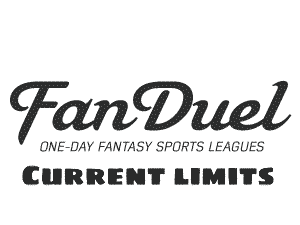 Although the online fantasy sports platform, FanDuel, has been battling for its legality in several states over the past six months, the daily fantasy sports industry remains strong. As the NFL season rekindles in the offseason, leading fantasy sports companies such as FanDuel are expanding in the several other sports featured on the site. FanDuel currently offers competitions in the NFL, NBA, MLB, CBB, PGA, and CFB, as well as the possible launch of European soccer league contests in the near future.
For those who are familiar with the popular fantasy sports platform, FanDuel attracts competitors of all experience levels. However, with FanDuel's system revolving around a game of skill, there are some sharks, otherwise known as professional players, within its depths. Players who are just starting out usually flock to the smaller stakes competitions, beginning with $1, $5, and $10 games. The professional players take advantage of such large beginner player pools, playing the statistics game as a shark amongst minnows. FanDuel, which has never put forth a deposit or spending limit on its terms, is now further limiting the amount of entries for low-limit contests. Whether you are a fantasy pro or a novice looking to get into DFS, this article will inform you about the current limits on FanDuel.
The New FanDuel Limits
From a variety of requests, feedback, and company analysis, FanDuel recently sent out a correspondence email for a new imposition of restrictions on $10 and under competitions. The policy has been in review for some time, especially after an analysis company stated that more than 70 percent of FanDuel players are reporting overall loses each year from competing on the site. The policy states that players can only submit 500 entries per NFL contest for any games that hold $10 or lower stakes. In addition, players can only enter 250 entries for the remaining sports that include: NBA, MLB, CFB, NHL, and the CBB.
FanDuel's Statement on Their New Limits
FanDuel sent the following email to each and every player registered on the company's site to bring further awareness to the change:
"For NFL you may create a maximum of 5000 entries, but only 500 may be at the $10 stake level or below. These limits apply to all contest types. For example, if you have 400 paid entries in $5 tournaments for one contest start time, you can only enter 100 other contests (H2H, multipliers, 50/50 or other tournaments) that have entry fees equal to or lower than $10 for that same contest start time."
How the Limits Will Affect Players
The efforts by FanDuel to help restrict the sharks from further feeding on the minnows will assist the growth of the industry during uncertain legal times. As advised to all daily fantasy sports players, there will always be a large amount of competition in skill games. If you plan on playing in DFS, do the research before ever putting money into a contest. Amateur players who simply pick their favorite players and hope to win will be met with almost certain defeat. Fortunately, there is plenty of helpful information on creating DFS lineups and statistics that will give you a competing chance on game day.
Of course, the limitations will hold back more than a handful of sharks in the upcoming fantasy sports seasons. However, FanDuel still allows up to a total of 5000 entries but leaves pros battling pros in the higher stakes competitions. At the moment, FanDuel allows players to deposit as much money as they wish as long as FanDuel Support does not detect multiple accounts or fraudulent acts.
Conclusion
Overall, the actions taken by FanDuel are in the best interest of the entire daily fantasy sports community. Restricting "pro" players from feeding on the amateur action will only help attract new players to the industry. The limit, even with the new restriction, shows players what they are going up against online. However, beginning players are still able to play at their experience level and even join free games until they have practiced and are ready to compete for cash.