The Las Vegas Strip is adding a new park with a twist to make room for its growing musical tourism industry. The new park will feature a number of attractions, eateries and the brand new T-Mobile Arena.
Las Vegas has seen a record 42 million visitors last year and The Park is expected to keep tourism ripe. Jim Murren, Chairman and CEO of MGM Resorts International, stated that tourists today prefer an experience over a resort on holiday and there is an increase in demand for outdoor spaces; keeping that in mind, The Park has been built at the heart of Las Vegas, spanning from the Monte Carlo the the New York-New York casino resort. Guests can explore the Strip, enjoy the landscape, restaurants and entertainment along the way.
The Park
The Park, developed by MGM Resorts, engaged landscape architects to capture the essence of the surrounding desert scenery and enhanced it with contemporary features- shade structures made of locally sourced quartzite stone, water features and flamboyant lighting are expected to frame a titanic water wall. Desert trees as well as colourful flowering plants, which bloom all year round, have been added to provide shade and ambience to the area.
The Park upholds green initiatives throughout – the entire stretch and Arena have been built to the Gold standards of Leadership in Energy and Environmental Design (LEED).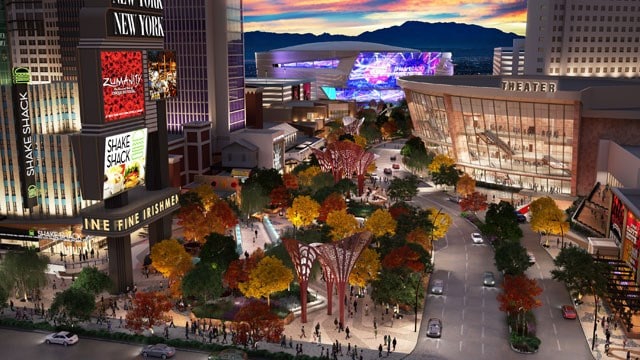 Restaurants
The restaurants confirmed for the grand opening include Japanese eatery, Sake Rok; the restaurant will provide lunch, dinner and late-night bar service as well as servers that double as entertainers.
Another is the outdoor beer garden, Beerhaus, featuring live music, outdoor games and sustainably raised food alongside a menu of craft beers. Stations including Shake Shack, California Pizza Kitchen, Bruxie and a fast-casual, gourmet waffle restaurant from California will also be open before the big day.
T-Mobile Arena
The central attraction of The Park is the $375 million T-Mobile Arena. The 20,000 seat venue was purpose built from the ground up; it solves many traffic issues and is connected to the New York-New York parking garage by a covered bridge.
The arena features a premium seating section, with 50 luxury suites and more than two dozen private logo boxes complete with private entrances and parking. The general public can also enjoy amenities such as charging ports and video screens throughout; T-Mobile customer and M Life members also enjoy fast track access to events.
The Arena will also have a nightclub for patrons to enjoy on event days; an outpost of Hyde at Bellagio, with DJs and bottle service. The venue expects to host more than a 100 events annually; they have already booked the Harlem Globetrotters, the Duke/UNLV basketball match, UFC matches and the Professional Bull Riders Built Ford Tough World Finals in November. However, the grand opening weekend of The Park, 8 to 9 April, is scheduled to take off with the reunion of the original headliners of Guns N' Roses.