Top 10 Gambling Movies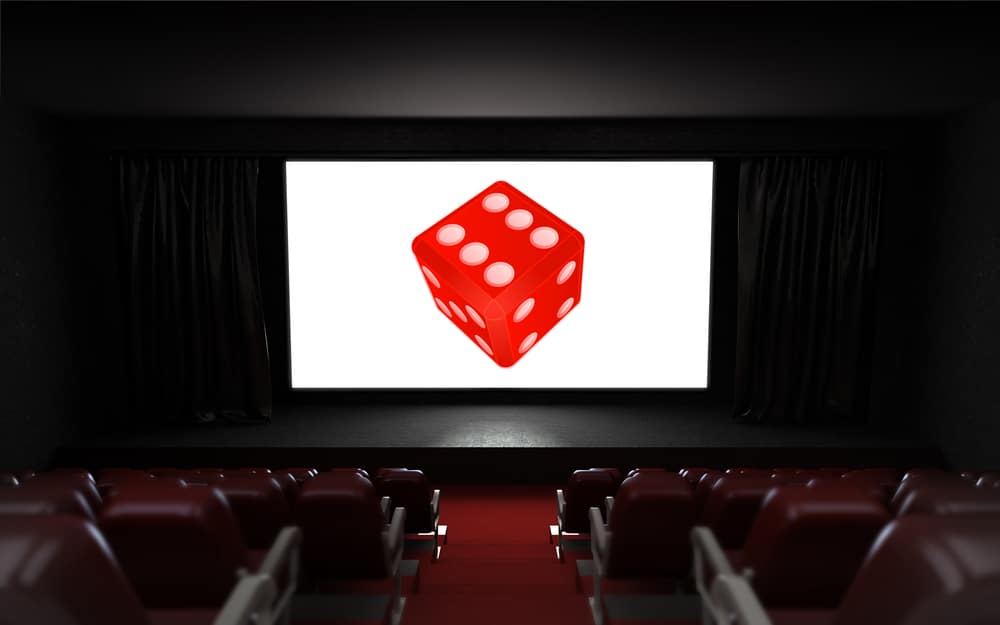 Gambling movies always have a vibe of style. Throw in a half decent storyline, and there's a crowd puller on the cards. Here is a list of some of the best gambling movies ever made, for you to check out, and possibly pick up a few lessons in casino etiquette, beating the roulette wheels, and of course, dazzling everyone with style at the casino.
1. Ocean's Eleven (2001)
The remake of the 1960 Frank Sinatra classic exceeded all the early expectations and established a standard which its sequels failed to mark. Though it is actually a movie about a heist, various elements in the movie have a direct link to gambling. The movie revolves around the main character Danny Ocean, who recruits his 10 accomplices to rob three casinos in Las Vegas in one night.
The movie is further enhanced by a strong jazz background music which is actually quite classy. The movie shifts its scenes quickly which is a trademark in all Steven Soderbergh movies.
The movie also casts a wide list of Hollywood superstars which include George Clooney, Julia Roberts, Brad Pitt, Matt Damon, Casey Affleck, Andy Garcia, and some more top notch actors. The performances of the actors are also spectacular making it one of the highest grossing movies of all time. Academy Award winning director Steven Soderbergh did a solid job on the film. It will always be remembered as one of the classics in film industry and it is a must watch for all those movie fanatics.
There is one flaw though, many people did not know how they pulled off the heist. It was sort of complicated and Jay Leno made fun of this as well as many other people.
2. Casino (1995)
This Martin Scorsese classic is certainly one to watch out for. It has all the ingredients for a classic crime movie and is one of Scorsese's greatest works. The movie deals with greed, betrayal, lust, violence and all those Scorsese essentials. Robert De Niro gives a masterful portrayal of Sam "ace" Rothstein, who was a low level mobster but is made the head of the Tangiers casino. All of those inside deals and working of a casino is carefully depicted in the movie. The movie also stars Joe Pesci and Sharon Stone as Nicky Santoro and Ginger respectively.
Joe Pesci as always provides a great performance as hot tempered and loyal enforcer who at times goes over the limit which always irritates Sam who is a very careful and calculated person. Over the time Nicky's temper and Ginger's lifestyle creates many problems for Sam which may cost his aim. At 2 hours 58 minutes the movie is an epic in more ways than one, very gripping and will create a lasting impression on you for sure.
The major flaw with this movie is that it is sort long and at times boring. Also, the Sharon Stone character is hard to watch at times – highly annoying to some. This is certainly a movie most people only care to see once unlike Ocean's Eleven.
3. Lock, Stock, and Two Smoking Barrels (1998)
This is one of the two Guy Ritchie movies on the list. The movie takes you deep into London underground gambling. The director Guy Ritchie invented his own way of storytelling in his breakthrough classic. The movie is about Eddy and his 3 friends who are on the run after losing a high stakes poker game with a local crime boss. The movie is famous for its high tempo editing, quick Brit-wit humor, and captivating background music.
The movie launched careers of all the main characters as well as its director. It has since been considered as one of the cult classics as well as a jewel in British movie industry. The way in which Ritchie portrays the streets of London and the lives of people there, is close to perfection.
If you are looking for something to watch which can surprise you, then there is no better alternative to this one. The movie is simply unforgettable. That certain Guy Ritchie style alone can make the movie worthwhile. When you watch it, you will understand why it's been included in the list of casino classics.
4. Casino Royale (2006)
This is the only Bond movie in the list. The movie centers on a high stakes poker game where 007 must stop Le Chiffre, a man who funds terrorist organizations from raising money from the game. The movie has its fair share of twists and turns that will surely keep you glued to your seats. The movie is accredited as being responsible for regaining lost appeal of the bond series. Casino Royale took the Bond appeal to a different level raising the standards for movies to come. Daniel Craig provides a sterling performance on his debut venture as the legendary MI6 spy.
The movie also stars Eva Green (absolutely gorgeous) and Mads Mikkelsen as Vesper Lynd and Le Chiffre respectively. Director Martin Campbell also did a terrific job on the movie. The poker games in the movie are filled with style and breathtaking moments.
The movie also contains several high octane action sequences, car chases, the usual spices of a regular bond movie but with much more style. If you are a fan of the Bond movies, then this is a movie made for you. You are not going to find a better movie with action and gambling blended to such perfection.
5. Fear and Loathing in Las Vegas (1998)
Fear and Loathing in Las Vegas is an American black comedy film released in 1998 and is based on and gets its name from the Hunter S. Thompson's novel. The movie directed by Terry Gilliam features Johnny Depp and Benicio del Toro as Raoul Duke and Dr. Gonzo who speed across the Nevada desert to get to Las Vegas to cover the mint 400 motorcycle race.
Duke, who is under the influence of various drugs, constantly complains about bat attacks and Gonzo is stoned so strong that he doesn't have clue of what's going on around him.
Midway through their ride they stop to pick up a hitchhiker played by Tobey Maguire who explains the consequences of their actions to them. Upon reaching Las Vegas Duke and Gonzo take a lot of drugs and visits the casinos where they are frightened by the chaotic atmosphere at the casino; they hallucinates because of the drugs they took.
The story line soon spirals out of control by the actions of the characters under the influence of drugs. Through this movie Terry Gilliam provides a naked view of the chaotic instances which can be caused due to substance abuse and is a strong contestant for the best casino movie of the 90's.
6. The Hangover (2009)
There is no need for any introduction for this movie. The Hangover is an American film released in 2009, and was directed by Todd Phillips. Right from the time of its release, it became an instant hit and a massive box office success. The film stars Bradley Cooper, Zach Galifianakis, Ed Helms, Heather Graham, and Justin Bartha. It all began when Phil Wenneck, Alan Garner, and Stu Price set off on a vacation to Las Vegas for the bachelor party of their friend Doug Billings. In Las Vegas, they wake up the following morning with no memory of what happened the previous night and with Doug missing.
It is well crafted movie with fresh humour and some really good performances. There is also an instant in the film where the 3 main characters have to raise 80 grand in one night and they do so by counting cards at a blackjack table in a casino. There is also a cameo appearance by Mike Tyson who also gives commendable performance and shows the world that he has more to offer than knocking your teeth out. The hangover is one of the best movies about what can go wrong in bachelor parties and provides a detailed view of Las Vegas. It is certainly one to watch for anybody who likes casino movies.
7. 21 (2008)
21 is a 2008 drama film directed by Robert Luketic. It deals with counting cards in 21 booths in various Las Vegas casinos. The film stars Jim Sturgess, Kevin Spacey, Lawrence Fishburne, and Kate Bosworth. The movie is about a brilliant senior math major from MIT Ben Campbell (Sturgess) who is accepted into the Harvard Medical School but is not able to afford the fee. Kevin Spacey plays the role of Mickey Rosa who masterminds and leads a group of students to cheat in blackjack.

Rosa invites Ben to join the blackjack team and suddenly Ben becomes the focal point of their plan. Ben gets carried away with his success and this causes friction between him and Rosa, which comes to a thrilling climax. The thrilling climax of the movie is definitely its strong point. It is a must watch for all the card players out there.
8. Revolver (2011)
Revolver is a 2005 crime thriller movie directed by Guy Ritchie. Although the movie was a commercial flop, it developed strong cult following and is regarded as one of Ritchie's greatest works. The movie stars Jason Statham, Vincent Pastore, Ray Liotta, and Andre Benjamin. The movie was the fourth major film directed by Guy Ritchie. The story revolves around a professional gambler named Jake Green who is threatened and whose family is terrorized by a crime boss Dorothy Macha for shooting another card player at Macha's casino.
Jake who spends 7 years of solitary confinement in prison develops a formula which can be applied to any game and can produce favorable results with the help of two inmates from his adjoining cells. After being released from prison, Jake heads to exact revenge on Macha. The story is really gripping and the directing style of Guy Ritchie is something always worth seeing.
The movie was a failure at the box office. Due to its complex storyline most people got lost midway through the film. But an extended version of the movie was released in 2007. The movie went on to achieve massive cult following. The performance of Statham as Jake Green has been well received by the critics. If you are looking for a movie that offers everything including crime, drama, humor, gambling, Revolver is a mixture of all. See it if you haven't seen it.
9. Miller's Crossing (1990)
Miller's Crossing is a Coen Brother's classic. It is set in the prohibition era where gangsters ruled America. Tom Reagen is the consigliore for Leo O'Bannon, a ruthless gangster who is constantly threatened by his rival Johnny Caspar. Tom Reagen is a professional gambler who gambles at the casinos and clubs owned by O'Bannon, who considers his advice very dear. But their relationship is put into question when Caspar wants to kill a bookie for cheating him who happens to be the brother of O'Bannon's love interest who also has a history with Tom. O'Bannon decides to follow his heart and he has to face the consequences.The movie stars Gabriel Byrne, Marcia Gay Harden, John Turturro, and Jon Pollito. As in all Coen Brothers' movies the acting is extremely good. Various dialogues and the instances in the film are famous and have been used as memes in social media. The movie won many accolades and has been included in various lists of greatest movies of all time. In 2005, TIME chose Miller's Crossing as one of the 100 best movies ever made.
The performances of John Turturro and Gabriel Byrne are superb. The movie provided foundation for the Coens to build an empire in Hollywood.
10. Gilda (1946)
Gilda is an American black and white noir film released in 1946 directed by Charles Vidor. The film stars Rita Hayworth and Glenn Ford. The movie is famous for Rita Hayworth's title character as the ultimate femme fatale.
Glenn Ford stars as Johnny Farrell, a small time American gambler who's freshly arrived in Buenos Aires, Argentina. Farrell, after knowing about the illegal high class casino by a stranger, ignoring his warnings, decides to take his chances there, where he is caught for cheating at the craps table and is taken to see the owner who happens to be the stranger who told him about the casino. The owner whose role is played by George Macready gives him a job in the casino. Then all the hell breaks loose when Farrell meets Gilda, who is the wife of the owner to whom he had a past relationship which ended badly.
https://www.youtube.com/watch?v=NMRaqXpbrAI
The movie was a box office as well as a critical hit. It rocketed the careers of both Rita Hayworth and Glenn Ford. The movie was filled with lush photography, extravagant costumes, and sets and notoriously famous for its style and looks. This film is a terrific entertainer and it left a legacy for future filmmakers to follow.