Legal Online Gambling In Illinois
Illinois' past gaming laws have been rather restrictive, but the state is on the course to expanding its online Illinois gambling options for the near future. Currently, the state has a healthy land-based gambling industry, with ten or so brick and mortar casinos and a large amount of horse and greyhound race betting facilities.
The state understands the significant financial benefits of the gaming industry. Gambling tax revenue just falls short underneath the state's income tax revenue, being the second overall source of income. However, the state has taken a more federal approach when it comes to online gambling, outlawing most casino-style gambling online. Perhaps with so much money to be made to put towards education and other state priorities, the Prairie State will legalize other forms of online gambling sooner rather than later.
$5 free with FanDuel Illinois
All Illinois residents can claim $5 free by simply signing up to FanDuel.
What Type of Gambling is Legal in Illinois?
Although Illinois residents cannot find any online poker or slot machines, they can still legally gamble through a few different ways. Firstly, residents can place wagers on horse and greyhound races through a select number of online platforms. The state authorizes a few horse and greyhound sites based on their operation location and that they uphold US gambling regulations.
UPDATE: January 2016: Court Rules that Fantasy Sports is gambling!
Residents can safely gamble via online skill games. These interactive puzzle games are available on a couple of websites that hold proper licensing to operate under US law.
Playing on Overseas Accounts
Offshore gambling websites claim to be legal for US residents to play. However, these sites are deceiving and are actually very unsafe. Residents should know that their investments are never secure on offshore sites.
Overseas sites operate in countries with little to no gambling regulations. Because they operate outside of US legal jurisdiction, there is no way to ensure you will be given fair play or that you will get to walk away with your winnings.
On top of lacking the ability to provide players a safe experience, playing on offshore sites is a crime in the state of Illinois. The state sees anyone who participates in any gambling enterprise as a gambling offender. The offense of illicit gambling is a class A misdemeanor punishable by up to one year in jail, two years of probation, and a fine up to $2500.
Online Poker 
Online poker is not currently legal in the state of Illinois. The state also does not authorize, manage, or license any online poker websites. Residents should be aware that playing in an offshore poker room or an underground poker enterprise is still a crime.
However, the state is trying to progress in the view of online poker within the State Senate. Lawmakers like Illinois State Senate President, John Cullerton, are pushing for the legalization of more online gambling options. "If it's inevitable, if it's going to happen, if our people are going to be allowed to gamble on somebody else's website in another state and they make money and we don't, obviously we don't want to do that."
Many residents are choosing to find gambling thrills elsewhere if the state does not provide it. Hopefully, the stance will change soon to keep residents safe and keep money from continuously leaving the state.
Online Sports Betting
Illinois is against online sports betting, as is every other state in the Union besides Nevada. Placing a bet with an underground bookie or over an offshore sportsbook is still a gambling offense in the state of Illinois.
The state cracks down on bookmaking, which is outlined in Section 6, Article 28 of the Illinois Criminal Code. "Anyone who knowingly owns or possesses any book, instrument, or apparatus by means of which bets or wagers have been, or are, recorded or registered, or knowingly possesses any money which he/she has received in the course of a bet or wager is punishable by a class 4 felony.
Class 4 felonies are subject up to three years in prison. Sports enthusiasts are still able to find some sports gambling action through horse and greyhound racing as well as online fantasy sports betting. Both are 100 percent legal and prove to be just as exhilarating!
Online Horse and Greyhound Racing
Illinois currently has seven horse and greyhound betting facilities established within the state. The Illinois Racing Commission oversees all racing enterprises. The IRC also licenses several sites that allow for residents to make real cash wagers online.
The wagers are the same as placing an in-person bet at one of the facilities. Technology nowadays lets horse and greyhound racing enthusiasts stream all of their favorite tracks over the Internet with watch and wager type platforms. These third party enterprises operate on US soil and under US gambling regulations, ensuring reliability on payout processes.
Here are a few safe and legal horse and greyhound betting sites:
TVG

TVG is the nation's top site and television network in the horse and greyhound racing industry. TVG services over 33 million American homes every year, leading the sports in sponsoring. This company also gives back to the industry, hosting several charity races and events annually. TVG's mobile application lets member access any race on the go. Join the TVG community to receive great new member bonuses.
XpressBet

XpressBet is one of the largest companies that holds proper licensing in the state of Illinois as well as the entire US. XpressBet offers all new updates for the latest horse and greyhound gambling news. XpressBet members get insider information on all of the upcoming horse and greyhound races. Join now and receive a free new member bonus.
Online Casinos
Illinois does not currently manage, license, or authorize any online casinos within the state. Residents that are looking for a casino-style gaming experience need to travel to the nearest brick and mortar establishment. However, Illinoisans can still gamble with real money online through skill game platforms. Although skill games are not the same as a slot machine or table game in casinos, they still are entertaining and fun for a great gambling experience.
Online Casino Alternatives in Illinois:
WorldWinner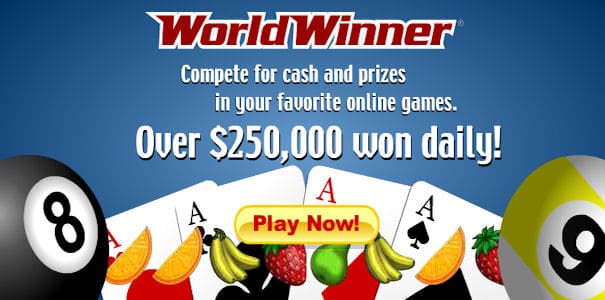 WorldWinner is the top site in the country for online skill games. WorldWinner currently operates under the widely popular television show, the Game Show Network (GSN). Famous games seen on TV like Wheel of Fortune or Scrabble Blocks are available for members to play. When you sign up with WorldWinner, you can try any game free before trying your hand to make real money. Play with friends or other US players in head to head competitions as well as tournaments for cash prizes and jackpots.
Conclusion
Illinois is in the middle when it comes to online gambling options. Although the state has not given the go-ahead for online casino games or poker, it still offers many ways for residents to get some gambling action. Above all, US citizens should always stay within the boundaries of both their state and federal law. Stay away from offshore sites and try any of the legal options to get the best experience. Remember your limits. Good luck and have fun!